Documentary Film "Afghan Women: A History of Struggle" presented at Brookhaven Lab, May 14
May 13, 2010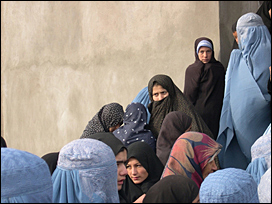 Afghan Women
A screening of a documentary film dramatizing the tale of a group of remarkable women in Afghanistan will be presented at Brookhaven National Laboratory on May 14, 5 – 7 p.m. in Berkner Hall. Sponsored by the Lab's Asian Pacific American Association and Diversity Office, the event is free and open to the public. Visitors to the Laboratory age 16 and older must carry a photo ID.
The film reflects the recent history of Afghanistan during a quarter century of cataclysm, from the proxy war to civil war, from a Soviet regime to the rule of the Taliban and to U.S. military intervention.
Following the film there will be a Q&A session with the film's director, Kathleen Foster. Photographs taken in Afghanistan by Foster will also be on display in the Berkner Hall lobby.
For more information on the event, call (631) 344-2062.
For more information on the film, go to http://www.kathleenfoster.com.
2010-1788 | INT/EXT | Newsroom