The following news release was issued by the U.S. Department of Energy (DOE)'s Exascale Computing Project (ECP). It introduces Dr. Sunita Chandrasekaran of Brookhaven Lab's Computational Science Initiative as the new principal investigator of the SOLLVE project, which is extending OpenMP parallel programming to meet ECP's extreme-scale application needs. As a joint effort of DOE's Office of Science and National Nuclear Security Administration, ECP aims to accelerate delivery of a capable exascale computing ecosystem that can deliver 50 times the application performance of the leading 20 petaflop computing systems and address increasingly complex problems in less time.
ECP Selects Sunita Chandrasekaran as Principal Investigator of the SOLLVE Project
September 15, 2021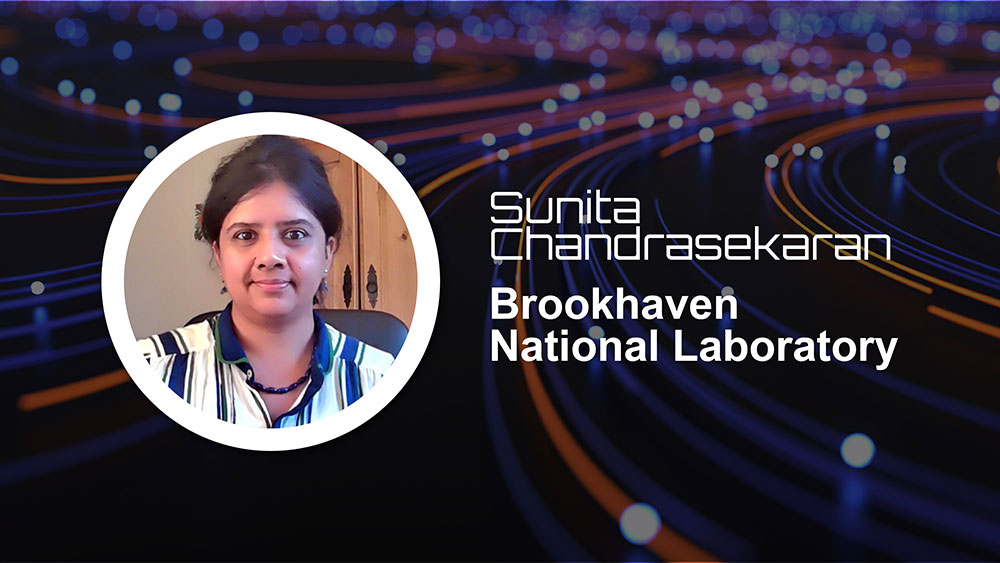 Image credit: Exascale Computing Project
The US Department of Energy's (DOE's) Exascale Computing Project (ECP) has named Sunita Chandrasekaran of Brookhaven National Laboratory (BNL) as principal investigator of the SOLLVE project.
SOLLVE is advancing the OpenMP specification and its implementations to address exascale application challenges, including programmability gaps for core technologies, such as accelerator support, interoperability with message passing interface (MPI), and the data migration of complex data structures.
As the new PI of SOLLVE, Chandrasekaran is charged with developing leading-edge parallel programming models and tools in collaboration with the LLVM community and participating high-performance computing system vendors. Among the key project activities is the development of new features for OpenMP on GPU architectures for the upcoming exascale platforms.
Chandrasekaran recently joined the BNL Computational Science Initiative (CSI) as part of the programming models and compiler team. She also continues as an associate professor in the Department of Computer & Information Sciences at the University of Delaware (UDEL). At UDEL, she leads a team of several PhD, master's degree, and undergraduate students as part of her Computational and Research Programming Lab at UDEL. Chandrasekaran joined the university in Fall 2015 and was granted tenure in 2021. Her work has been recognized with a 2016 IEEE Technical Consortium on High Performance Computing (TCHPC) for Early Career Researchers award, 2020 UDEL's David and Beverley Hills Career Development Chair award and the 2020 UDEL's College of Engineering Excellence in Teaching award. She also serves as the Chair for OpenACC User Adoption.
"As the SOLLVE PI, Sunita is stepping into an important leadership role for ECP, building on her existing and exemplary community contributions," said Mike Heroux, director of Software Technology for ECP. "The efforts of the SOLLVE project are central to ECP's mission of advancing application portability on new and emerging GPU-based platforms like Aurora and Frontier. Under Sunita's leadership, the SOLLVE team will continue working directly with application teams, computing system vendors, and the LLVM community to make sure that latest application requirements are met in time for deployment on the exascale platforms."
Chandrasekaran holds a PhD in computer science engineering from Nanyang Technological University, Singapore and a bachelor's degree in electrical & electronics from Anna University, India. Chandrasekaran replaces the former SOLLVE PI Barbara Chapman, who has joined HPE.
"Barbara Chapman has been an invaluable contributor to ECP, and everyone on our team wishes her the best in her new career move," said Doug Kothe, ECP director. "Barbara is widely recognized and respected throughout the HPC community and we look forward to continued interactions and collaboration with her in her new role at HPE"
More on Sunita Chandrasekaran
Chandrasekaran's research interests are in parallel programming models, performance analysis, machine learning, and developing research scientific software for large scale real-world applications targeting upcoming systems, including the exascale systems. She has been leading interdisciplinary science projects both nationally and internationally in collaborations with the National Center for Atmospheric Research, Nemours/ Alfred I. duPont Hospital for Children in the US and HZDR in Germany working alongside physicists and biologists to advance science by applying HPC and machine learning strategies for scientific applications. Sunita is also one of the Center for Accelerated Application Readiness PIs, a program at Oak Ridge National Laboratory (ORNL) that focusses on preparing applications for the lab's upcoming exascale system, Frontier.
About ECP
ECP is a collaborative multi-lab effort led by six DOE national laboratories, with the project management office established at ORNL. ECP's focus is on accelerating the delivery of a capable exascale computing ecosystem to provide breakthrough solutions that can address the nation's most critical challenges in scientific discovery, energy assurance, economic competitiveness, and national security. The project is a joint effort of two DOE organizations: the Office of Science and the National Nuclear Security Administration.
2021-19127 | INT/EXT | Newsroom