Meet Greg Fries, NSLS-II Accelerator Division Deputy Director for Projects
Fries plays a key role at NSLS-II, straddling the line between management and workers 'in the field' to ensure projects run smoothly and safely
May 11, 2022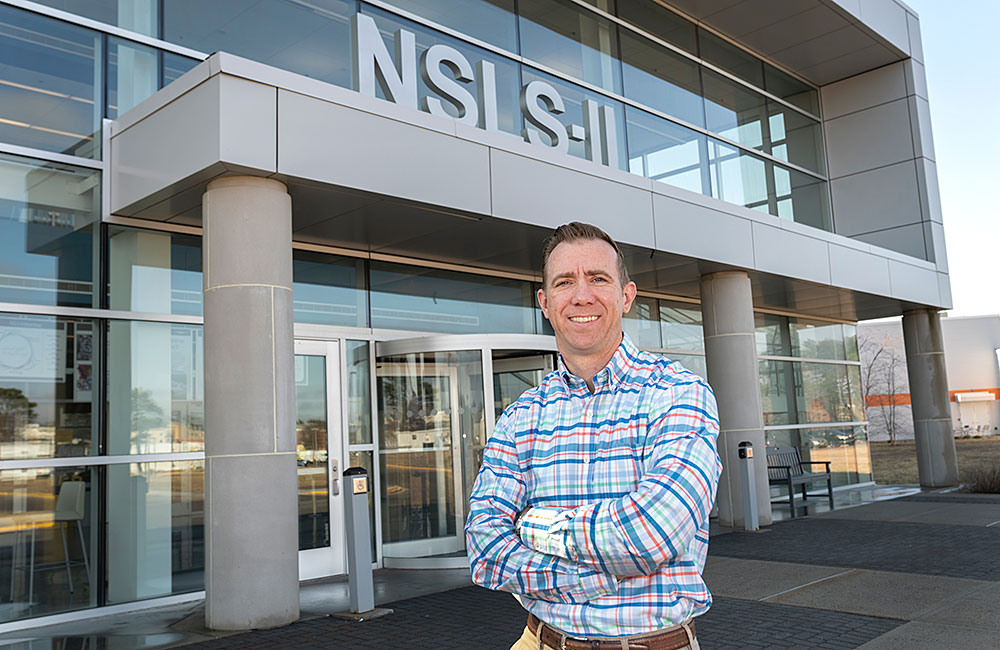 enlarge
Greg Fries stands in front of the main entrance of NSLS-II.
Greg Fries is the deputy director for projects in the accelerator division at National Synchrotron Light Source II (NSLS-II), a U.S. Department of Energy (DOE) Office of Science User Facility located at DOE's Brookhaven National Laboratory. At NSLS-II, electrons are accelerated to nearly the speed of light and directed into a "storage ring," where they emit x-rays as they circulate. The x-rays are used to study a huge range of materials and samples, from batteries to potential new pharmaceuticals.
What do you do at NSLS-II?
In this role, I wear many hats. I'm responsible for planning and coordinating the installation and major maintenance activities related to the accelerator. I work closely with the engineers and technicians, as to how to best manage the time that we have during machine shutdowns. I'm also involved in the construction of new beamlines; for example, right now I am responsible for the accelerator infrastructure for the building of the High Energy Engineering X-ray Scattering (HEX) beamline and the NSLS-II Experimental Tools II (NEXT-II) projects. Ultimately, I work with the accelerator division staff to deliver the insertion devices, front ends, and other beamline systems. In addition, I manage the overall staffing plan and budget for the accelerator division.
I am also the work control manager for NSLS-II, supporting both the accelerator and photon divisions. In this role, I help implement work planning and control processes, and train new work control coordinators. A lot of what I do is coordination among groups to make sure that everything runs smoothly.
Right now, I'm also working on the Advanced Light Source upgrade (ALS-U) at Lawrence Berkeley National Laboratory. I manage the budget and schedule for their power supplies and am fully integrated into their team. I've also been able to visit many of the other labs, particularly those who are going through upgrades, and be part of those processes. I've learned many lessons by being involved in the construction and maintenance of NSLS-II that I've been able to share with projects at other labs.
Ultimately, I straddle the line between management and being in the field. I have meetings with upper management, but I also meet regularly with the engineers and technicians. I am a connection point between those groups, and I feel that I provide value on both sides.
What is a typical workday for you?
I am usually in the office by 7:30 a.m. to prepare for the day and get ready for the daily 8:45 a.m. plan-of-the-day meeting, where we go through any safety concerns for the day, the planned work, any reminders that may be applicable, etc. But because I'm involved in so many different projects, there isn't one typical day. I might spend part of the day going over cost estimates for a new beamline and then take a walk down of an upcoming job on the floor. Because I am heavily involved with staffing, I might have meetings with hiring panels to discuss potential new employees. My role on ALS-U also requires lots of meetings, and many of these are later in the day because of the time difference.
How did you get to NSLS-II?
I was first hired at NSLS-II in 2009 as a liaison engineer after coming from the medical device industry. At that time, NSLS-II was just getting going. I got to work with the Accelerator Division, the Quality Management Office, Procurement and Property Management, and the Environment, Safety & Health Directorate (ESH) on the required technical and procurement documentation. This gave me a good overview of the entire machine, which led to a role as installation coordinator when accelerator installation started in 2011. I've basically been doing coordination work among the different groups since then.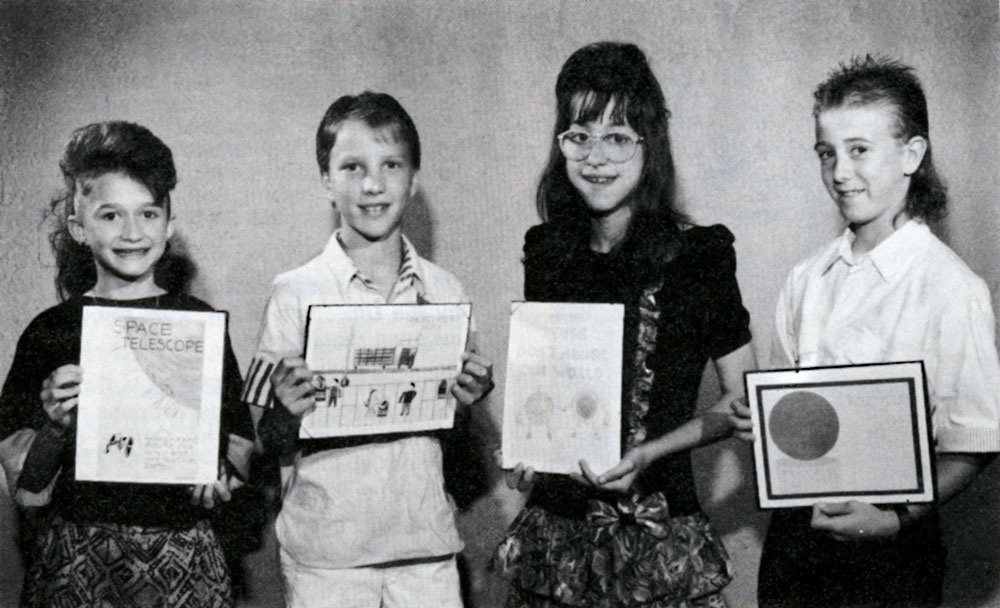 enlarge
Greg Fries at age 12 (far right) in Berkner Hall on the day he toured Brookhaven as part of an Earth Day competition prize. This photo appeared in the Lab's former newsletter, The Bulletin.
My journey to NSLS-II, actually, started way back when I was a kid. I am local to Long Island—I grew up in Yaphank and went to school in the Longwood school district, where Brookhaven is located. In fact, the first time I visited Brookhaven was when I was 12 years old. I won a poster contest for Earth Day and got to take a tour of Brookhaven. We had our photo taken, which appeared in The Bulletin.
I remember being very excited to visit the lab, but a little intimidated. It was much bigger than I expected but everybody was extremely friendly. The photo was taken at Berkner Hall, I believe. I won a world atlas (that I still own) and a savings bond.
What do you like about your job?
I love working with so many different groups of people. I love helping people, and I feel like my job allows me to do that in so many different ways. I like being a bridge between upper management and those that work in the "trenches" at NSLS-II. I'm big into teamwork, and this job really plays into that. I'm always working with people, and I like being in the middle of things. Overall, this job gives me a great sense of accomplishment.
How does your work support the mission of NSLS-II?
My job, by nature, is designed to support the scientific mission and growth of NSLS-II. I help to keep all the gears working smoothly so that NSLS-II can operate as efficiently as possible. I help to make sure that new beamlines are on track so that the facility continues to be built out.
What do you enjoy doing outside of work?
I am really into traveling with my family. I am married and have two children, a son, Nolan, who is 12, and a daughter, Brighton, who is 10. We travel as much as we can. We were in Arizona recently and have a trip to Copenhagen planned this summer, and then a trip to Madrid in September.
Aside from traveling, I am always busy with the kids and their activities. Otherwise, I love playing softball, listening to records, and I also exercise faithfully five days a week. Even if it's 10 p.m., I still get that workout in.
NSLS-II at the U.S. Department of Energy's (DOE) Brookhaven National Laboratory and ALS at DOE's Lawrence Berkeley National Laboratory are both DOE Office of Science User Facilities.
Brookhaven National Laboratory is supported by the U.S. Department of Energy's Office of Science. The Office of Science is the single largest supporter of basic research in the physical sciences in the United States and is working to address some of the most pressing challenges of our time. For more information, visit https://energy.gov/science.
Follow @BrookhavenLab on Twitter or find us on Facebook.
2022-19575 | INT/EXT | Newsroom