Haiyan Gao Named 'Highly Accomplished Asian American Professional'
Gao will be recognized at the thirteenth annual Suffolk County Asian American and Pacific Islander Heritage Month Celebration
May 19, 2022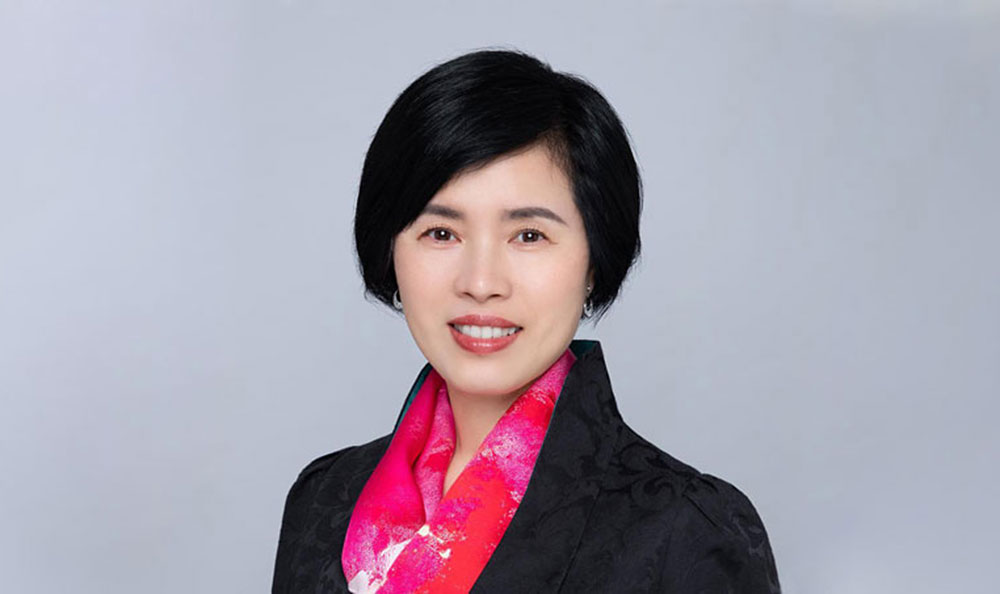 enlarge
Haiyan Gao
Haiyan Gao, a senior leader and physicist at the U.S. Department of Energy's (DOE) Brookhaven National Laboratory, has been named a "highly accomplished Asian American professional" by the Suffolk County Asian American Advisory Board. Gao will be recognized at the thirteenth annual Suffolk County Asian American and Pacific Islander Heritage Month Celebration. This virtual event is scheduled to be streamed on YouTube Friday, May 27, from 7 to 8:30 p.m.
As Brookhaven Lab's associate laboratory director for nuclear and particle physics, Gao leads a team of 650 staff—many who collaborate with scientists from across the United States and around the world. She is responsible for helping develop the Laboratory's long-term vision and crafting emerging expertise at the future Electron-Ion Collider (EIC). This one-of-a-kind nuclear physics research facility will be built at Brookhaven through a partnership with DOE, Brookhaven, and Thomas Jefferson National Accelerator Facility with strong support from New York State. The Nuclear and Particle Physics Directorate Gao oversees currently operates the Relativistic Heavy Ion Collider, NASA Space Radiation Laboratory, Tandem Van de Graff, and Medical Isotope Research and Production Program for researchers at Brookhaven and beyond, and leads high-energy physics programs at the energy, intensity, and cosmic frontiers.
"Throughout history, physics studies to learn more about nature's building blocks have provided foundational knowledge that drives the development of new technologies," Gao said. "I am honored to have a role in the field of physics research and to be recognized for it by the Suffolk County Asian American Advisory Board."
Gao joined Brookhaven Lab in 2021 but remains on the faculty of Duke University as a joint appointment among the two institutions. At Duke, she served as the chair of physics and founding vice chancellor for academic affairs at the Duke Kunshan University in Kunshan, China, where she spent a few years of her childhood.
Gao has also held positions as assistant physicist at DOE's Argonne National Laboratory, and assistant and associate professor of physics at Massachusetts Institute of Technology. She was elected an American Physical Society fellow in 2007 and received DOE's Outstanding Junior Investigator Award in 2000. She earned her Ph.D. in physics from the California Institute of Technology in 1994.
Additional information on the Asian American and Pacific Islander Heritage Month Celebration, at which Gao will be recognized, is available on the Suffolk County Asian American Advisory Board website.
Brookhaven National Laboratory is supported by the U.S. Department of Energy's Office of Science. The Office of Science is the single largest supporter of basic research in the physical sciences in the United States and is working to address some of the most pressing challenges of our time. For more information, visit https://energy.gov/science.
Follow @BrookhavenLab on Twitter or find us on Facebook.
2022-19605 | INT/EXT | Newsroom