ERG Spotlight: Sandra Moran and Jose Rodriguez of the Hispanic Heritage Group
September 30, 2022
enlarge
The Hispanic Heritage Group members raise their flag on September 15, 2022, to commemorate the start of Hispanic Heritage Month.
The observation of Hispanic Heritage month is a bit unusual in that it begins in mid-September and ends in mid-October, but that timing is significant. Sept. 15, which kicks-off this month of celebration, marks the anniversary of Central America's independence, Mexico's Independence Day follows on Sept. 16, and Chile's celebration of independence falls a few days later, on Sept. 18.
There are many threads that tie the Hispanic community together, but the community comprises several different countries that share their unique histories and traditions. This month is the perfect time to explore the stories, contributions, and experiences that make up this rich tapestry of cultures, and a perfect venue for that is the Hispanic Heritage Group (HHG), one of Brookhaven Lab's employee resource groups. Members of the HHG have roots spanning from Central and South America to the Caribbean and come from several different areas of the lab.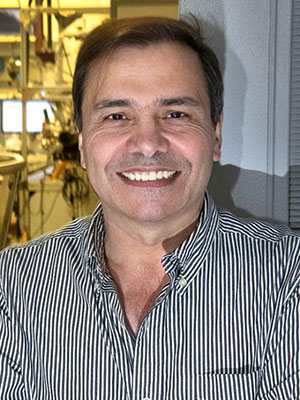 Jose Rodriguez
"Argentina, Columbia, Venezuela, Mexico, Peru, Costa Rica, Puerto Rico, and so many other countries are represented here, and they all have different types of food, different types of dances," explained Jose Rodriguez, a chemist at Brookhaven Lab, adjunct professor at Stony Brook University, and active member of the HHG. "It's really cool to see so much diversity, even within the group itself. People from other countries have different viewpoints and important differences in their cultures, even if they speak the same language."
Even a shared language can have subtle differences depending on where it is spoken. Sandra Moran, a Human Resources coordinator at Brookhaven Lab, has been sharing the diverse nuances of the Spanish language through a series of virtual classes. These lessons are all taught by volunteers within the lab, including Moran, who plan and host these sessions for three different skill levels during their own time. This program has taken a lot of time and effort to deploy, especially in its first year, but the payoff is well worth it for both the students and the instructors.
"I'm very impressed with all of the positive feedback we've received," said Moran. "I'm very passionate about sharing my culture, and it's a great way to meet coworkers from every part of the Lab. These lessons have broken down a lot of barriers. I'm originally from Peru and have been in the United States for 20 years. I'm still learning English—every single day—and that is something I wanted to share with my class. Spanish should be the same way for them. You never stop learning."
Rodriguez's recent work has also brought people from different cultures and countries together, fostering cultural exchange and bringing in new perspectives on pressing environmental issues.
"My area's work is catalysis and surface science, with an emphasis on the production of clean fuels. One of the things that we are doing these days is trapping CO2 and converting it into usable chemicals. I'm working with a very diverse group, and we have a very high population of Hispanic scientists. We have people from Venezuela, Mexico, Puerto Rico, the Dominican Republic, and even Spain. This area of research is significant to people around the world, not just the U.S., so there is collaboration with other countries, including some in Latin America."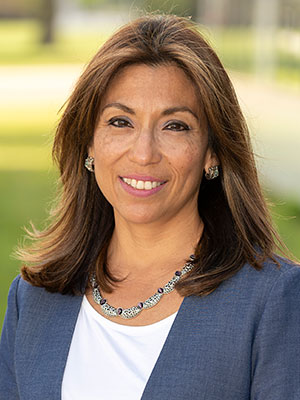 Sandra Moran
The scientific community is inherently a global community, benefiting from diverse viewpoints and ideas. Joining an employee resource group is a great way to contribute to a positive and welcoming Lab-wide culture, plan and participate in enriching activities and events, and achieve personal diversity, equity, and inclusion (DEI) goals.
"You can contribute to the group in any capacity—you don't need to have a leadership role to make an impact," explained Moran. "We also want to emphasize that the Hispanic Heritage Group is open to everybody; you don't have to be Hispanic to be part of it. Anyone who's working at the Lab and has the drive to learn about and share our culture, experience new things, and meet new people can join and contribute."
"It's a really nice experience when you start talking with people that come to the HHG who were born in the United States, but their parents are from Hispanic countries," said Rodriguez. "They know how to speak Spanish, but they want to connect more with their heritage and learn more about Hispanic culture."
The HHG hosts a variety of events planned throughout the year to celebrate Hispanic food, art, music, and culture, including outings to local restaurants to enjoy regional cuisine, movie screenings, and Spanish language lessons. Keep an eye on the group's event page for details on past and upcoming activities. The HHG also runs a SharePoint site with educational and informational resources, including links to biographies of influential Hispanic figures throughout history and recognizing and tackling unconscious bias in the workplace.
Brookhaven National Laboratory is supported by the Office of Science of the U.S. Department of Energy. The Office of Science is the single largest supporter of basic research in the physical sciences in the United States and is working to address some of the most pressing challenges of our time. For more information, please visit science.energy.gov.
Follow @BrookhavenLab on Twitter or find us on Facebook.
2022-20848 | INT/EXT | Newsroom