Meet BSA's 2023 Scholarship Awardees
July 31, 2023
Brookhaven Science Associates (BSA), which manages Brookhaven Lab for the U.S. Department of Energy through a partnership between Battelle and Stony Brook University, has announced the 2023 BSA Scholarship awardees. These annual scholarships are awarded to children of employees and retirees at the Lab—a longstanding tradition that began at Brookhaven in 1965.
"These students have the potential to change the world in profound ways, and BSA is honored to recognize each of them," said Interim Brookhaven Lab Director and Interim Active BSA President Jack Anderson. "I congratulate them on the accomplishments they've achieved and encourage them to continue following the passions they will pursue in their studies."
Each BSA scholar is a high school senior who will receive $2,500 per year for up to four years of study at the college or university of his or her choice. The BSA scholars who are admitted and enroll as full-time students at Stony Brook University receive a matching scholarship from the university. International Scholarship and Tuition Services (ISTS) administers the BSA Scholarships. Winners are selected by an independent scholarship committee that reports to ISTS.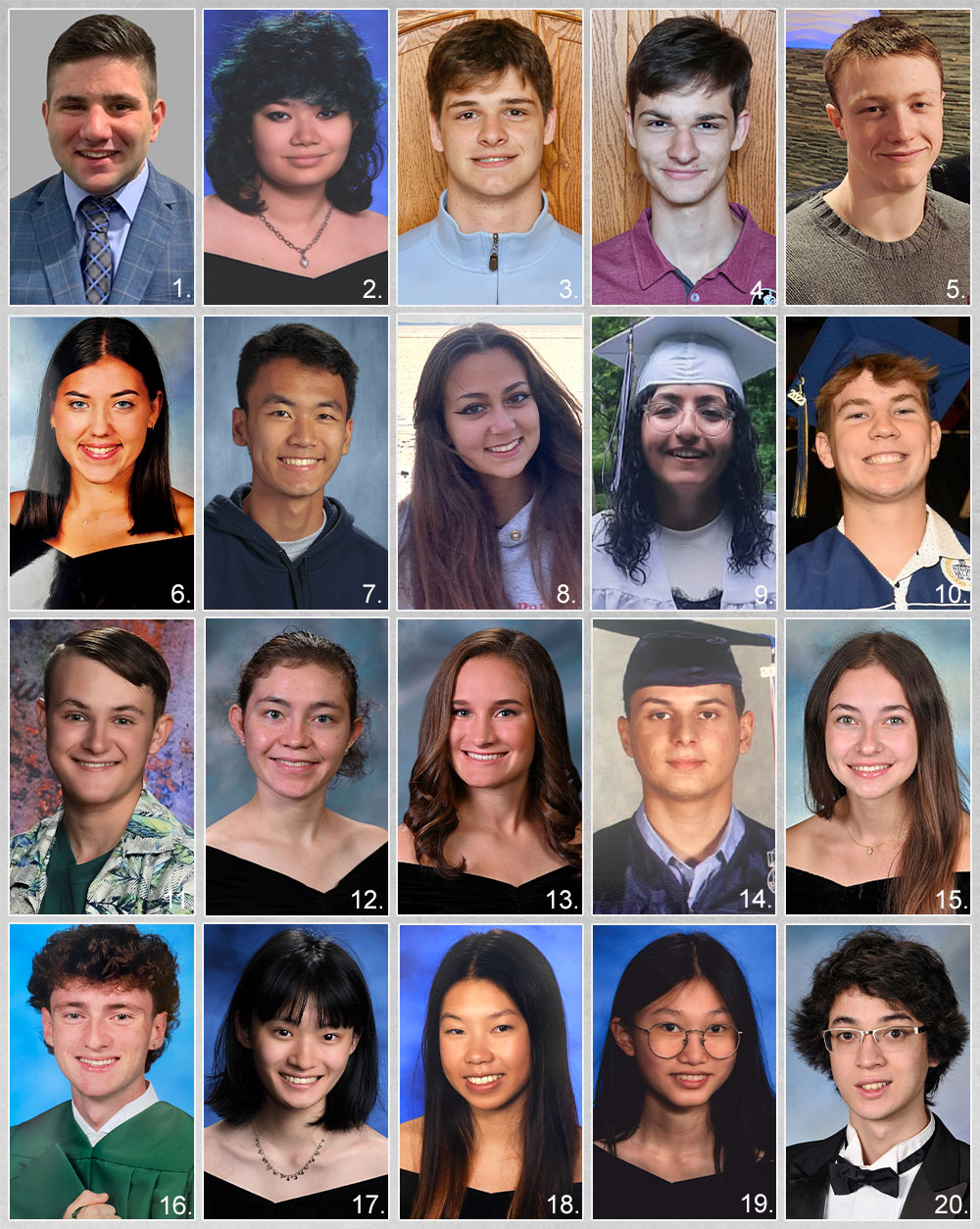 1: Michael Aglietti
Parent: Robert Aglietti, Laboratory Protection Division
High school: Winston Preparatory
College to attend: Adelphi University
Intended major: Business management
2: Alina Chu
Parent: Loralie Smart, Collider-Accelerator Department
High school: Mount Sinai
College to attend: Rutgers University-New Brunswick
Intended major: Environmental sciences
3: Christopher Dandola
Parent: Daniel Dandola, Business Operations Office
High school: St. John the Baptist Diocesan
College to attend: Wake Forest University
Intended major: Mathematical economics
4: James Dandola
Parent: Daniel Dandola, Business Operations Office
High school: St. John the Baptist Diocesan
College to attend: Florida State University
Intended major: Biological science
5: Sean Dany
Parent: Michael Dany, Collider-Accelerator Department
High school: Shoreham Wading River
College to attend: SUNY University at Buffalo
Intended major: Accounting
6: Anne Forestiero
Parent: Suzanne Forestiero, Human Resources Directorate
High school: Harborfields
College to attend: University of Delaware
Intended major: Elementary education
7: Teppei Fukuto
Parent: Masafumi Fukuto, National Synchrotron Light Source II
High school: Earl L. Vandermeulen
College to attend: Georgia Institute of Technology
Intended major: Mechanical engineering
8: Julia Hamdi
Parent: Karim Hamdi, Electron-Ion Collider
High school: Comsewogue
College to attend: Boston University
Intended major: Political science
9: Lola Idir
Mourad Idir: National Synchrotron Light Source II
High school: Port Jefferson
College to attend: Stony Brook University
Intended major: Business management
10: Dima Kondrashev
Parent: Sergey Kondrashev, Collider-Accelerator Department
High school: Neuqua Valley
College to attend: Tulane University
Intended major: Economics
11: Braedon Marr
Parent: Gregory Marr, Collider-Accelerator Department
High school: Longwood
College to attend: Syracuse University
Intended major: Mechanical engineering
12: Anja Minty
Parent: Michiko Minty, Collider-Accelerator Department; Ferdinand Willeke, Electron-Ion Collider
High school: Shoreham-Wading River
College to attend: Cornell University
Intended major: Chemistry or materials science
13: Jessica Nastasi
Parent: John Nastasi, Facilities & Operations Directorate
High school: Shoreham-Wading River
College to attend: Emory University
Intended major: Astrophysics
14: Adam Nouicer
Parent: Rachid Nouicer, Physics Department
High school: Miller Place
College to attend: Stony Brook University
Intended major: Health science
15: Sophia Recine
Parent: Anthony Recine, Facilities & Operations Directorate
High school: Commack
College to attend: SUNY Cortland
Intended major: Speech pathology
16: Ethan Vogt
Parent: Lawrence Vogt, Collider-Accelerator Department
High school: Westhampton Beach
College to attend: Marywood University
Intended major: Respiratory therapy
17: Nicole Xiao
Parent: Xianghui Xiao, National Synchrotron Light Source II
High school: Ward Melville
College to attend: Tufts University
Intended major: Graphic arts
18: Isabel Xu
Parent: Zhangbu Xu, Physics Department
High school: Ward Melville
College to attend: California Institute of Technology
Intended major: Physics
19: Julie Yang
Parent: Lin Yang, National Synchrotron Light Source II
High school: Ward Melville
College to attend: Rensselaer Polytechnic Institute
Intended major: Chemical engineering
20: Michael Zaslavsky
Parent: Wuxian Shi, National Synchrotron Light Source II
High school: Rocky Point
College to attend: Stony Brook University
Intended major: Mechanical engineering
2023-21372 | INT/EXT | Newsroom