Long Island Teachers Learn Environmental and Climate Research Skills at Brookhaven Lab
Educators equipped with coding and data-taking know-how, plus pathway possibilities to share with their students
November 20, 2023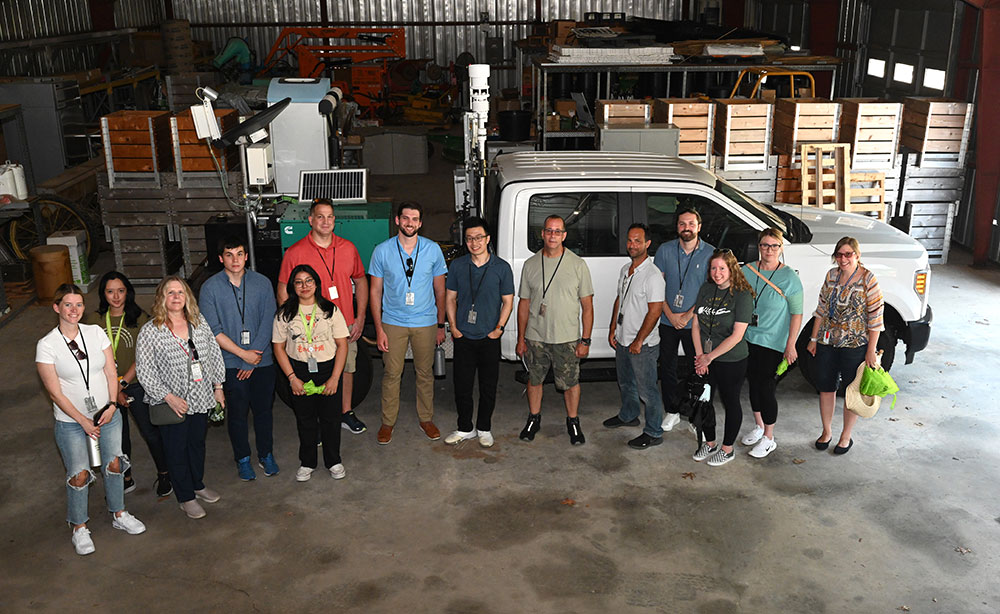 enlarge
Local teachers' tour of climate and earth science tools at Brookhaven Lab included at stop at the Center for Multiscale Applied Sensing's mobile observatory, a pickup truck equipped with instruments scientists use to capture data on wind, temperature, rain, and clouds. (Kevin Coughlin/Brookhaven National Laboratory)
Eight teachers from Long Island school districts became science researchers this summer in a new training program designed to build awareness of the U.S. Department of Energy's (DOE) Office of Science mission areas and transfer real-world technology and coding-based skills to the classroom.
DOE's Workforce Development for Teachers and Scientists (WDTS) Pathway Summer Institute for K-12 Educators brought teachers from local middle and high schools to DOE's Brookhaven National Laboratory for the four-week program. The participants all teach at schools with a high percentage of students underrepresented in science, technology, engineering, and math (STEM).
Trainees learned how to answer place-based questions in environmental and climate science and turned the techniques they learned into lessons for their students.
"I jumped at the opportunity to bring this program to fruition," said Bernadette Uzzi, manager of K-12 programs at Brookhaven's Office of Educational Programs (OEP). "The most effective way to impact the greatest number of students is by empowering teachers through training, experiential learning, and building an awareness of opportunities available to them and their students. These participants are now part of our community and ambassadors for Brookhaven Lab and DOE. Collectively we are strengthening the pathway for students to STEM careers."
Staff from OEP trained the group in Python coding, microcontrollers, and sensors—including ones that grab measurements on light, pressure, temperature, humidity, and pollution. Then, the group set out on Brookhaven's campus on a sunny July day to put their new data collecting skills to the test. And with new confidence in coding, the teachers analyzed their data.
To bring all their training together, the teachers challenged themselves to create new projects and curricular material to bring back to their classrooms.
One participant suggested that sensors would benefit students who have joined in on "A Day in the Life of the River"—a citizen science program that takes classes out in the field to study the health of Long Island's river ecosystems. Another teacher was inspired to form an after-school scientific computing club.
"This was a wonderful opportunity to not only expand my own knowledge base but also to be able to bring in new curriculum, knowledge, and skills to my students that will hopefully translate into making my students more comfortable performing authentic science (or at a minimum to have my students become more science/technology literate citizens," said Ed Miller, a program participant from Middle Country Central School District.
High school research teachers who are active users at the National Synchrotron Light Source II—a DOE Office of Science User facility at Brookhaven Lab —through Brookhaven's Student Partnerships Advancing Research and Knowledge (SPARK) program, pitched in to serve as peer mentors for the local educators. They offered insights on their personal experiences as they transitioned from classroom teacher to researcher working alongside scientific staff at Brookhaven, how they translated research experience into classroom content, and the impact on their students. The collective instructional team will serve as resources during the academic year when teachers are carrying out their lessons.
Throughout the program, members of the Lab's Environmental and Climate Sciences Department shared how they use sensors and computing in their own research and took visiting teachers on tours of their facilities and equipment.
The group learned about tools including the mobile observatory the Center for Multiscale Applied Sensing deploys in urban and coastal areas, a lab where scientists simulate soot-seeded clouds to study particles emitted by wildfires, rooftop and field observation stations, and a biology greenhouse where Brookhaven's Biology Department researchers study crop plants that can help fill the need for renewable fuel sources and other resources. They also had an up-close look at DOE's Atmospheric Radiation Measurement (ARM) Aerosol Observing System facility—a mobile suite of research instruments—and visited a National Oceanic and Atmospheric Administration and National Weather Service facility on site to learn about weather balloon launches.
The program also highlighted opportunities and pathways teachers can encourage their students to explore and pursue. Program organizers anticipate a long-term relationship with the teachers and participation from their students in Brookhaven Lab and DOE internship opportunities, Uzzi said.
Interns studying with meteorologist Mike Jensen stepped up to present teachers with what they learned while contributing to a campaign to learn more about atmospheric conditions and their connections with pollution and weather around Houston, Texas. During the session, the group discussed environmental justice and the importance of exposing students to coding at a young age, as it's necessary in all areas of science. Interns offered to connect with the teachers and their students during the academic year.
"What better way to learn about these opportunities than firsthand from interns," Uzzi said.
The summer institute is funded by Office of Workforce Development for Teachers and Scientists (WDTS) under DOE's Office of Science.
Brookhaven National Laboratory is supported by the Office of Science of the U.S. Department of Energy. The Office of Science is the single largest supporter of basic research in the physical sciences in the United States and is working to address some of the most pressing challenges of our time. For more information, visit science.energy.gov.
Follow @BrookhavenLab on social media. Find us on Instagram, LinkedIn, Twitter, and Facebook.
2023-21423 | INT/EXT | Newsroom