Local Investors Put Up $500K for Tech Transfer
October 3, 2011
Surrounded by examples of past technological achievements at the Cradle of Aviation Museum in Garden City, more than 100 scientists, entrepreneurs, financiers, and public officials heard Senator Chuck Schumer announce the September 26 kickoff of the Long Island Emerging Technology Fund. With an initial investment of $500,000 from two Long Island investment firms — Canrock Ventures (led by Mark Fasciano) and Jove Equity Partners (led by David Calone) — the fund will be used to create technology companies commercializing inventions from Long Island's top research institutions.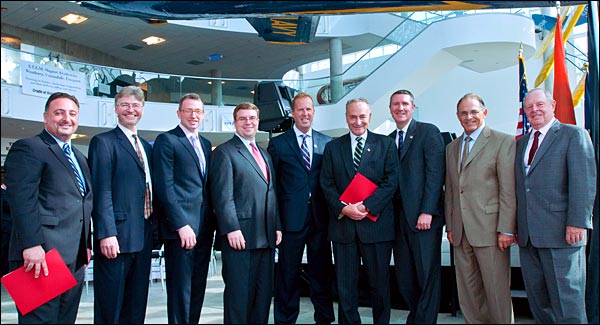 enlarge
Attending the Accelerate Long Island technology showcase at the Cradle of Aviation Museum are, left to right, Marc Alessi, executive director, Long Island Angels Network; Walter Copan; Mark Fasciano, Canrock Ventures; David Calone, Jove Equity Partners; Kevin Law, Long Island Association; Senator Chuck Schumer; Brookhaven Town Supervisor Mark Lesko; Brookhaven National Laboratory Director Sam Aronson and Michael Faltischek, chairman of the board, Long Island Angels Network.
The announcement was made during opening remarks at the second technology showcase sponsored by Accelerate Long Island, an initiative launched by Senator Schumer and Brookhaven Town Supervisor Mark Lesko to create businesses and jobs from scientific advances made at Long Island Institutions including Brookhaven Lab, Stony Brook University, Hofstra University, North Shore-LIJ Health System, and Cold Spring Harbor Laboratory. The first showcase was held at Brookhaven Lab on August 15th.
The fund will provide seed money for the creation of a dozen or more companies over the next two to three years based on technologies developed by the Accelerate Long Island institutions, Schumer said. He added that he hopes the fund will grow to $1 million by early 2012.
"We have all the key ingredients for success," he said. "This will change the way we develop businesses in New York and Long Island, and the people of Long Island will benefit from the creation of good-paying, stable jobs."
Lab Director Sam Aronson noted, "We have a mission for this work. It's not a sideline for BNL as we're supposed to be taking our discoveries into the marketplace — it's part of our calling."
Noting the presence of scores of Science Technology Engineering and Mathematics (STEM) students from Westbury, Uniondale, and Freeport, Aronson added, "Education is also an important mission for the Lab. STEM is a passion of ours, and jobs are waiting for people who want to be the next generation of leaders in these fields."
Senator Schumer and Supervisor Lesko complimented Brookhaven Lab for providing leadership for the Accelerate Long Island initiative, and for its contribution to entrepreneurial development in the region.
Following the speeches, participants heard presentations on 16 available technologies from BNL and three of the other participating institutions on two tracks – Life Sciences and Energy. Life Science topics included new radio-pharmaceuticals for imaging diagnostics, PET bioimaging systems, and a new method of treating depression using known drugs. On the energy track, presentations focused on nanostructured battery anodes, inorganic solar cells, powdered hydrogen, and thermoelectric power technology, among others. The goal is for qualified investors and entrepreneurs to take advantage of a limited-time opportunity to option patents and patent applications on these technologies for a greatly reduced price of just $1,000 under the White House's Startup America initiative and DOE's Next Top Energy Innovator program.
Walter Copan, manager of the Office of Technology Commercialization and Partnerships at BNL, said, "The Accelerate Long Island partnership is bringing together all the necessary ingredients for technology businesses to thrive on Long Island. The support from Senator Schumer and Supervisor Lesko, the Accelerate Long Island leadership, and the business and investment community gives new opportunities for the innovative technologies from Brookhaven Lab to be the foundation for entrepreneurial businesses right here on the Island."
A series of investor meetings have already been held at BNL to follow up on this event and the earlier technology showcase, and there is significant interest in the technologies that were presented, according to Copan.
2011-2595 | INT/EXT | Newsroom