BNL Recognized for Workplace Flexibility For Third Consecutive Year
December 20, 2011
BNL was selected by the When Work Works national team and its regional partner, the National Association of Mothers' Centers (NAMC), as a recipient of the 2011 Alfred P. Sloan Award for Business Excellence in Workplace Flexibility in Long Island. The award places the winning organizations in the top 20 percent of employers nationally in terms of programs, policies and culture for creating an effective and flexible workplace, an assessment that is affirmed by the opinions of randomly selected employees during the selection process.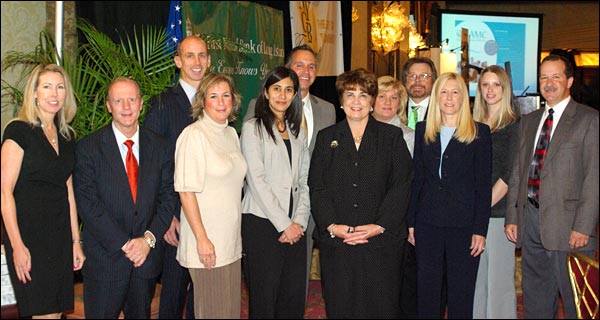 At a November ceremony, Benefits Manager Denise DiMeglio (third from right) represented BNL to receive the 2011 Alfred P. Sloan Award for Business Excellence in Workplace Flexibility in Long Island, along with representatives of other Sloan Award-winning firms including The American Heart Association, BDO, Deloitte, KMPG, Creative Plan Designs, Cerini & Associates, LLP; PW Grosser Consulting, Inc.; and YES Community Counseling Center.
Denise DiMeglio, benefits manager in the Human Resources & Occupational Medicine Division (HROM), accepted the award on behalf of the Lab at the 16th Annual Work/Life Conference held on November 5.
"This is the third consecutive year that BNL has been selected for this award," DiMeglio said. "Balancing work and family life is important to us at BNL, and the Lab offers benefits and flexible work options to staff that help make this ideal possible. HROM staff are committed to helping BNLers do their work while overcoming unusual circumstances. We also welcome new ideas for workplace policies that may expand flexibility while retaining productivity."
Lab employees have available several programs that support and encourage a balance of work and family, such as flexible schedules and telecommuting options that may be arranged with supervisory approval, quality day-care for employees' infants and preschool children at an on-site Child Development Center, and an on-site summer camp open to children in the BNL community.
Employee benefits include programs for employee assistance, wellness, tuition assistance, adoption assistance, scholarships for employees' children, and numerous possibilities for on-site recreation, including a gymnasium, tennis courts, and an Olympic-sized swimming pool. Most recently, the Lab has added a vacation donation program to assist employees who face a serious health condition for themselves or a family member when little paid time off is otherwise available.
BNL also offers on-site free financial counseling and retirement planning by qualified financial advisors, financial help for employees who are first-time home buyers, and on-the-job opportunities to help others in the community, including giving to the United Way, a food drive, a pet supplies drive, a school supplies drive, a blood drive, a toy drive, and the Adopt-a-Platoon program.
The When Work Works project is an initiative of the Families and Work Institute, a nonprofit, nonpartisan research organization that studies the changing workforce, family and community; the Institute for a Competitive Workforce, an affiliate of the U.S. Chamber of Commerce; and the Twiga Foundation, which promotes a family consciousness at home, in the workplace and in the community. Applicants for the awards are evaluated in a two-step process, which first compares the application with nationally representative data. If the applicant places in the top 20 percent, the institute proceeds to the next step, an employee survey to corroborate the employer responses.
2011-2777 | INT/EXT | Newsroom