BSA Noon Recital: La Tragédie de Carmen, 2/15
February 14, 2012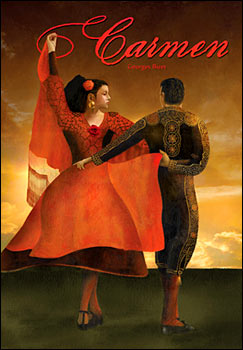 The Stony Brook Opera Guild will perform selections from La Tragédie de Carmen in Berkner Hall on Wednesday, February 15, at noon. This work, acclaimed in a long theater run in 1983, was adapted by Peter Brook from Bizet's Carmen. Brook shortened the work to about 85 minutes total and focused the action entirely on the scenes involving the four principals, Carmen, Don José, Micaëla, and Escamillo. He eliminated the chorus, and had the distinguished French composer Marius Constant reduce Bizet's symphony orchestra to a small chamber orchestra. For the spoken dialogues in his adaptation, Brook drew more closely upon Prosper Merimée's original story than Bizet's librettists had done.
Stony Brook Opera will perform La Tragédie de Carmen in full at the Staller Center in Stony Brook University on February 18 at 8 p.m.
Sponsored by BSA, the company that manages Brookhaven National Laboratory, the concert is free and open to the public. Visitors to the Lab 16 and older must carry photo ID.
2012-2866 | INT/EXT | Newsroom