Earth Week 2012: "What Can You Do?" to Help BNL Be a Sustainable Organization
April 27, 2012
Helping Lab employees understand how their day-to-day actions and choices help or hinder the Lab in its pursuit of sustainable goals was the major theme of Earth Week 2012, held at the Lab April 16 through 20. And did employees get the message?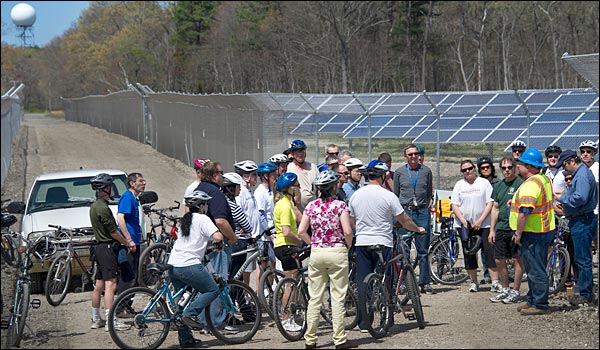 "Yes, I believe they did," said Jason Remien, the Environmental Protection Division's (EPD) Regulatory Compliance Group leader and Earth Week 2012 team leader. "The Earth Summit, co-sponsored by Citizens Campaign for the Environment and the Lab's Community Affairs group, had about 150 attendees. Employees covered the Environmental Pledge Tree with their pledges. And the Sustainability Challenge was a popular online destination for people all week long."
Plus, about 40 employees learned about the Long Island Solar Farm and the Lab's planned work on a solar research array during a bicycle tour of the two locations, said EPD's Peter Pohlot. (Note: if you plan on riding or running on the firebreak roads in the area of the solar farm, wear bright or light colors. Dark colors blend in with the fencing and trees, and people are difficult to see at intersections.)
Employees also won prizes from the week's activities. For the Pledge Tree, they are: Mohan Nair (mountain bike and helmet); Ed Sperry (Kindle e-Reader); Peter Realmuto (Eton emergency radio); Liz Seubert (Combo Pack: Canvas bag, mugs, and T-shirt); Leroy Smalls (Combo Pack); and Deana Buckallew (Combo Pack). And the randomly selected winner of the online Sustainability Challenge is Walter Czekaj, who won an Eton emergency radio.
Assistant Laboratory Director George Goode said he wanted to remind employees that Earth Week is only considered a success if everyone really takes the messages to heart and takes meaningful action throughout the year.
"Your personal actions, when taken all together with those of your co-workers and staff, make a big difference here at Brookhaven Lab," Goode said. "You're helping the Lab meet its sustainability goals and requirements." He recommended six simple things every employee can do to help the Lab meet its goals:
Order green products, such as recycled toner cartridges for your printers
Put recyclables into the correct containers
Turn off the lights and power down computers at the end of each work day
Go paperless – or at least print on both sides of the page
Carpool, bike or walk
Bring a reusable mug to catered events
The Lab will be represented at the Heckscher State Park Spring Festival on Sunday, April 29, 10 a.m. to 4 p.m.
Employees interested in learning more about what they can do to help the Lab be a more sustainable operation should contact Jason Remien at remien@bnl.gov.
2012-3025 | INT/EXT | Newsroom