'Go Figure!'
May 9, 2012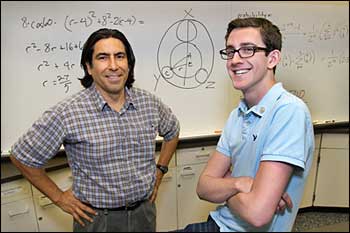 Louis Peña (left) and William Meehan
William Meehan, a 10th grader from East Islip High School, has a real passion for numbers. Meehan, a participant in the Lab's middle and high school math scholar program (administered by the Museum of Mathematics) for the past few years, said his love for figures and equations really paid off when he recently made the list of semifinalists in the American Mathematical Competition. Meehan was among 400,000 students who participated in the competition. The next hurdle, the American Invitational Math Exam, trimmed the number of students from 12,000 to 500.
"So far, so good," says Meehan, who recently came to the Lab for this latest round of testing.
Louis Peña, a radiation biology researcher in the Medical Department and the director of the Lab's Nuclear Chemistry Summer School, is a co-director of the math scholar program. He proctored this Junior Math Olympiad qualifier for Meehan at BNL. "I am always amazed at the intelligence and motivation of some of these young students," he said.
But the exam isn't for the faint-hearted. Each exam takes a total of nine hours over a two-day period. If Meehan passes this round of the Junior Math Olympiad testing and finishes among the top 30 students, he will have the opportunity to attend "Math Camp" at the University of Nebraska this summer. A team of six will then be selected to travel to Argentina to represent the United States in the International Math Olympiad.
The Institute for Creative Problem-Solving for Gifted and Talented Students, founded by the late Professor Jong Pil Lee of the SUNY College at Old Westbury (SUNY-Westbury), was a building block for Meehan's adventure. "Being admitted to the SUNY-Westbury program when I was in seventh grade really helped me focus on my math skills," said Meehan. "I am very grateful to have had that opportunity."
"Professor Lee was an advocate for programs that target students of exceptional ability while a critical cognitive window remains open," said Peña. "If you wait too long, you lose these students to boredom and the window closes. The nation's homegrown scientific and academic manpower suffers as a result."
It was Lee's motivation that inspired math and education enthusiasts Glen Whitney and Cindy Lawrence to open the Museum of Mathematics in New York City to support mathematics learning locally and nationally. "Sponsoring the continuation of opportunities for these students gifted in math after being identified by Lee is consistent with our Department of Energy mission and Lab philosophy of supporting the next generation of scientists and engineers," said Ken White, manager of BNL's Office of Educational Programs. "Math is an underpinning for most of what we do here at BNL, and mentors like Louis make it come alive for our students."
When Meehan isn't challenging his skills with math problems, he spends his time playing cello and piano in a local youth orchestra. He has also appeared on News 12 Long Island's "The Challenge," an academic TV quiz show for local high school students. He hopes to attend the Massachusetts Institute of Technology to study physics after he graduates from high school in 2014.
In addition to Meehan, Luran He of Ward Melville High School, also a participant in the Lab's math scholar program, qualified for this round of testing and took the exam at his home high school.
"As a group, the students in the math scholar program did very well in these competitions. Now we are all thrilled to be part of this exciting phase and we wish William and Luran good luck," said White.
For more information about the math scholar program, contact Louis Peña, Ext. 8041, lpena@bnl.gov or Ken White, Ext. 7171, kwwhite@bnl.gov.
2012-3053 | INT/EXT | Newsroom