It Pays to Investigate Ridesharing at Brookhaven Lab
May 7, 2012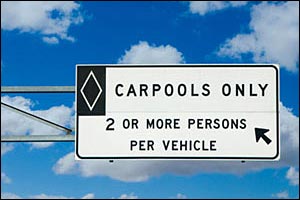 The price per gallon of regular gas on Long Island averages $4.05, so if drivers weren't sure about ridesharing before now, maybe the growing cost will inspire a look at how to split their commuting burden with colleagues.
Jeff Williams, a project engineer in the Lab's Environmental Protection Division, administers Brookhaven's rideshare program, which he said has a new level of interest, especially after new promotions announced during Earth Week.
"We've had employees signing up for ridesharing to take advantage of the 511NYRideshare Carpool Challenge being offered by MetroPool, a state-sponsored commuter incentive," he explained. "Through June, it is offering a $25 Dunkin Donuts gift card to people who carpool to and from work four or more times in one month. Even if you share a ride just once a week, you'll still get the prize. The objective is to encourage people who normally commute alone to try carpooling in the hope they'll enjoy the experience and continue carpooling."
A bigger prize, Williams said, comes over time, when ridesharing commuters add up the cost savings in fuel as well as 'wear and tear' on their cars. He said it takes just a minute to use 511NYRideshare's cost calculator.
"With gas prices on the rise almost monthly, that calculator makes a more powerful argument all the time," he added.
Signing up for the Lab's rideshare program is easy – just go to http://www.bnl.gov/rideshare/. Once you're done signing up, the registration for the Carpool Challenge takes just a minute, starting with this form, which must be returned to jwilliams@bnl.gov.
The one concern Williams said he hears the most is from people who fear being stuck at work without a way home if they're not able to meet their rideshare partners in time at the end of the day.
"But that's not a problem with 511NY Rideshare's Guaranteed Ride Program," he said. "When emergencies and unexpected situations come up, the Guaranteed Ride Program will provide you the ride you need. It is easy to use and there's no cost." To learn about this part of the program, go to http://www.bnl.gov/rideshare/rideservice.asp.
According to Williams, one of the added benefits of working at a place as large as Brookhaven Lab is having so many coworkers coming from all parts of Long Island – and even from as far as New York City.
"There's bound to be someone near you who is also looking for a rideshare partner," he said.
If the web pages don't have enough information, or if you just need a little more convincing, Williams said he's happy to receive a phone call to talk about concerns and opportunities. He can be reached at Ext. 5587 or jwilliams@bnl.gov.
2012-3066 | INT/EXT | Newsroom