Captains Kick Off Brookhaven Lab's 2012 United Way Campaign
November 1, 2012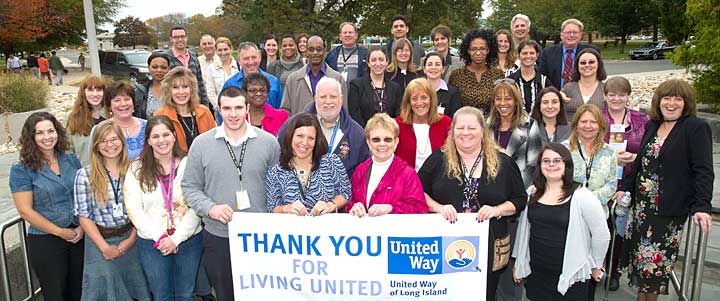 Captains from across the site rallied last week to kick off Brookhaven Lab's annual United Way campaign. This year, the Lab's fundraising goal is $150,000.
It's on! Brookhaven Lab's campaign for the United Way of Long Island began last week on October 25. On that day, captains from directorates, divisions, and departments across the site rallied in Berkner Room B to kick off the annual fundraising drive.
"The United Way campaign demonstrates one of the many ways that the people of Brookhaven Lab work to benefit the Long Island community," said Lab Director Sam Aronson, as he welcomed the captains. "We've continued to make each campaign more successful than the previous year's. I hope we can all come together in 2012 to create the success we're used to in providing for our neighbors in need."
The captains then heard from the chairs for the 2012 campaign: Quality Management Office Manager Roy Lebel and Chief Human Resources Officer Bob Lincoln. The two chairs thanked the captains for committing to help the Lab reach its goal of raising at least $150,000 — $5,000 more than the goal for the United Way campaign last year.
Next, representatives from three institutions that benefit from donations made to the United Way of Long Island — Long Island Cares (the Harry Chapin Food Bank), the American Red Cross, and Long Island Head Start — spoke to the captains. They described the work that their organizations do for thousands of Long Islanders who need food, help during emergencies, and assistance for families to become self-sufficient.
The most up-to-date list of fundraising events, compiled by campaign co-chair Joyce Fortunato, is online. BNLers are also encouraged to participate in this year's campaign by submitting a pledge form. These forms were delivered via interoffice mail and are one of the most convenient ways to contribute. Completed forms should be sent to Liz Mogavero in Bldg. 510A.
The United Way of Long Island supports 125 agencies and charitable foundations that work with Long Islanders who need support including young people, the elderly, victims of domestic violence, veterans, families of deployed military reservists, and children afflicted with conditions such as Down syndrome, autism, and multiple sclerosis.
Eighty-eight cents of every dollar donated to the United Way of Long Island goes directly to agencies and foundations on Long Island that help neighbors with their education, income and financial stability, and health. All donations stay on Long Island. The website Charity Navigator gives the United Way of Long Island a four-star rating, the highest rating possible.
2012-3432 | INT/EXT | Newsroom