Stony Brook Opera and Baroque Players to Preview Handel's Orlando at Brookhaven Lab April 10
March 27, 2013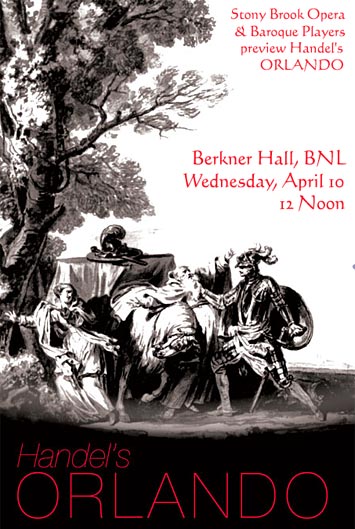 The Stony Brook Opera's production of Handel's opera Orlando will be previewed in a concert at the U.S. Department of Energy's Brookhaven National Laboratory on Wednesday, April 10, at noon in Berkner Hall. Sponsored by Brookhaven Science Associates, the concert is free and open to the public. All visitors to the Laboratory 16 and older must bring a photo ID.
Although Handel is most famous today for greatly beloved works such as The Messiah and Water Music, during his lifetime he was the foremost composer of Italian opera. His marvelous operas dominated the Italian opera scene in London for more than 20 years. In recent years, these extraordinarily beautiful and theatrical Baroque operas have come to be performed, and enjoyed, by audiences throughout the world.
"Orlando is a rarely seen spectacle that should not be missed," said Arthur Haas, director of the Stony Brook Baroque Players and conductor of the production. "It really has something for everyone."
Produced by David Lawton, the opera will be presented at BNL in a semi-staged version by Guillame Bernardi, with singers accompanied by a small baroque ensemble under the baton of Haas. The excerpts will be sung in the original Italian, with projected subtitles in English. The fully staged opera will be performed at the Staller Center on April 13 and 14, 2013.
Call (631) 344-2345 for more information.
2013-3819 | INT/EXT | Newsroom