In March 2013, the U.S. Department of Energy (DOE) launched a new series, "Women @ Energy," to highlight women who are improving the world through their careers in Science, Technology, Engineering and Mathematics (STEM) across the DOE complex. To date, seven Brookhaven scientists have been featured.
Women @ Energy: Vivian Stojanoff
April 9, 2013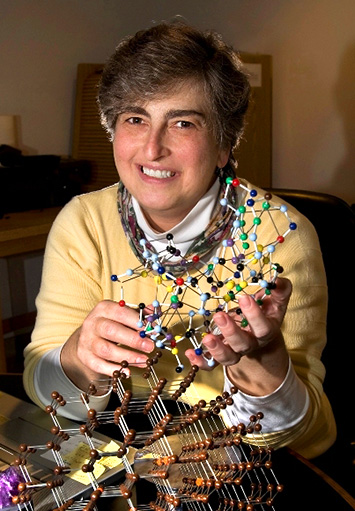 Vivian Stojanoff, a scientist at Brookhaven National Laboratory, holding a protein crystal model. Stojanoff uses x-rays at the National Synchrotron Light Source to study how atoms are arranged in protein crystals, because the arrangement affects how proteins function.
Vivian Stojanoff works at the U.S. Department of Energy's Brookhaven National Laboratory. There, she uses x-rays at the National Synchrotron Light Source (NSLS) to study how atoms are arranged in protein crystals, because the arrangement affects how proteins function. For example, knowing the way atoms are arranged in the protein insulin has helped medical doctors provide better treatments for diabetes. Stojanoff was raised in Brazil, where she earned her bachelor's and master's degrees in physics and her Ph.D. in crystallography at the University of São Paulo. Before joining the NSLS as a physicist in 2001, Stojanoff held scientific staff positions at the Physics Institute of the University of São Paulo, Brookhaven Lab's Biology Department, and the European Synchrotron Radiation Facility. In addition to her research at Brookhaven, Stojanoff inspires up-and-coming women in STEM fields by heading the Brookhaven Women in Science (BWIS) organization at the Lab. Under Stojanoff's leadership, BWIS hosts seminars and lectures each month, some featuring renowned women scientists from around the world. BWIS also administers two scholarships to women pursuing degrees in STEM-related fields and provides frequent networking opportunities for members to support each other's efforts on the job and encourage each other's successes.
What inspired you to work in STEM?
My mother. She taught me how to observe things around me. She majored in English, but was—and still is—interested in understanding how things work, how our bodies function, etc., so we frequently talked about scientific discoveries, history, literature, and people.
What excites you about your work at the Energy Department?
I use x-rays at the National Synchrotron Light Source at the Energy Department's Brookhaven National Laboratory to look at the ways atoms are arranged in protein crystals. You can do so many different experiments and take so many different measurements at the NSLS that eventually none of a sample's secrets remain. My work is fun, challenging, and rewarding and it will be even more so when operations begin at our next facility, NSLS-II, where x-rays will be 10,000 times brighter.
How can our country engage more women, girls, and other underrepresented groups in STEM?
I don't believe there is one single solution. Women of all ages—young girls, in particular—should never be told that it's OK not to like math or science simply because it is considered too hard. Never did anyone tell me that, because I was a woman, I did not have to worry about my performance in math or physics. Families, teachers, policy makers, and other members of society need to make significant efforts to support education. We also need to recognize that the responsibility of raising children should be shared—it's not just a woman's job. Day care, school schedules aligned with working parents' schedules, and lots of family involvement are very important. Lastly, women must support their daughters, encourage them to be curious and interested in the things they see, and not let anyone tell them they are not smart enough.
Do you have tips you'd recommend for someone looking to enter your field of work?
I suggest being flexible, because very few people end up doing exactly what they planned for in high school. It is important to have direction, so major in the subject you like best, don't forget the other sciences, and keep an open mind to take advantage as opportunities arise. I also advise people not to "over-specialize," because exploring different options promotes creativity and your ability to solve problems. Lastly, you will need to know at least a little bit about computer programming.
When you have free time, what are your hobbies?
I like to cook and eat, garden, and travel. Cooking, enjoying what I cooked, and sharing meals with family and friends make for enjoyable time off. New ideas for an experiment or answers to questions often come up while chatting over dinner too. Gardening is relaxing and I feel closer to the cycle of life. Travelling—exploring, observing, and learning—doesn't have to involve going to another country. You may just take a different road home. Seeing new faces and meeting new people, maybe with different life styles and opinions, is a learning experience. One is always learning.
2013-3847 | INT/EXT | Newsroom