Brookhaven Science Associates Awards BSA College Scholarships to 15 High School Seniors
May 20, 2013
Brookhaven Science Associates (BSA), the company that manages Brookhaven Lab for the Department of Energy through a partnership between Battelle and Stony Brook University (SBU), has announced 15 winners of the annual BSA Scholarships. These scholarships are awarded to children of Lab employees—a longstanding tradition that began at Brookhaven Lab in 1965. Each BSA scholar is a high school senior who will receive $2,500 per year for up to four years of study at the college or university of his or her choice. As an additional benefit, SBU, which is committed to bringing the SBU and Brookhaven communities closer together, has offered a matching scholarship to BSA scholars who are admitted and enroll as fulltime students at SBU in the fall of 2013.
"Brookhaven Science Associates is proud to continue this tradition by recognizing 15 of our employees' remarkable children, who are pursuing higher education as they prepare to meet the challenges and opportunities of tomorrow," said BSA Board Chair and Executive Vice President, Global Laboratory Operations, for Battelle Ron Townsend.
The 15 BSA scholars for this year are listed below.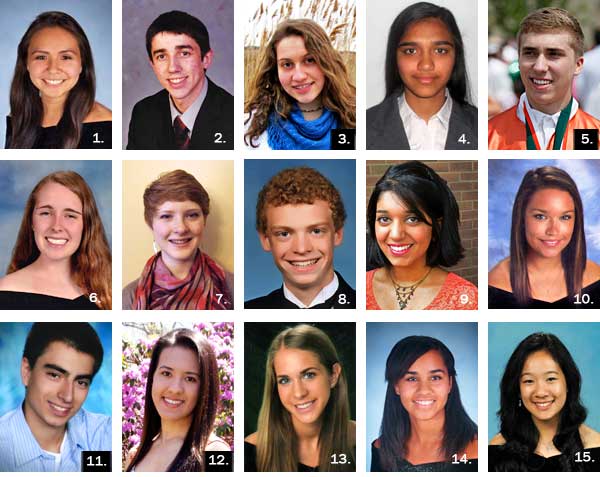 1. Nicasia Beebe-Wang is valedictorian of her class at Westhampton Beach High School and the daughter of Joanne Beebe-Wang and Edward Beebe, who both work in Brookhaven Lab's Collider-Accelerator Department. This fall, she will attend Harvard University with plans to study neurobiology, psychology, and statistics for a career in scientific research.
2. Daniel Bunchuck, the stepson of Thomas Trojanowski in the Energy & Utilities Division, lives in Greenport and is a senior at Greenport High School. He will attend Virginia Tech to major in chemistry with plans for a possible career in science.
3. Nina Camillone lives in Shoreham, where she has been homeschooled. Daughter of Nicholas Camillone in the Chemistry Department, she will attend Wheaton College and plans to study biology or chemistry while considering a career in molecular biology.
4. Amizhdini Eswaramoorthy, a resident of Miller Place who will graduate from Miller Place High School, is the daughter of Subramaniam Eswaramoorthy in the Biosciences Department. She will attend Vassar College to study biochemistry for a career in medicine.
5. Michael Gofron attends Plainfield East High School, lives in Plainfield, Ill., and is the son of Kazimierz Gofron from the Photon Sciences Department. He will major in computer engineering at Northwestern University to become a computer programmer, or software or hardware engineer.
6. Nicole Heneveld, a senior at Massapequa High School and resident of Massapequa, is the daughter of Brian Heneveld in the Photon Sciences Directorate. She will study theatre at Adelphi University to pursue a career in theatre or writing.
7. Emily Hoff is the daughter of Lawrence Hoff, who works in the Photon Sciences Directorate. A senior at Bellport High School and resident of East Patchogue, she will attend the University of California at Irvine to major in dance. She hopes to become a professional dancer.
8. Matthew Ingham, whose stepfather is John Shanklin of the Biosciences Department, lives in Shoreham and is a senior at Shoreham-Wading River High School. He will attend the University of Delaware to major in chemical engineering.
9. Shweta Iyer, daughter of Srinivasan Iyer in the Information Technology Division, attends Comsewogue High School and lives in Port Jefferson Station. She will go to SBU this fall to major in technological systems management with a concentration in chemical engineering as she is interested in developing alternative energy systems.
10. Elizabeth O'Connor is the daughter of Paul O'Connor in the Instrumentation Division. She will graduate from Bellport High School and lives in Bellport Village. She will attend Duke University and is interested in public policy and music.
11. Carlos Peña-Lobel, a senior at Ward Melville High School and resident of Setauket, is the son of Louis Peña in the Biosciences Department. He will major in biochemistry at Harvard University.
12. Anna Prigl lives in Centereach and is a senior at Centereach High School. Daughter of Guangwei Che in the Physics Department, she will attend Binghamton University for a career in business.
13. Gabriella Rocco, a resident of Islip who will graduate from Islip High School, is the stepdaughter of Diane Rocco in the Environmental Protection Division. She will attend Cornell University to major in government.
14. Chade Walker, who lives in Rocky Point and goes to Rocky Point High School, is the daughter of Arthur Walker in the Site Resources Division. She will study public health at the State University of New York at Albany and is considering a career in medicine.
15. Amy Wang, daughter of Xijie Wang of the Photon Sciences Directorate, attends St. Anthony's High School and lives in Mount Sinai. She will likely go to the University of Notre Dame and is interested in a career in medicine.
2013-3906 | INT/EXT | Newsroom