Earth Day 2013 Recap and Prize Winners
May 22, 2013

The Green Vehicle Showcase featured hybrid, alternative fuel, and electric vehicles.
The Lab's Earth Day 2013 celebration, organized by the Environmental Protection Division (EPD), and the Long Island Earth Summit and co-hosted by the Community Relations Office and the Citizens Campaign for the Environment, filled Berkner Hall April 22 with topical speakers, including U.S. Congressman Tim Bishop, and Lab staff interested in learning about the environment, recycling, power conservation/management, and green purchasing, and the Lab's efforts to be an environmentally responsible and sustainable operation.
"I'm very happy with how the day unfolded," said Jason Remien, EPD interim manager. "The displays presented by EPD staff were fantastic. The vendors we invited matched up perfectly with the Lab's sustainability goals. And the green vehicle show case, as always, was a hit."
Everyone who visited Berkner that day, Remien said, came away with a better understanding of the Lab's goals and how they could help the Lab achieve them. And those who attended the "Office Swap" likely walked away with good, used office supplies, which is another way of helping the Lab reduce waste.
"The EPD and Community Relations staffs put a tremendous amount of effort and energy into planning BNL's Earth Day," he said. "And the support we see from the rest of the Lab staff is very encouraging."
enlarge
Steve Schwartz, "Black Crowned Night Heron, Blue Banded Plastic Bottle"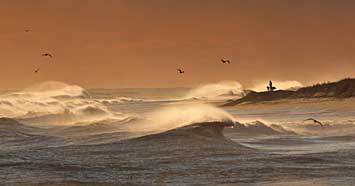 enlarge
Rich Jackimowicz, "Ocean Mist"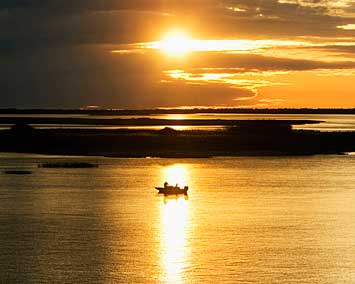 enlarge
Joe Gettler, "Small Boat in a Big Bay"
The Earth Day 2013 "Passport to Green" raffle winners are:
1st place, Valerie Vergona, who won a Raleigh 18" TALUS 2.0 Mountain Bike, with helmet.
2nd place, Bob Howe, who won a Nest Learning Thermostat
3rd place, Steve Dasaro, who won an Etón Self-and-Solar Powered AM/FM/Weather Radio
New this year to the Earth Day celebration was a Labwide photo contest. The theme was "What Does Earth Day Mean to You?" The winners are:
1st place, Steve Schwartz, for "Black Crowned Night Heron, Blue Banded Plastic Bottle"
2nd place, Rich Jackimowicz, for "Ocean Mist"
3rd place, Joe Gettler, for "Small Boat in a Big Bay"
And this year's "Your Environment" student art contest winners are:
Ella Anthony, Coram Elementary School
Alyssa Colorio, John S. Hobart Elementary School
Julia Kranenberg, Laddie A. Decker Sound Beach School
Kristopher Mercado, Ridge Elementary School
The winners each took home a $100 gift certificate, and the children attending all received "crazy crayons" made from recycled materials.
The green vehicle showcase was a popular draw, and featured the latest hybrid, plug-in hybrid and electric vehicles now available in dealer showrooms. "This year we had 14 vehicles, including three all- electric vehicles—a Tesla Model S, a Nissan Leaf, and a Misubishi i-Miev—proudly displayed by their BNL owners," noted Jeff Williams, who organized the showcase on behalf of the EPD. "Also on display were two new plug-in hybrid offerings from Honda and Ford with respective EPA combined mileage ratings of 115 and 100 miles per gallon."
On April 28, EPD and Community Relations staff members operated a booth at the Heckscher State Park Spring Festival, which Remien said was very well attended.
"It was great visibility for the Lab, and a great way to remind our neighbors of our commitment to rigorous environmental stewardship," he said.
Remien also had a simple tip for all staff who want to help the Lab achieve its goals during the year: "Recycle. It's a simple process and it results in cost savings, as well as environmental benefits," he said. "And purchase green products, such as recycled toner cartridges for printers, and always use recycled paper products."
2013-3983 | INT/EXT | Newsroom