BSA Distinguished Lecture on Wednesday, 10/23
Mathematician David Keyes' talk titled 'Paradigms for a 21st Century University: Building a Research University 'From the Sand Up''
October 18, 2013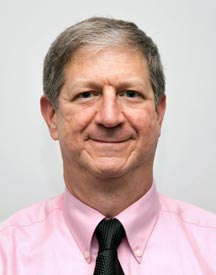 enlarge
David Keyes, founding dean of the Computer, Electrical and Mathematical Sciences & Engineering Division at King Abdullah University of Science and Technology (KAUST) in Saudi Arabia
David Keyes, founding dean of the Computer, Electrical and Mathematical Sciences & Engineering Division at King Abdullah University of Science and Technology (KAUST) in Saudi Arabia, will give a BSA Distinguished Lecture at Brookhaven Lab on Wednesday, Oct. 23, at 4 p.m. in Berkner Hall. The talk is titled "Paradigms for a 21st Century University: Building a Research University 'From the Sand Up.'"
Set on the Saudi Arabian shores of the Red Sea, KAUST is an international, graduate research institution with research thrusts in energy, environment, food, and water and supporting initiatives to advance data-driven modeling, simulation, analytics, software, and hardware. KAUST was founded in 2009 in the spirit of the Bayt al Hikmah, the "House of Wisdom" where 12 centuries ago, scholars made great contributions in developing foundations for modern mathematics, physics, chemistry, and medicine. KAUST has been endowed with world-class facilities and has recruited distinguished research faculty, including the university's current president Jean-Lou Chameau, former president of Caltech, who accepted this role during the growing institution's fifth year of academic operations.
During this BSA Distinguished Lecture, Keyes will describe the motivation, strategies, and progress toward the ambitious goal of building a world-class research university "from the sand up."
About the Speaker
Keyes earned a Ph.D. in applied mathematics at Harvard University in June 1984. Before joining KAUST in 2009, he held appointments at institutions including Columbia University, Old Dominion University, NASA's Institute for Computer Applications in Science and Engineering, and Yale University. He also consulted for companies including Boeing Computer Services and 3M and held visiting appointments at Brookhaven Lab's Computational Science Center, as well as Argonne, Lawrence Livermore, and Oak Ridge National Laboratories.
About BSA Distinguished Lectures
BSA Distinguished Lectures are sponsored by Brookhaven Science Associates, the company that manages Brookhaven Lab, to present topics of general interest to the Laboratory community and the public. These lectures are free and open to the public. All visitors to the Laboratory 16 and older must bring a photo ID.
2013-4372 | INT/EXT | Newsroom