Aim for the Sky!
Brookhaven Lab's Justine Haupt Helping to Build the World's Largest Digital Camera
February 7, 2014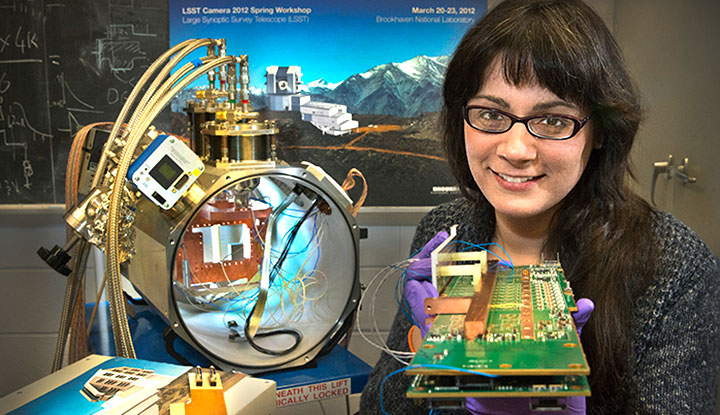 enlarge
Design Engineer Justine Haupt is pictured in front of the cryostat she designed for testing LSST's electro-optic sensor modules. She is holding one of the compact front-end electronic assemblies that will enable the camera to be read out at a remarkable 1.5 billion pixels per second.
"Being part of a team that is designing and building a telescope that may very well be the center of the United States' astronomy program feels great!"
When completed, the Large Synoptic Survey Telescope (LSST) will be the world's largest digital camera. It's been called the widest, fastest, deepest eye of the new digital age. This remarkable telescope, to be stationed on a mountaintop in Chile, promises to cast light on mysteries fundamental to our understanding of the universe. It will scan the sky rapidly and chart objects that change or move, including exploding supernovae and potentially hazardous near-Earth asteroids. LSST's images will trace billions of remote galaxies allowing probing of mysterious dark matter and dark energy. Its uniquely wide field of view will allow LSST to observe large areas of the sky at once and move quickly between images. It will be able to take more than 800 panoramic images each night and cover the entire sky twice a week. And that is just a brief description. The LSST is fascinating—and Brookhaven Lab is playing a big role in the project.
Meet Engineering Whiz Justine Haupt
When you meet Justine Haupt you will immediately recognize her calm intelligence and positive attitude. Haupt works in the Lab's Instrumentation Division designing and building prototypes for the LSST.
"She thinks 'outside the box' and comes up with methods that will streamline testing of the LSST's focal plane components," said Brookhaven researcher Paul O'Connor, who mentors Haupt. "She is inventive, spirited, and remarkably creative. In the four years she has worked at the Lab, she has constructed more than two dozen pieces of equipment, ranging from custom catadioptric lens systems to a microprocessor-controlled, in-vacuum induction motor. She also keeps our group's 3D printer busy turning out parts for her various creations. She has managed to develop a mastery of mechanical, optical, and electrical design." For her "impressive range of excellence" Haupt received the 2014 Rising Engineering Star award from Mouser Electronics and Design News.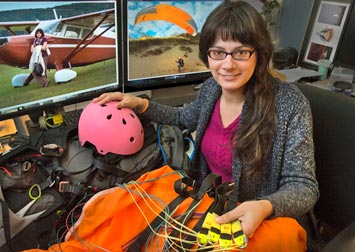 enlarge
At work, Justine Haupt designs and builds prototypes for the LSST, but in her spare time this design engineer takes to the sky in a plane or paragliding.
You might think work would keep Haupt busy enough, but the young researcher takes her quest for knowledge of the sky and our universe a step further. In her spare time, she is an avid paragliding pilot. She got her pilot's license at age 18, has performed some flying acrobatics, and holds an FAA certified Advanced Ground Instructor rating. She refurbished the avionics of a 1947 Stinson Voyager (a single-engine plane) and installed a new intercom and strobe system. She volunteers and sits on the board of directors at the Custer Observatory, located on the east end of Long Island in Southold, where she routinely reviews and re-engineers the instrumentation for the largest telescope on Long Island.
"Flying in either a plane or paragliding is exhilarating," said Haupt. "And, being part of a team that is designing and building a telescope that may very well be the center of the United States' astronomy program feels great! This job has far exceeded my expectations. I learn something new every day."
In addition, Haupt volunteers at the Laboratory giving talks to students and visitors about her work. She also finds time to play piano, trombone, and do some fiddling during her lunch hour with fellow employees and musicians, Paul O'Connor, Peter Siddons, Sean McCorkle, and Cindy Salwen. "We casually call ourselves the Stochastic Orchestra and have performed at venues like the Custer Observatory, but mostly we just enjoy meeting at lunchtime and jamming," said Haupt.
"For fun," she added, "I've been working on developing a new holographic projection technique and exploring an idea for a new class of solar astronomy instrumentation.
"These are things that could even eventually turn into business ventures. For now, I'm grateful for my job at the Lab and the time I get to take to the sky."

More information on the LSST and Brookhaven Lab's role can be found at http://www.bnl.gov/LSST/ .
​
2014-4570 | INT/EXT | Newsroom