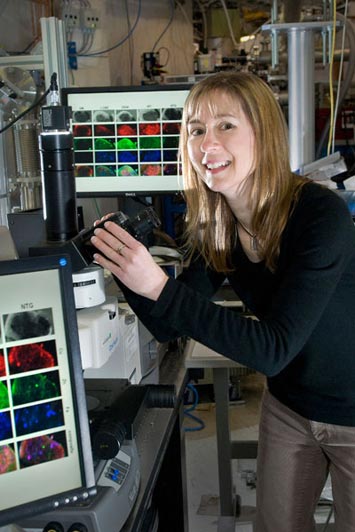 Lisa Miller
Featured on campus: "Whether it's shedding light on the intricacies of the NSLS, trekking to the top of Mount Kilimanjaro, or inspiring future scientists to reach their own peaks, biophysical chemist Lisa Miller is up to the challenge." Read the full article about Brookhaven Lab's Miller posted on Stony Brook University's website.
Quoted in local press: Photon Sciences Directorate physicist Dario Arena is quoted in the Times Beacon Record's feature about Javier Pulecio, associate physicist in the Condensed Matter Physics and Materials Science Department. Arena is a mentor to Pulecio. Click on "BNL's Pulecio drawn to study of magnetic spin."
DOE grant for New York company: Sydor Instruments, based in Rochester, New York, has received an $833,000 grant from the U.S. Department of Energy to complete work on a novel microstrip detector for use at the National Synchrotron Light Source II and at other light sources worldwide. The Democrat & Chronicle reported on the news.