Brookhaven Lab and Hofstra University Win $2.5 Million Research Grant to Promote STEM Learning in Middle Schools
September 26, 2014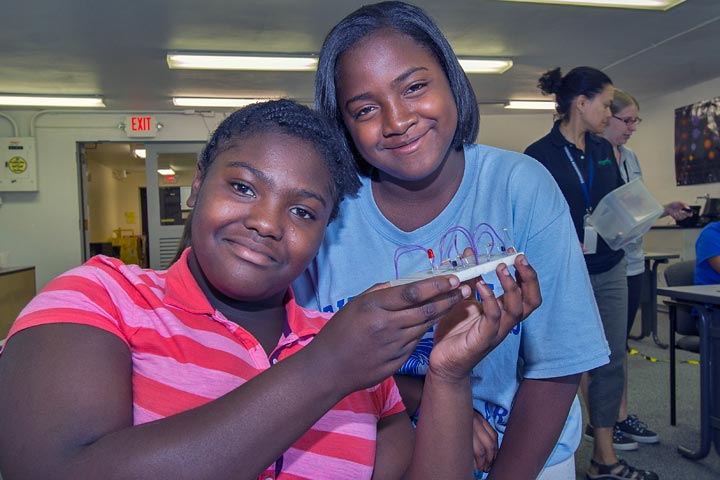 enlarge
Brookhaven Lab has been offering engineering workshops to students for many years.
The U.S. Department of Energy's Brookhaven National Laboratory will collaborate on a project to introduce STEM-based learning opportunities to middle school children through 25 Boys & Girls Clubs on Long Island and in the metropolitan New York area. The National Science Foundation (NSF) has awarded $2.5 million to the five-year project, to be based at Hofstra University's Center for STEM Research.

The project will be directed by David Burghardt, professor of engineering at Hofstra, supported by co-principal investigators Xiang Fu, associate professor of computer science at Hofstra, and Melissa Rhodes, executive director of the Glen Cove Boys & Girls Club, Ken White, manager of the Office of Educational Programs (OEP) at Brookhaven Lab, and Margaret Hunter, associate professor of engineering at Hofstra.
"We are excited to be working with Hofstra University on another NSF grant," said White. "Our previous work with Hofstra provided the Lab's Office of Educational Programs an opportunity to develop sustainable middle school science programs that now bring thousands of students here every year. This project will also reach thousands of students and prepare after-school educators to sustain science programs with the Boys and Girls clubs long after project completion."
The more than 6,000 children in the program will take part in hands-on engineering design activities using online animations, simulations, videos and multi-media links. Presented in an informal learning environment, "Wise Guys & Gals – Boys & Girls as WISEngineering STEM Learners" will provide innovative academic challenges created to promote an interest in engineering and design, and an understanding of how science, technology, engineering and math skills can translate into careers. After-school programs at the Boys & Girls Clubs will involve hundreds of trained learning facilitators.
Brookhaven's role will be to help develop the hands-on curriculum and also to create a professional development framework for the teachers in order to make the program sustainable in future years. Bernadette Uzzi from Brookhaven's OEP will be the Lab's liaison to the program partners.
Uzzi joined OEP at the end of the Math, Science, and Technology Partnership (MSTP) project, another collaboration led by Burghardt, which provided the foundation for many of the programs OEP offers today.
"The MSTP project helped to solidify several relationships we have with local school districts, including Longwood, Amityville, and William Floyd," Uzzi said. "The outcomes of our previous collaboration were transformative for students, teachers, and our own staff. I'm extremely honored to be part of this team and excited about the opportunities that lie ahead."

The research team will study how a blended-learning environment – synergistically linked virtual and hands-on experiences — can support informal STEM learning. They will use specifically designed tests to analyze why specific activities are successful. The team will then develop guidelines for the use of materials developed through the program.

The children will begin their design activities by completing virtual mini-challenges that support the learning needed to complete the design challenges. The hands-on building and testing that will follow will be seamlessly connected with the computer-based work. The children will be encouraged to virtually record and reflect upon their physical design work, and will be able to upload pictures or drawings of their designs. Collaboration among the children will be facilitated through the Design Wall, a social-media sharing site that will enable them to share their design solutions with each other.

For more information on this and other Brookhaven Lab education programs, visit http://www.bnl.gov/education/. Visit www.hofstra.edu/CSR for more information on the Center for STEM Research.
2014-5190 | INT/EXT | Newsroom