'Tis the Season for Giving
Brookhaven Lab employees help make spirits bright for neighbors
December 22, 2014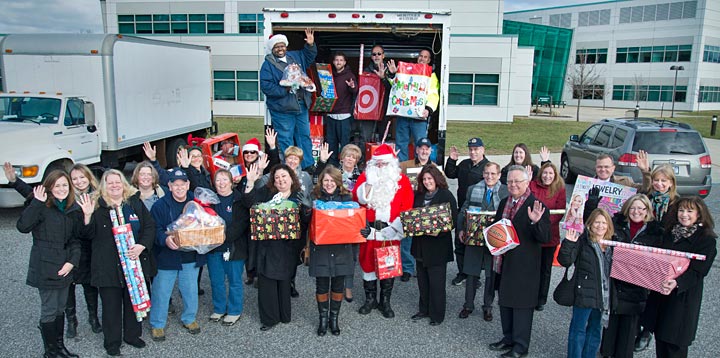 enlarge
Laboratory employees gather (with Santa!) as more than 100 boxes of gifts donated by Lab employees will be delivered to Colonial Youth and Family Services to help make the holidays a little brighter for local neighbors.
Brookhaven Lab employees certainly believe this is the season for giving.
For the third consecutive year, Lab employees partnered with Colonial Youth and Family Services (CYFS) of Mastic for the Adopt-A-Family program by donating gifts that will help some of our less fortunate neighbors enjoy the holiday season.
Over 100 boxes filled with clothing, toys, electronics, and gift cards — all donated by Lab employees — were packed up and delivered by Lab drivers to the CYFS drop off point at the Knights of Columbus Hall in Mastic. The Knights of Columbus graciously donates space in their hall for use as the collection and distribution center.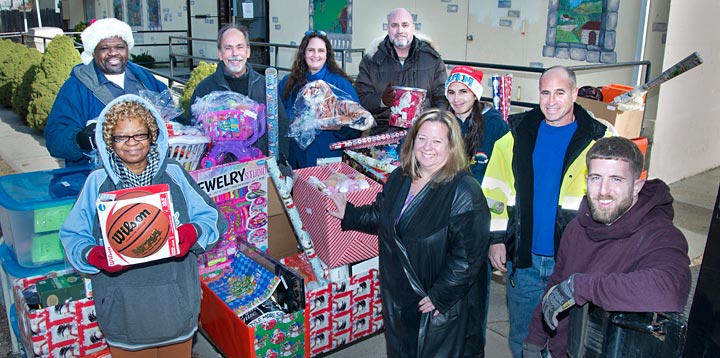 enlarge
Brookhaven Lab employees delivered donated packages for the Colonial Youth and Family Services (CYFS) Adopt-A-Family program. Gathered at the collection and distribution site program are from left, back row: William McPherson, Charles Whiting (BNL); Janice Haynes and Ray Hopp (CYFS). Front row, from left: Darlene Hopkins, Lynda Zach, Sam Soccorso, (CYFS); Dale Galante, and Thomas Kujan, (BNL).
Currently led by Lynda Zach, executive director of CYFS, and Ray Hopp, deputy director of CYFS, the Adopt-A-Family campaign has been providing holiday cheer to local residents in the William Floyd School District for more than 35 years. In addition to helping families, the program also assists homebound senior citizens by providing them with food from a local food pantry.
"I think that participating in programs like this is the best way to enjoy the spirit of the season," said Tara Shiels of the Lab's Stakeholder Relations Office. "The generosity of employees never ceases to amaze me. Thanks to all who helped make this program a success again this year."
2014-5423 | INT/EXT | Newsroom