Congratulations, 2014 Spotlight Awardees!
January 8, 2015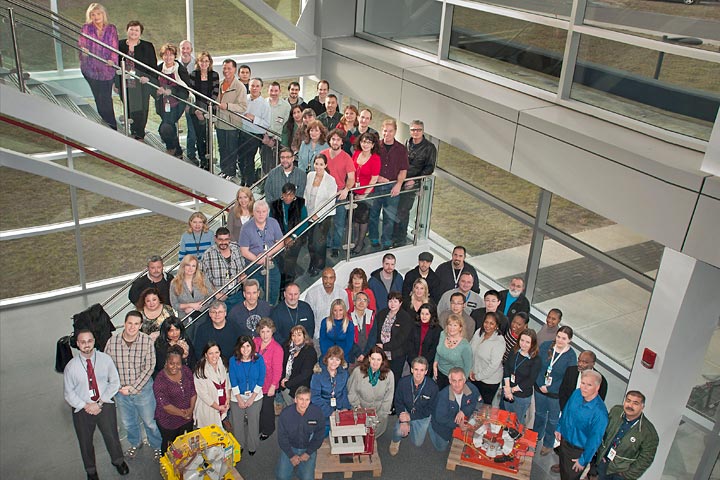 enlarge
Some of the employees who were recognized with Spotlight Awards in 2014.
More than 245 Brookhaven Science Associates (BSA) employees at Brookhaven Lab were recognized with Spotlight Awards in 2014. These annual awards are given to employees who extended extraordinary efforts in response to the needs of their departments or divisions.
The 2014 awardees include:
Business Operations Directorate: Antonio Hammil, Cynthia Klemm, Mary Rogers, Carrie Sauter, Peter Selgrad, Marcia Swiss, Heather Turbush, and Wendy Williams
Biosciences Department: Kristie Bonti, Yuanheng Cai, Jody Hamilton, Linda Morrell, Wenchao Qu, Deborah Snyder, and Xuebin Zhang
Chemistry Department: Marta Kowalczyk
Center for Functional Nanomaterials: James Buddenhagen, Lorraine Davis, Kim Kisslinger, Mingzhao Liu, Denean McArthur, Joann Tesoriero, Gwen Wright, and Dmitri Zakharov
Collider-Accelerator Department: John Addessi, Fatma Altinbas, Richard Anderson, Edward Bajon, John Benante, Yurii Bezpalko, Cyrus Biscardi, Tracy Blydenburgh, John Bohnenblusch, Nancy Boyle, Patrick Bynum, Martin Candito Jr., Louis Cannizzo, Doreen Cantelmo, Daniel Carroll, Joseph Citro Jr., Timothy Costanzo, Gary Danowski, Norman Day, Kenneth Decker, Lynanne Di Filippo, Richard Di Franco, James Ditta, Frank Donato, Harold Dorr, James Genco, Stefano Giorgio, Anna Goldberg, Alan Gustavsson, Harry Hacker, Michael Hamilton, Kenneth Hartmann, Terence Higgins, Caitlin Hoffman, Garry Hubbard, Robert Hulsart, Stephen Jao, Robert Kellermann, James Kelly, Kyle Kulmatycski, Walter Lamar, Timothy Lehn, Pamela Manning, James Meier, John Moloney Jr., Frank Naase, Donald Nostrand, Mark Peragine, Annabelle Petway, John Pomaro, Nina Rivera, Joseph Sanfilippo, Frank Scheifele, Peter Schnitzenbaumer, Thomas Seda, John Siano, Kirk Sinclair, Christina Swinson, Frank Teich, Charles Trabocchi, Patricia Urena, Daniel Wilson, John Woods, and Stanley Yakaboski Jr.
Community, Education, Government & Public Affairs Directorate: Cynthia Biancarosa, Justin Eure, Jane Koropsak, Karen McNulty Walsh, and Tara Shiels
Computational Science Center: Eric Dill, Lauri Peragine
Condensed Matter Physics & Material Science Department: Eileen Levine, Alexsandra Lopez, and Arlene Rementer
Environment, Biology, Nuclear Science & Nonproliferation: Mary Campbell
Environment & Climate Science Department: Sharon Zuhoski
Facility Operations Office: John Biemer and Michael Dany
Fiscal Division: Charles Beihl, Charlotte Buck, Kelly Anne Convery, Carolyn Dupre, Jamie Halegoua, Sherma John-Abbott, Phyllis Lucas, Jody Maddock, Christine Mayo, Margherita Pirozzi, Margaret Reben, Helen Savage, and Anne Schroeder
Human Resources & Occupational Medicine Division: Maryellen Braunreuther, Terrence Buck, Susan Clements, Lizette Domenech, Patricia Edwards, Diana Hubert, Joseph Lee, Christina Mahabir, Susan McCafferty, Starr Munson, Cathleen Ostrick, Darlene Peragine, Eileen Pinkston, and Barbara Soeyadi
Information Technology Division: Joan Barrow, Timothy Campbell, LaRosa Collins, David Cortijo, Robert Krebs, Anastasia Kuczewski, Mark Lukasczyk, Nicholas Muse, Luis Nieves, Jorge Piguave, and Warlyn Reyes
Instrumentation Division: John Walsh
Laboratory Protection Division: Christine Bartow, Peter Bonti, Thomas De Simone, Louis Figueroa, Clayton Hamilton, David Peter, and Richard Sanniola
Modernization Project Office: Daniel Ahearn
Nonproliferation & National Security Department: Katherine Bachner, Kathleen Gillen, Jane Lysik, Laura MacArthur, Sarah Poe, Kelly Smith, and Michelle Voelker
Nuclear Science & Technology Department: Jean Frejka, and Patricia Lee
Photon Sciences Directorate: Steven Bennett, James Biancarosa, Michael Bilello, Todd Corwin, Donald Davis, Walter De Boer, Charles De La Parra, Larry Fareria, Bonny Jean Forte, James Grandy, Vito Graziano, Richard Greene, Rodger Hubbard Jr., Muhammad Hussain, Sebastian Kalbfleisch, Thomas Langdon, Kenneth Lauer, John Mc Caffrey Jr., Keith McDonald, Leisa McGee, Andrew Mingino, Eileen Morello, Brian Mullany, Paul Edward Palecek Jr., Gary Pappas, Robert Rainer, Richard Skelaney, Christopher Sorrentino, and Matthew Vescovi
Physics Department: Pierrot Bichoneau, Timothy Camarda, Frances Capasso, Kai Chen, Richard Chorzempa, Denis Damazio, Dorothy Davis, Jason Farrell, Levente Hajdu, August Hoffmann, Kenneth Jones, Colleen Michael, Wendy Morrin, Rachel Nieves, Michael Poat, Kenneth Sexton, Sean Stoll, and John Tradeski Jr.
Procurement & Property Management Division: Sharon Atkins, Susan Cuevas, Elise Forrette, Bethann Gilman, Jody Mitchell, Linda Niksa, Lee Pearce, Barbara Ann Simpson, Vonciel Stewart, and Dina Tullo
Quality Management Office: Jack Eng, Beth Evelly, and Nicole Puglin
Radiological Control Division: Deana Buckallew, Joseph Moskowitz, Donald Olsen, Raymond Romanski, and Samuel Velazquez
Safety & Health Services Division: Mario Cubillo, Nancy Felock, Sean Hannifin, Mark Marco, Staceyann Retenski, and Firoza Zanoni
Site Resources Division: Kevin Campbell, Brian Conroy, and Christopher Manning
Staff Services Division: Theodore Sampieri and Andrew Seelin
Superconducting Magnet Division: Joseph D Ambra, Sebastian Dimaiuta, Richard Felter, William Mc Keon, Domenick Milidantri, and Thomas Van Winckel
Sustainable Energy Technologies Department: Lori Happich
Technology Commercialization & Partnerships Office: Cyrena Condemi, Christine Scaffidi, and Poornima Upadhya
Waste Management Division: Daniel Blakely, Steven Dasaro, Francine Donnelly, Edward Gavin, and Stephen Klerk
2015-5447 | INT/EXT | Newsroom