Brookhaven Science Associates Awards College Scholarships to 15 High School Seniors
May 18, 2015
Brookhaven Science Associates (BSA), the company that manages Brookhaven Lab for the U.S. Department of Energy through a partnership between Battelle and Stony Brook University, has announced 15 awardees of the annual BSA Scholarships. These scholarships are awarded to children of BSA employees at the Lab—a longstanding tradition that began at Brookhaven in 1965.
Each BSA scholar is a high school senior who will receive $2,500 per year for up to four years of study at the college or university of his or her choice. In addition, BSA scholars who are admitted and enroll as fulltime students at Stony Brook University in the fall of 2015 will receive a matching scholarship from Stony Brook, according to President Samuel L. Stanley Jr., M.D.
"On behalf of Brookhaven Science Associates, I would like to congratulate the 2015 BSA Scholars," said Dr. Stanley, who is also chair of BSA. "These remarkable students are embarking on paths to success as they pursue higher education, and BSA is proud to support them in their journey."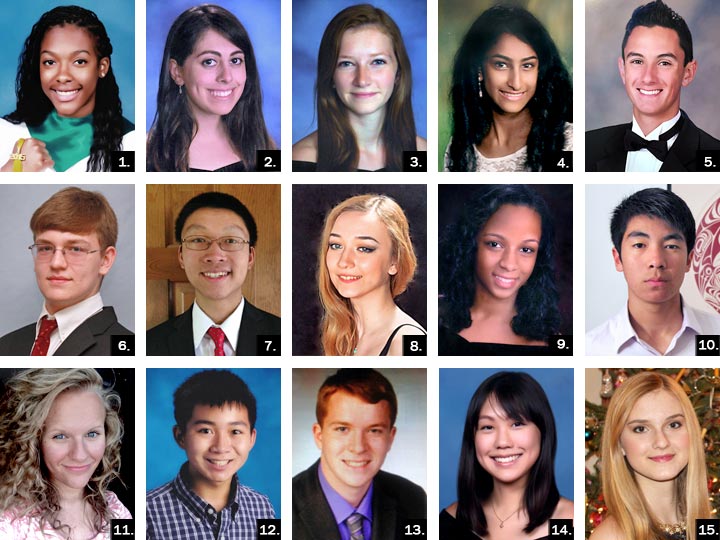 1. Adafih Blackburn, who lives in Coram and will soon graduate from McGann-Mercy High School, is the daughter of Noel Blackburn of the Office of Educational Programs. She will attend Suffolk County Community College and plans to major in chemistry.
2. Alessondra Bruno, daughter of Christopher Bruno of the Energy & Utilities Division, lives in Kings Park and attends Kings Park High School. She will major in actuarial science at St. John's University.
3. Brianne Corwin attends Riverhead High School, lives in Flanders, and is the daughter of Mary Anne and Todd Corwin of the National Synchrotron Light Source II (NSLS-II). She will attend the University of Florida to major in materials science engineering.
4. Renuka Diwan, a senior at Comsewogue High School and resident of Port Jefferson Station, is the daughter of Milind Diwan in the Physics Department. She will go to Brown University.
5. Nicholas Fox lives in Commack, goes to Commack High School, and his father is Kevin Fox of the Procurement & Property Management Division. He will attend the State University of New York at Oneonta for a biology-doctorate of physical therapy program.
6. Christopher Hayes, son of Tom Hayes of the Collider-Accelerator Department, lives in Shoreham and is home schooled. He will attend Stony Brook University to major in chemistry, and he intends to go into research.
7. John Jung, who lives in Nesconset and attends Smithtown High School West, is the son of Christopher Jung of the Modernization Project Office. He will attend Rutgers University to study physics and engineering.
8. Julia Kharzeev of Port Jefferson attends Earl L. Vandermeulen High School and is the daughter of Dmitri Kharzeev and Irina Sourikova, both of the Physics Department. She will attend Cornell University to study economics and mathematics.
9. Taylor McGee, a senior at Half Hollow Hills High School West and resident of Wheatley Heights, is the daughter of Leisa McGee, who works at the NSLS-II. She will attend Stetson University to study computer science for a career as a computer programmer.
10. Daniel Redlinger, son of George Redlinger of the Physics Department, lives in Stony Brook and attends Ward Melville High School. He will go to McGill University to study neuroscience.
11. Anastasia Salnikova of Patchogue attends Patchogue Medford High School. Her stepfather is Richard Skelaney of NSLS-II. She will attending the University of Richmond, and intends to double major in mathematical economics and international studies for a career in law.
12. Jonathan Wei, son of George Wei of the Sustainable Energy Technologies Department, is a senior at Ward Melville High School and resident of South Setauket. He will attend the University of Rochester to study biomedical engineering for a career in medicine.
13. Connor Patrick Whittle lives in Greenport, will graduate from Greenport High School, and is the son of Edward Whittle, who retired from the Lab's former Biosciences Department. He will major in mechanical engineering at Northeastern University.
14. Spring Yu, a resident of Wading River, is the daughter of Bo Yu of the Instrumentation Division and a senior at Shoreham Wading River High School. She will major in studio art with a concentration in architecture at Dartmouth College for a career in architecture.
15. Natalia Zaliznyak lives in Port Jefferson and is the daughter of Igor Zaliznyak, who works in the Condensed Matter Physics & Materials Science Department. She plans to attend Yale University is interested in studying molecular biophysics and biochemistry for a career in research.
2015-5657 | INT/EXT | Newsroom