U.S. Army Holds 'Casing of the Colors' Ceremony at BNL
September 12, 2008
On Sunday, September 7, Brookhaven National Laboratory hosted soldiers from the U.S. Army at a ceremony marking the retiring of the 77th U.S. Army Regional Readiness Command - the infantry division that began its distinguished 91-year history on the Lab site, formerly Camp Upton, a U.S. Army induction and training center during WWI and WWII. The brigade will formally retire its colors on October 7.
Led by Major General William Terpeluk, the current commander of the 77th brigade, the event began with hundreds of soldiers marching in formation across the field under a large American flag proudly draped between two fire trucks. After remarks from U.S. Department of Energy Brookhaven Site Manager Michael Holland, BNL Director Samuel Aronson, and historian Robert Laplander, each unit requested permission to "retire the command." A U.S. Army band played music as each unit marched off the field.
The event concluded with a ceremonial 21-gun cannon salute while Terpeluk furled the division's flag and an echo of "Taps" played in the background. The division flag will be retired at the Center of Military History in Washington, D.C. Soldiers currently serving in the 77th brigade have been reassigned to other units.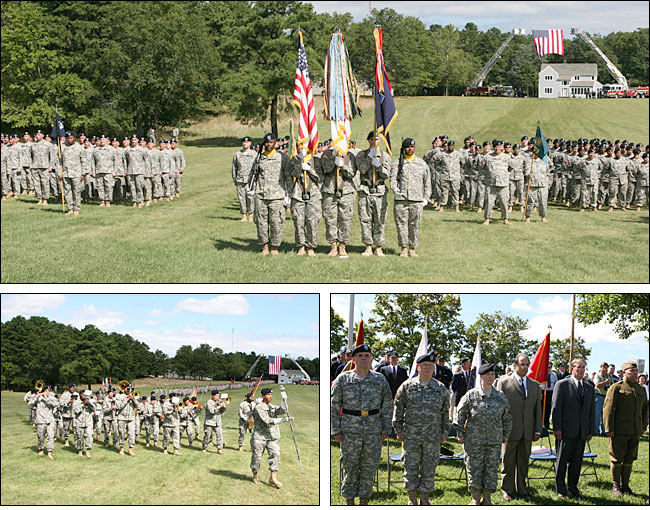 Photos courtesy of Ira Cohen, U.S. Army
2008-889 | INT/EXT | Newsroom