A Message from Chuck Black
insights

from the CFN Director
April 24, 2018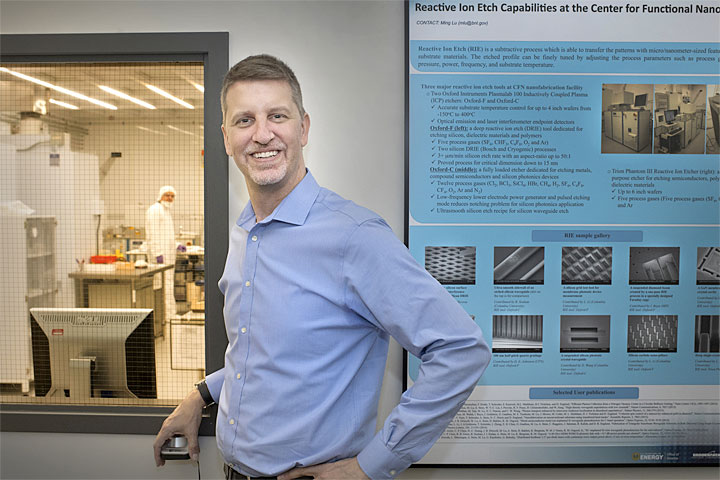 enlarge
Chuck Black
Last year, in the 10th year of CFN operations, we completed our most impactful year ever. We helped 571 users with their research, and CFN users and staff published 347 papers on their work. This amount of impact is incredible for a facility our size, and it reflects the dedication of our staff and the talents of our users. And we are off to another great start in 2018, hosting many new and returning users with interesting projects and hatching exciting plans for our future.
Let me tell you about one of my favorite parts of working at the CFN: visiting other research institutions. These visits are a great chance to learn about the exciting work of others and hear about their creative ideas. But what I like best is asking scientists how the CFN can help them accomplish their goals. This question tends to catch people off guard—the world is competitive, and my sense is that it's not very often that scientists are offered expert technical support and access to state-of-the-art instrumentation, for free. Sometimes they ask me, what's the catch? Or, how much does it cost? I tell them there's no catch, and there's no cost—helping other scientists improve their research is what the CFN is supposed to do.
I have had a few amazing trips in the last couple of months, starting with my visit to MIT in February to visit some longtime friends and CFN users. My host was Professor Karl Berggren, who is a friend from graduate school. Karl has done some creative and exciting work as a CFN user, using our microscopy capabilities for record-setting nanofabrication. In between catching up on old times, Karl shared with me about some wildly creative ideas for new types of electron microscopy, including one approach that would let us look at both sides of a material at the same time. His lab has a working prototype of the microscope, and Karl and I brainstormed for a bit about whether we should try to build a new version of it at the CFN. These kinds of partnerships, and working with talented people to do things that have never been done before, are the best parts of science.
I also caught up with longtime CFN user Professor Dirk Englund and his group members, including Users' Executive Committee member Jiabao Zheng. I asked Dirk what the CFN could do to advance the field of diamond-based quantum materials, and we ended up having a lively session with his group talking about all the capabilities needed—but don't currently exist—for processing diamonds. This knowledge is the kind of information that the CFN needs to know, because we are a place that can do something about it. We're continuing to work with Dirk and his group to move some of these ideas forward.
I next met Professor Kerstin Perez. I was intrigued when I saw she was on my visiting schedule—Kerstin is an astrophysicist interested in dark matter, and honestly I wasn't sure what we would talk about during our meeting. As it turns out, she is a new CFN user, and Ming Lu at the CFN will be helping her and her students fabricate silicon detectors that will fly on hot air balloons out of Antarctica. Finding that out made my day, and it sums up why the CFN is such a special place. The fact that we can have impact on fields as diverse as astrophysics makes me smile.
From MIT, I next went to Princeton, where I spent the day mostly in the Materials Science Department. My host was Professor Lynn Loo, an accomplished polymer scientist and also a new CFN Science Advisory Committee Member. I talked with Lynn and her students about their excellent work on conjugated organic molecules, and learned that they have recently started working at CFN with group leader Kevin Yager. They're using one of our partner x-ray scattering instruments operated with NSLS-II to identify the structure of their materials. I helped connect the students to CFN scientist Matt Sfeir, whose interest and expertise in the photophysics of organic molecules is well aligned with their research.
Princeton has some outstanding facilities for materials science, which I enjoyed seeing during my visit. More and more universities are bringing these capabilities online for the benefit of their faculty and students. I spent time talking with leadership about the potentially big opportunity for facilities to work more closely together—to provide complementary capabilities, support each other with backup during instrument downtimes, and share knowledge and experiences. Given the many top-tier research institutions located near the CFN in the Northeast, it makes sense for us to coordinate. This collaboration is a longer-term objective that the CFN community will try to work on together.
My last stop this winter was on the East Side of Manhattan, where I spent the day visiting the Memorial Sloan Kettering (MSK) Cancer Center and learning about their efforts to use nanoscience to improve medical treatments. I first met with Dr. Amber Simpson, a computer scientist using machine learning to glean more information from medical images so that doctors can make better-informed decisions about treatment options during critical early stages of cancer. I told her about our own new CFN initiative on data analytics, and the opportunity we see to develop new methods for scientists to understand their nanoscience data more deeply.
My host at MSK, Dr. Dan Heller, runs a lab focused on using nanotechnology to improve cancer treatments. Dan described a new type of self-assembled polymeric nanoparticle they are making, which they can load with medicine to fight diseases. He said they are having difficulty understanding the structure of their nanoparticles, and I immediately told Dan about CFN capabilities in electron tomography, and our ability to do high-resolution microscopy in liquids. I said that I thought we could observe the assembly process for their nanoparticles in real time, and that we'd love to help them try. These are techniques that Dan didn't know were possible—and they are here in CFN only 60 miles away from his lab.
Finally, I visited with my friend and collaborator, Dr. Morgan Huse, who is a CFN user we have been helping to make nanostructured surfaces for studies of immune cell response. Morgan excitedly showed me a paper he is finishing up that describes how immune cells kill foreign invaders. I watched an incredible movie of two cells fighting each other, not unlike something you might see in a science fiction movie. And yet this fight is going on inside our bodies all the time. As I watched the video, I thought about what an opportunity it was to help advance this work.
For me, it has been a long winter filled with interesting visits to learn about exciting research. I saw how the CFN is impacting not only research in nanofabrication of conducting polymers but also quantum information science, the search for dark matter, and medicine.
With spring now in the air, we are looking forward to the upcoming NSLS-II & CFN Joint Users' Meeting in May. We're continuing to welcome new users to the CFN all the time, and we're busy bringing new nanoscience capabilities online for everyone to use. Keep telling us how we can help you achieve your research goals.
— Chuck Black
CFN Director
2018-12886 | INT/EXT | Newsroom
Subscribe to iCFN
Sign up to receive iCFN in your email inbox.