Updates for the User Community
inputs

from the CFN User Office
April 24, 2018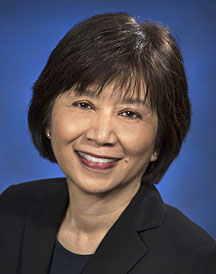 enlarge
Grace Webster
Happy spring! Warmer weather is just around the corner. This time of year provides a great opportunity for reminding our users to wear proper attire—no shorts or open-toed shoes are permitted in the laboratories—and to exercise extra caution when driving around on site. The traffic at Brookhaven will be picking up, with runners, pedestrians, and bicyclists taking advantage of opportunities to get outdoors. Make sure to follow the posted speed limit and be aware of your surroundings.
Upcoming CFN Deadlines
The next submission deadline for new proposals and requests for additional time is May 31. Please send your submissions for the September–December 2018 cycle through the online CFN Proposal System.
After-hours access for the current cycle will expire at midnight on April 30. If you need to extend your after-hours access for the next cycle, please call or email your CFN point of contact for authorization. Please remember that working with hydrofluoric acid and exchanging pyrophoric, flammable, or toxic gas cylinders are not authorized during after hours.
Upcoming Events
The 2018 NSLS-II/CFN Joint Users' Meeting will be held on site May 21–23. The last day for early registration is April 27. The agenda, logistics, and workshop information are available on the meeting website.
The CFN will participate in a joint conference booth with the other DOE-funded Nanoscale Science Research Centers at TechConnect World 2018, which will be held May 13–16 in Anaheim, CA, and the 2018 Fall MRS Meeting and Exhibit, which will be held November 25–30 in Boston, MA. If you are presenting a talk or poster at either of these conferences, please notify cfnuser@bnl.gov so that we can encourage meeting participants to attend your presentation.
The CFN has been selected as an exhibitor at the Society for Science at User Research Facilities User Science Exhibition on Capitol Hill on April 25 at the Dirksen Senate Office Building in Room 366, from 4:00 to 6:00 p.m. Our exhibit will allow attendees to see and touch 3D representations of structurally complex nanomaterials, visualize the process by which scientists use electron tomography to fully characterize materials in 3D, and use a touch screen to rotate, magnify, and cut through the 3D nano-objects.
User Science Highlights
The CFN is committed to elevating the visibility of user science by promoting user accomplishments through several avenues:

Displaying scientific publication covers that feature user papers or articles

This display is located on the second-floor hallway of the CFN. We encourage CFN users to continue sending high-resolution copies of publication covers that feature their work.

Increasing our presence on social media (Facebook, Twitter, and LinkedIn)
Sharing user highlights with DOE for possible feature on the DOE website
Publishing user spotlights in the CFN newsletter and on the general Brookhaven Lab website Organizing user events at scientific meetings and conferences

You can help keep us informed of your awards, honors, and publications by emailing cfnuser@bnl.gov.
General Reminders
Do not forget to complete a user satisfaction survey after your visit to the CFN. We provide your feedback to the Office of Basic Energy Sciences (BES) for our annual report to DOE. Your survey responses also allow the CFN to identify areas for improvement.
The following acknowledgement must be used when referencing work performed in whole or in part at the CFN: This research used resources of the Center for Functional Nanomaterials, which is a U.S. DOE Office of Science Facility, at Brookhaven National Laboratory under Contract No. DE-SC0012704.
Safety Reminders
Access to CFN laboratories is through authorized badge access only. Piggybacking onto someone else's access is a violation of CFN rules. If you lose access, contact the CFN User Office.
If you have any questions, please do not hesitate to contact the CFN User Office or any of the CFN staff. We are here to help and to ensure you are safe when conducting your work.
On behalf of the entire CFN family, we wish you and your family a happy spring! We thank you for your continued support of and engagement with the CFN.
— Grace Webster
User Program Administrator and Outreach Coordinator
2018-12888 | INT/EXT | Newsroom
Subscribe to iCFN
Sign up to receive iCFN in your email inbox.