Participant Information
Location & Directions
Event Venue
Brookhaven National Laboratory
Upton, NY 11973 USA
Directions
The event will be held at the future site of Discovery Park at the U.S. Department of Energy's Brookhaven National Laboratory. Participants should park and check in at the Recreation Hall (Bldg. 317), located on York Lane. Weather permitting, the main program will be held under an open-air tent with appropriate social distancing. The tent will be located near the Recreation Hall. The event coordinator will provide updates as needed. Directions (pdf)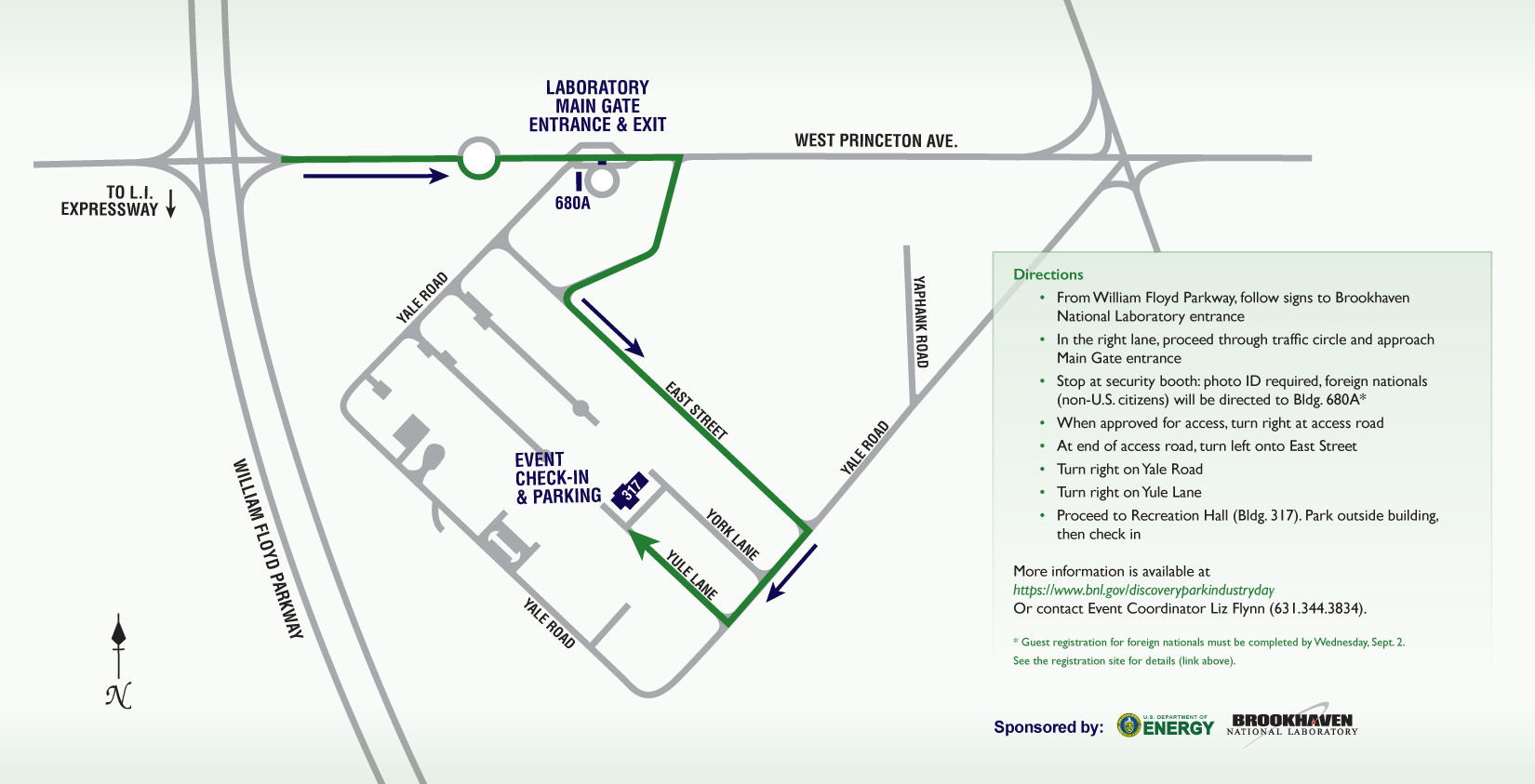 Science Facility Tour
Participants who attend Discovery Park Industry Day may tour a science research facility at Brookhaven Lab on Thursday, September 24, 2020. Please indicate your interest in taking a tour when registering to attend the event. All guests must wear long pants and flat, closed-toe shoes. Access may be restricted if proper attire is not worn. Guests must also follow the instructions of their trained Brookhaven Lab escorts and remain with them at all times. Event organizers will provide further guidance as needed.
Join the Event Remotely
For the best remote meeting experience, we recommend joining the meeting with the Zoom for Government App. The App will automatically install when you join the meeting for the first time. However, you can also join the meeting using your favorite browser.
Webcast information will be provided to you prior to the start of the event. Please do not give out this connection information. It is only for registered attendees.
The registration deadlines to attend online are September 2, 2020 for non-U.S. citizens and September 15, 2020, for U.S. citizens.
COVID-19 Precautions
Discovery Park Industry Day organizers have precautions in place to protect in-person participants and help limit the spread of COVID-19. Those precautions include (and are not limited to):
Weather permitting, the main program will be held under an open-air tent with appropriate social distancing. Face coverings and hand sanitizer will be available.
The morning of the event, in-person participants must take their temperature before leaving for the Brookhaven Lab site. They will also be asked several straightforward screening questions before being granted access to the site. Those questions will be provided before the event.
Registrants whose temperature is 100°F or higher the day of the event or whose answers to the screening questions indicate they may have COVID-19, or may have been exposed it, must not attend Industry Day in person. Instead, please contact Event Coordinator Liz Flynn (631-344-3834) as soon as possible for instructions to participate online.
While at Industry Day, attendees must follow these practices:
Maintain a distance of six feet between you and others.
Wear a face and nose covering.
Wash your hands frequently.
Additional guidance to protect yourself and others is available from the Centers for Disease Control and Prevention (CDC). Learn more at www.cdc.gov/covid-19.
Note: New York State has issued an advisory that requires travelers coming from states with significant rates of transmission of COVID-19 to quarantine for a 14-day period. The list of states is maintained here, along with more information about the travel advisory. Industry Day registrants who would travel from these states may only join the event online or arrive at the Brookhaven Lab site after completing the 14-day quarantine period in New York.
Visa Information
Participants should check if they require a visa to enter the United States on the U.S. Department of State's U.S. Visas website.
Foreign travelers, who are citizens from certain eligible countries, may also be able to visit the U.S. for business (e.g. attend a scientific conference) or tourism for 90 days or less without a visa if they meet the Visa Waiver Program requirements. All eligible travelers who wish to travel under the Visa Waiver Program must apply for authorization online through ESTA (Electronic System for Travel Authorization).
If you require a visa to enter the U.S., we strongly recommend that you start the visa application process as soon as possible. View visa appointment and processing wait times.
Brookhaven Lab Anti-Harassment Policy
At Brookhaven National Laboratory (BNL) or BNL-sponsored events, discriminatory behavior or harassment of conference participants or presenters will not be tolerated. Please refer to the BNL Anti-Harassment Policy or Poster.