Contact:
Peter Genzer
, (631) 344-3174 | Written by Diane Greenberg
BNL's Career Open House Draws 500 to Check Out New Jobs
April 25, 2008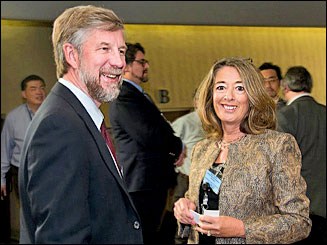 Associate Laboratory Director for Light Sources Steve Dierker and Human Resources representative Susan Foster at the Career Open House.
At 10 a.m. on March 29, months of preparation by BNL staff came to life as the Berkner Hall doors opened and a stream of potential employees poured into a Career Open House to learn about opportunities for work at the Lab. With the help of personnel from the soon-to-be-built National Synchrotron Light Source-II (NSLS-II), the Collider-Accelerator Department, and the Procurement & Property Management Division, Human Resources & Occupational Medicine Division (HROM) staff showcased career positions mostly aimed at mechanical and electrical engineers, project-planning professionals, procurement, information technology experts, and other technical staff.
HROM's Susan Foster commented, "The Human Resources team worked with volunteer administrative staff to welcome more than 500 individuals to BNL. It was exhilarating to see the level of interest, not only from the candidates but also from the hiring managers. The managers interviewed approximately 150 applicants and 50 people met the qualifications to return to BNL for a more comprehensive interview - a really excellent result."
Concluded Steve Dierker, Associate Laboratory Director for Light Sources, "The Human Resources staff did an outstanding job putting this event together and making it a success. This is an exciting time for the NSLS-II Project and for Brookhaven. We are fortunate that the Laboratory is in a position that warrants an event like this one. We were happy to be able to share information about the project with prospective employees. We are now bringing individuals back for second interviews and hope to make a significant number of new hires for the Project as a result of the BNL Career Open House."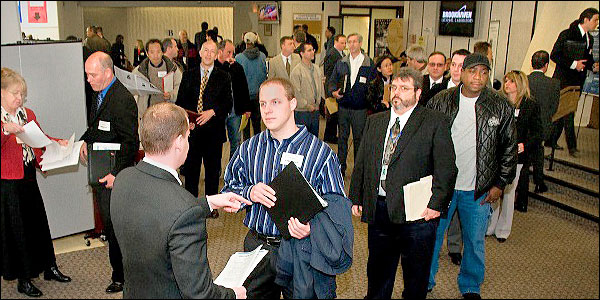 Career Open House attendees.
2008-10778 | INT/EXT | Newsroom