Contact:
Peter Genzer
, (631) 344-3174 | Written by Diane Greenberg
Meditation and Talk on 'Compassion In Action' at Brookhaven Lab, May 7
April 7, 2010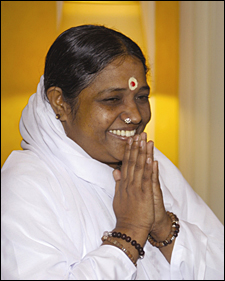 enlarge
Amma
UPTON, NY — Dayamrita Chaitanya, a disciple of Mata Amritanandamayi, or Amma, will give a talk on "Compassion In Action" and lead a group meditation at the U.S. Department of Energy's Brookhaven National Laboratory on Friday, May 7. Dayamrita's talk will be held from 5 to 6:15 p.m. in the Laboratory's Recreation Building. The talk will be preceded at 4 p.m. by an informal social gathering with refreshments and followed from 6:30 to 7:30 p.m. by meditation, prayers, and chants for peace. Sponsored by the Brookhaven Employees Recreation Association, the Asian Pacific American Association, and the Indo American Association Yoga Club, the event is free and open to the public. Visitors to the Laboratory age 16 and older must bring a photo ID.
Amma is widely regarded as one of the world's foremost humanitarian leaders. Since she was a child in India, Amma has worked to alleviate suffering through personal outreach. She has won international recognition and awards, including the 2002 United Nations Gandhi-King Award for Non-Violence. Currently, she helps those in need through a network of charitable organizations.
Amma's unique meditation technique, called integrated amrita meditation, consists of a set of yoga exercises followed by meditation. The technique is regarded as a powerful tool for experiencing relaxation, concentration, and greater awareness, which is a pathway to peace and joy. Amma believes that "real meditation" is achieved when a person becomes selfless.
As one of Amma's senior disciples, Dayamrita has focused on spreading her teachings of love and compassion for 26 years. For the past 16 years, he has been manager of Amma's activities in the U.S., Canada, and Latin America.
Call 631 344-2206, or visit the AmmaNY website for more information. The Laboratory is located on William Floyd Parkway (County Road 46), one-and-a-half miles north of Exit 68 of the Long Island Expressway.
2010-11115 | INT/EXT | Newsroom