Contact:
Peter Genzer
, (631) 344-3174 | Written by Diane Greenberg
Brookhaven Lab Celebrates the Fourth Anniversary of the Open Space Stewardship Program
June 10, 2010
UPTON, NY — About 300 students, parents, teachers, land stewards, and administrators celebrated the fourth anniversary of the Open Space Stewardship Program (OSSP) at the U.S. Department of Energy's Brookhaven National Laboratory on June 3. The program is a school-community-government partnership in which students in grades K through 12 perform hands-on environmental research on property within their school district.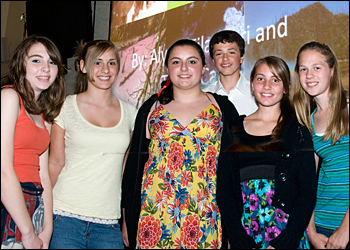 enlarge
Some of the students who gave oral presentations about their Open Space Stewardship Program research included Albert G. Prodell Middle School students: (from left) Emily Weber, Kelly Wynkoop, Madison Hubner, Greg Schotte, Toryn Cairo, and Alyssa Filanberi.
The program started with eight participating school districts in 2006 and grew to encompass about 2,000 students from 30 Long Island school districts. OSSP fosters respect for open spaces and helps students to learn about the scientific process through working with real-life data in the field. Also, the program fosters an interest in science and technology that may inspire students to pursue careers in those fields.
At the ceremony, some students gave oral presentations on their projects, while others displayed posters on their research. Projects ranged from identifying invasive species in the Long Island Pine Barrens to testing the Wading River Duck Pond and other local sites for the growth of algae. Research results are posted on a website maintained by Brookhaven Lab. Land stewards, working with teachers and students, have access to the data to help them better preserve and protect their property. The Laboratory prepares teachers for program by hosting workshops in the summer.
For additional information, please contact Mel Morris at mmorris@bnl.gov.
2010-11147 | INT/EXT | Newsroom