Contact:
Peter Genzer
, (631) 344-3174 | Written by Diane Greenberg
Brookhaven Lab Celebrates the Fifth Year of the Open Space Stewardship Program
June 9, 2011
UPTON, NY — About 400 students, parents, teachers, land stewards, and administrators attended a celebration hosted by the U.S. Department of Energy's Brookhaven National Laboratory to mark the fifth anniversary of the Open Space Stewardship Program (OSSP). This school-government-partnership gives students in grades K through 12 the opportunity to perform hands-on environmental research on undeveloped land within their school district.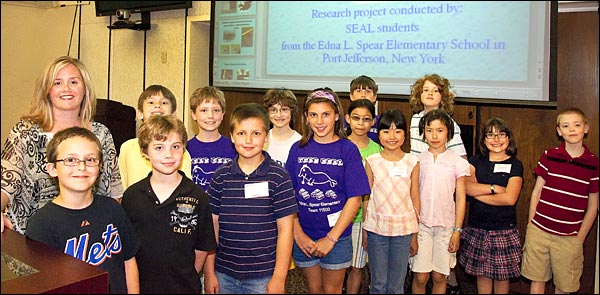 enlarge
Edna L. Spear Elementary School teacher Elizabeth McCabe taught her students about the effects of storm water drain runoff on Long Island Sound. Pictured with her are her third through fifth grade students who gave a presentation on the topic at the 2011 Open Space Stewardship Program celebration.
Eight school districts participated in the program when it started in 2006, but it has grown to encompass about 2,000 students from 35 Suffolk County schools. OSSP fosters respect for open spaces and helps students to learn about the scientific process through working with real-life data in the field. Also, the program fosters an interest in science and technology that may inspire students to seek careers in those fields.
At the ceremony, some students gave oral presentations, and others displayed posters on their research. The projects ranged from students in Edna L. Spear Elementary School learning about the effects of storm water drain runoff to students at North Country Road Middle School finding out why Mount Sinai Harbor has been shrinking, and Longwood High School students measuring arsenic and heavy metals in the Carmans River.
Brookhaven Lab maintains a website on which research results are posted, and land stewards who work with the students and teachers have access to the data to help them preserve and protect their property. The Laboratory prepares teachers for the program by hosting workshops in the summer. For more information about OSSP, contact the program coordinator Mel Morris at mmorris@bnl.gov.
2011-11293 | INT/EXT | Newsroom