Contact:
Peter Genzer
, (631) 344-3174 | Written by Diane Greenberg
The following news release was issued by Stony Brook University. Devinder Mahajan, the Stony Brook researcher featured in the release, holds a joint appointment with Brookhaven National Laboratory.
Stony Brook University Professor Selected For Jefferson Science Fellowship
Devinder Mahajan, PhD, a leading researcher in renewable technologies to serve in State Department
November 28, 2011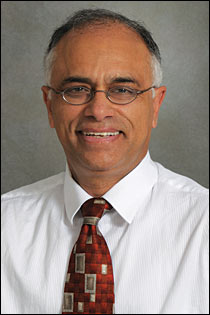 enlarge
Devinder Mahajan
STONY BROOK, NY, November 28, 2011 — Devinder Mahajan, PhD, a Professor in the Materials Science & Engineering Department and Co-Director of the Chemical and Molecular Engineering Program at Stony Brook University who holds a joint appointment with Brookhaven National Laboratory, has been named a 2011-2012 Jefferson Science Fellow, an honor given to only 13 individuals this year and 66 since its inception in 2003. He is the first Jefferson Science Fellow recipient from Stony Brook University.
The Jefferson Science Fellowship, named after Thomas Jefferson, the first US Secretary of State, is a prestigious program that brings tenured professors of science and engineering to the State Department for one year to advise officials on science issues related to current and emerging policy. Dr. Mahajan is currently serving his fellowship in the U.S. Department of State Bureau for Energy Resources in Washington, D.C. This new bureau is the result of the Department's Quadrennial Diplomacy and Development Review (QDDR) initially announced by Secretary Clinton during her speech to the Economic Club in New York on October 14, 2011. After the fellowship is complete, he will remain on call for five years as a science advisor and expert resource to the State Department.
"The Jefferson Science Fellowship is a great honor that reflects the quality of Devinder's research, discovery and scholarship," said Samuel L. Stanley Jr., MD, President of Stony Brook University. "On behalf of Stony Brook University, it is extremely gratifying that our faculty are summoned to our nation's Capital to serve their country in this type of capacity. I am sure Devinder will be a tremendous resource to the State Department."
Dr. Mahajan's research interests focus on energy issues. His vision is to develop low-carbon energy technologies that will lead to commercialization for the benefit of society and to train students in the next generation of renewable technologies.
"My research started in oil and gas and then slowly transformed into issues related to renewables. I am fortunate that both Stony Brook University and Brookhaven National Laboratory, with its diversified research portfolio, have nurtured my career in energy, specifically focused on technologies," said Dr. Mahajan. "This experience is very valuable to understand the policy issues that will form the basis of U.S. energy policy as the Department promotes Secretary Clinton's Economic Statecraft. More importantly, it is gratifying to be at the State Department as this transformation is taking place. The 'policymaking' process is complex, but I hope to learn the culture of the Department that is very different from the academics."
In addition to the joint appointment with Stony Brook University and Brookhaven National Laboratory, Dr. Mahajan serves as the Site Director for the National Science Foundation Center for BioEnergy Research & Development (CBERD). He received his PhD from the University of British Columbia in Canada and is the Associate Editor of the Journal of Renewable and Sustainable Energy (JRSE). He serves on the Editorial Board of the International Journal of Oil, Gas and Coal Technology and The Open Petroleum Engineering Journal. He has authored more than 200 publications including chapters and patents, and has presented more than 80 invited lectures on clean energy topics both nationally and internationally, including the 1997 New Energy and Industrial Technology Development Organization (NEDO) Annual Lecture on "Catalysis and Environment" under the AIST Fellowship in Japan.
Dr. Mahajan is a member of the Russian Academy of Natural Sciences (RANS), U.S. Section, 2006; the recipient of the RANS Crown and Eagle Medal for Honor for service in the field of "Petroleum Engineering," 2006; a two-time recipient of the Outstanding Mentor Award from the U.S. Department of Energy, 2007, 2009; a University Visiting Professor, Government of Italy Fellowship, Universitá di Roma "La Sapienza," Roma, Italy, 2008; and a Fulbright Specialist Scholar at the Asian Institute of Technology (AIT), Thailand, 2010.
Editor's Note: Dr. Mahajan resides in South Setauket, NY.
2011-11357 | INT/EXT | Newsroom