Eric Forsyth to Show Film at Brookhaven Lab About His Sailing Adventures, January 29
January 7, 2013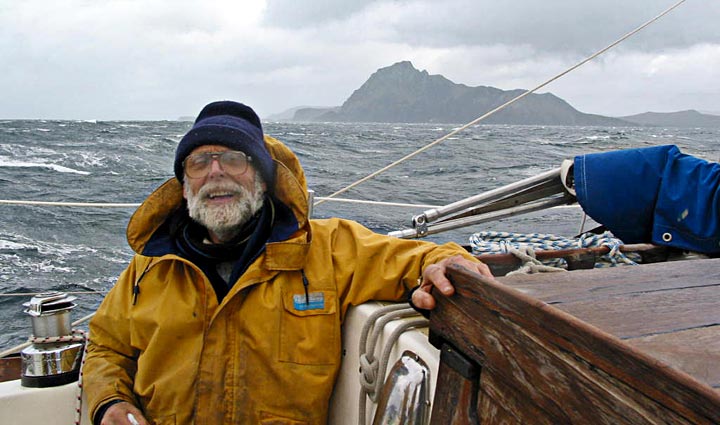 enlarge
Eric Forsyth
UPTON, NY – Veteran sailor Eric Forsyth will present a video featuring highlights from his recent adventure aboard his 42-foot yacht Fiona. The presentation will be held on Tuesday, January 29 at noon in Berkner Hall at the U.S. Department of Energy's Brookhaven National Laboratory. Forsyth is a retired engineer from Brookhaven Lab. This video presentation is free and open to the public. All visitors to the Laboratory 16 and older must bring a photo ID.
The video depicts a ten-month, 12,500-mile odyssey along the rim of the Atlantic. Forsyth sailed Fiona to Canada, Iceland, the Faroes, Scotland, Ireland, Portugal, the Canary Islands, the Cape Verde Islands, Brazil, French Guiana and home to Long Island via the Caribbean and Bermuda.
The boat experienced heavy weather on the way to Iceland and off the Irish coast; a total of 19 crew members signed on with Captain Forsyth at various times during the cruise. The voyagers visited several islands that are hard to get to except by boat including Sable Island, Heimaey, St. Peter, and St. Paul Rocks. The video includes a magical sequence, shot by one of the crew, when a dozen dolphins gamboled at the bow of the boat. Animal lovers will appreciate views of the wild horses that live on Sable Island. Horses are also featured in scenes of a fair in rural Ireland. At the same location, Forsyth visited the South Pole Inn, famously built by Tom Crean, a survivor of the Shackleton Antarctic expedition, so that he could always quaff a beer at the South Pole!
Forsyth most recently entertained the many adventure enthusiasts who attend his talks with the tale of his expedition circumnavigating North America via the Northwest Passage. He has also proposed a "Green Ocean Race™," an event designed to show that sailboats can cross an ocean without using any fossil fuel. Energy for cooking, electronics, lights, etc. would be generated on board using wind and sun power, analogous to the situation which may prevail in our world in a few decades.
For additional information, check out Forsyth's website.
2013-11483 | INT/EXT | Newsroom