Contact:
Peter Genzer
, (631) 344-3174 | Written by Kay Cordtz
Brookhaven Lab's Ralph James Inducted into the Long Island Technology Hall of Fame
March 14, 2014
enlarge
Ralph James
UPTON, NY — Senior Scientist Ralph James of the U.S. Department of Energy's Brookhaven National Laboratory has been inducted into the Long Island Technology Hall of Fame. One of three innovators honored at a ceremony held at the Garden City Hotel on March 12, James was recognized for his key achievements in the development of advanced radiation detectors and imaging systems.
Other inductees honored at the event included Miriam Rafailovich, a distinguished professor in Stony Brook University's Department of Materials Science, and the late George M. Skurla, former chairman of the board and chief executive officer of Grumman Aerospace Corporation. In addition, an entrepreneur award was given to Andrew Hazen, co-Founder & CEO of startup seed fund Angel Dough Ventures.
James is recognized around the world for his pioneering work in the development of optical and photonic technology for high-resolution spectroscopy, specifically for the emergence of a new class of solid-state radiation detectors that operate at room temperature. With 19 patents under his belt, he is also an internationally recognized expert on instrumentation for detecting and imaging x-ray and gamma radiation. His research, which spans more than three decades, has enabled significant advances in the performance of wide band-gap semiconducting compounds that detect radioactive materials and for the development of field-portable instruments incorporating the technology. In 2009, James and fellow Brookhaven Lab researcher Yonggang Cui developed a compact gamma camera for high-resolution imaging of prostate cancer.
"I am thrilled and humbled to be recognized as an inductee to the Long Island Technology Hall of Fame," James said. "I am so proud to be part of an amazing institution like Brookhaven National Lab and an extraordinary scientific team that continues to convince me that their dreams will become tomorrow's reality."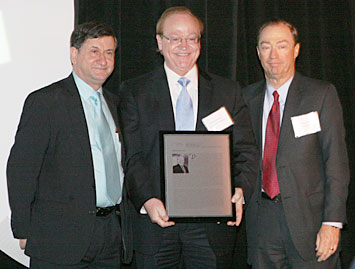 Following his induction, James was congratulated by Yacov Shamash, left, dean of the Stony Brook University College of Engineering, and Lawrence Waldman, chair of the Long Island Technology Hall of Fame.
James served as president of SPIE — the International Society for Optical Engineering — the world's largest professional society devoted to solar energy, lasers, optics and photonic devices. He has also served in the prestigious role of chairman of the Council of Scientific Society Presidents. He is a Fellow of the American Association for the Advancement of Science, American Physical Society, Institute of Electrical and Electronic Engineers, Materials Research Society, SPIE, and Optical Society of America, and has served as chairman of 29 international scientific conferences. He volunteers by serving on the Long Island Forum for Technology Executive Board and Hauppauge Industrial Association-Long Island Board. He is devoted to collaborative research and development initiatives and educational activities on Long Island, and provides a strong national voice in fostering science policy supporting STEM education.
In addition to his innovative research, Ralph James served as the Lab's Associate Laboratory Director for Energy, Environment, and National Security from 2001 to 2008. He has authored over 500 scientific papers, served as editor of 23 books, and holds numerous awards and honors, including being a five-time winner of R&D Magazine's 100 Award, which honors the top 100 inventions of the year.
James earned his B.S. in engineering physics in 1976 from the University of Tennessee at Knoxville, and his M.S. in physics from the Georgia Institute of Technology in 1977. He holds another M.S. in applied physics from the California Institute of Technology (Caltech), and a Ph.D. in applied physics from Caltech. He joined Brookhaven Lab in 2001, where his work has secured the Lab's prominent position in the advancement of radiation detection research.
2014-11620 | INT/EXT | Newsroom