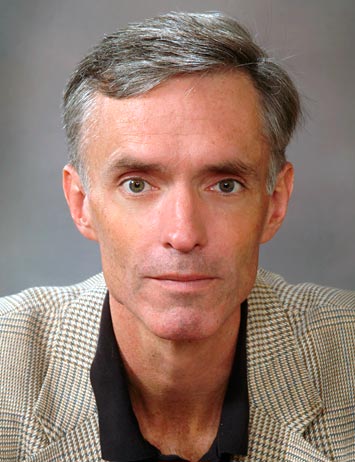 Biomedical engineer James Collins of Boston and Harvard universities and the Howard Hughes Medical Institute
UPTON, NY—Biomedical engineer James Collins of Boston and Harvard universities and the Howard Hughes Medical Institute will give a BSA Distinguished Lecture, titled "Life Redesigned: The Emergence of Synthetic Biology," at the U.S. Department of Energy's (DOE) Brookhaven National Laboratory in Berkner Hall on Wednesday, April 30, at 4 p.m.
From cheaper drugs and rapid diagnostic tests to targeted therapies that attack antibiotic-resistant "superbugs," synthetic biology will change lives in years to come. Engineers, physicists, and biologists in this growing field are making such advancements possible using proteins, genes, and other bits of DNA to rewire and reprogram organisms with biological circuits similar to electronic networks.
During his talk, Collins will highlight recent efforts to create synthetic gene networks and programmable cells. He will also discuss a variety of synthetic biology applications for computing, technology, and medicine.
About the Speaker
Collins earned a Ph.D. in medical engineering at the University of Oxford. He is a founding core faculty member of the Wyss Institute at Harvard University for developing "bio-inspired" materials and devices to transform medicine and create a more sustainable world. At Boston University, Collins is a William F. Warren Distinguished Professor, and director and co-founder of the Center of Synthetic Biology. He was named a Howard Hughes Medical Institute Investigator in 2008 and has been recognized with a MacArthur Foundation "Genius Award," a National Institutes of Health Director's Pioneer Award, and numerous teaching awards. He is also a member of several distinguished societies, and was identified by MIT Technology Review as one of the top 100 young innovators and by Scientific American as one of the top 50 outstanding leaders in science and technology.
About BSA Distinguished Lectures
BSA Distinguished Lectures are sponsored by Brookhaven Science Associates—the company that manages Brookhaven Lab for DOE—to present topics of general interest to the Laboratory community and the public. These lectures are free and open to the public. All visitors to the Laboratory 16 and older must bring a photo ID.
The Laboratory is located on William Floyd Parkway, one-and-a-half miles north of Exit 68 of the Long Island Expressway.
For more information, call (631) 344-2345.