Contact:
Peter Genzer
, (631) 344-3174 | Written by Kay Cordtz
The following release was issued by the Long Island Capital Alliance.
Long Island Capital Alliance Announces Participants for Brookhaven National Laboratory Technology Transfer Capital Forum on May 8
Keynote Speaker Dr. Doon Gibbs, Director of Brookhaven National Laboratory
May 5, 2015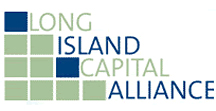 Melville, NY – April 15, 2015 – The Long Island Capital Alliance ("LICA"), Long Island's leading non-profit capital formation and business development organization, today announced the presenting companies and investor panelists for its Technology Transfer Capital Forum to be held on Friday, May 8, 2015. The capital forum is being held in collaboration with Brookhaven National Laboratory, a world-leading research institution based on Long Island, in furtherance of their established relationship, and will feature presentations by world-renowned scientists on new technologies available for licensing and start-up opportunities from Brookhaven National Laboratory.
The first collaborative Technology Transfer event was held in 2012. At that time, over 100 technologies were available at Brookhaven National Laboratory for commercial development, with several of the most promising of those selected to present at the LICA forum. For the forum to be held on May 8, 2015, five technologies available for significant commercialization opportunities will be presented to an audience that will include venture capital firms, investment banks, private equity firms, angel and individual investors. Each of the technologies offered by Brookhaven National Laboratory and selected by LICA for presentation at the capital forum possesses unique intellectual properties with catalysts for significant growth. A panel of early stage technology investment professionals will be on hand to review the presentations and offer their insights on the commercial viability and prospects for market success.
Technology transfer involves the use of inventions, processes, and knowledge developed by universities and government research facilities to create and enhance private sector businesses. Technology transfer involves a wide range of approaches to get technologies to market, including licensing to larger, more established companies; combining capital, management and technology to start up and new businesses; and entering into research and development agreements, including Small Business Innovation Research (SBIR) programs, to collaboratively advance the technology toward commercialization.
Technology Transfer Capital Forum on May 8, 2015 — Participants
Key Note Speaker
Dr. Doon Gibbs is the Director of Brookhaven National Laboratory. He earned a B.S. in physics and mathematics from the University of Utah in 1977, and an M.S. and Ph.D. in physics from the University of Illinois at Urbana-Champaign, in 1979 and 1982, respectively. He joined Brookhaven in 1983 as an assistant physicist and progressed through the ranks to become a senior physicist in 2000. Gibbs's managerial experience at Brookhaven includes the posts of Group Leader of X-ray Scattering, Associate and Deputy Chair of Physics, Head of Condensed Matter Physics, Interim Director of the Center for Functional Nanomaterials, and Associate Laboratory Director for Basic Energy Sciences. He became Deputy Laboratory Director for Science and Technology in 2007.
Dr. Gibbs was honored with the 2003 Advanced Photon Source Arthur H. Compton Award "for pioneering theoretical and experimental work in resonant magnetic x-ray scattering, which has led to many important applications in condensed matter physics." He was instrumental in overseeing the design and construction of Brookhaven's Center for Functional Nanomaterials, and has played a significant role in advancing other major projects, including the National Synchrotron Light Source II and Interdisciplinary Science Building. He has also overseen the growth of Brookhaven's basic energy sciences programs, including chemistry, materials science, nanoscience, and condensed matter physics.
Dr. Gibbs is a Fellow of both the American Association for the Advancement of Science and the American Physical Society.
Panel of Investors
The following investment professionals will participate in the investor panel at the Technology Transfer Capital Forum:
Robert Brill, Managing Partner, Newlight Associates: Mr. Brill is a founding Managing Partner of Newlight Associates and was previously a General Partner of PolyVentures, venture capital funds whose principal investment focus includes early stage investments in technology companies.
Ari Kahn, Entrepreneur and Investor: Mr. Kahn was co-founder of FatWire Software, building it into a leading multinational software company with operations in 13 countries.
Scott Livingston, Chairman & CEO, Livingston Securities: Mr. Livingston has been working on emerging technologies at Wall Street firms for 25 years and has specialized in nanotechnologies since 2002. The "Livingston Nanotechnology Conference," is Wall Street's largest and longest running annual nanotechnology investor conference, now in its 10th year.
Technologies to be Presented
Nanotech Anti-Reflective Surface Coating Technology: A nanotechnology-based surface coating which reduces or eliminates glare and reflection on multiple surfaces, including silicon, glass or plastics used in solar panels, monitors and windows.
Superconducting Electric Grid Protection System: Technology enables remote, reliable and fast management of electric grids from damaging short circuits, which facilitates cost-effective grid expansion, current stabilization of electricity generators and safety of high voltage test
Robust Renewable Chemical Feedstock: Method to modify oilseed crops to produce high value, industrially useful fatty acids that can be effectively processed into plastics, paints and lubricants.
Water Shield for Surfaces: Nanotechnology-based surface textures that enhance the repellency of non-stick coatings, preventing liquids from wetting surfaces such as glass, plastic, and silicon even under high liquid pressures or high liquid impact velocities.
Green Sulfcrete: An advanced sulfur-polymer concrete material manufactured from recycled byproduct materials with superior strength and low-cost production, SulfCrete has a very low carbon footprint, no need for water and a very rapid set.
LICA is hosting the Technology Transfer Capital Forum on Friday, May 8, 2015 from 8:00 a.m. to 11:00 a.m. at 68 South Service Road, Melville, NY, 11747. The capital forum provides an opportunity to meet capital providers, entrepreneurs, industry executives and businesses seeking capital, as well as to hear a panel of industry experts discuss financing alternatives for emerging technologies.
About Long Island Capital Alliance
Since 1984, the Long Island Capital Alliance, formerly known as Long Island Venture Group, has been promoting business growth on Long Island. LICA seeks to create a productive and business-friendly environment that will afford area businesses access to the resources necessary to compete successfully in today's markets. LICA serves as a focal point for the exchange of ideas among new and existing business enterprises, successful entrepreneurs, investors, and service providers. Through quarterly capital forums and special meetings, LICA brings together members of the region's business community, and has been recognized as the place to turn to when small businesses need equity, debt, or other financing, or for investors to find an attractive investment opportunity.
LICA's mission is to encourage economic development on Long Island by facilitating capital formation for a broad range of companies in various industries, from early stage to mature, middle market, closely held and publicly-traded businesses. LICA accomplishes this primarily through education, networking, quarterly capital forums, periodic special educational meetings, and alliances with other regional organizations. LICA brings together members of the region's business community and serves as the finance arm for significant local business and organizations.
For more information on LICA and its next event, please contact LICA today or register online.
About Brookhaven National Laboratory
Brookhaven National Laboratory is a multipurpose research institution funded by the U.S. Department of Energy. Located on Long Island, NY, Brookhaven operates large-scale facilities for studies in physics, chemistry, biology, medicine, applied science, and advanced technology. Home to seven Nobel Prizes, Brookhaven National Laboratory has major programs in nuclear and high-energy physics, physics and chemistry of materials, environmental and energy research, nonproliferation, neurosciences and medical imaging, and structural biology. The Laboratory's almost 3,000 scientists, engineers, and support staff are joined each year by more than 5,000 visiting researchers from around the world.
Contact:
Jordan Darrow
Darrow Associates, Inc.
631-367-1866
jdarrow@darrowir.com
2015-11720 | INT/EXT | Newsroom