On Eve of Stonewall Anniversary, Hildebrand Speaks of Prejudice and Pride
July 9, 2009
By most measures, the story of Anthony Woods is quintessentially American.
Growing up in a single-parent home, Woods overcame any disadvantages he may have faced, graduating with honors from his California high school and moving on to attend West Point on a prestigious Congressional appointment.
After finishing at the top of his class at the elite military academy, Woods served two tours of duty in Iraq, earning the Bronze Star for his distinguished service to the nation. He then began graduate studies at Harvard's Kennedy School for Government on a military scholarship, planning to return to the service upon graduation.
There was one small problem, however: Woods, a bright, handsome, talented, honorable, duty-oriented American, also happens to be gay.
During his second year at Harvard, Woods felt compelled to come out to his commanders, necessitating his dismissal under the Defense Department's "Don't Ask, Don't Tell" (DADT) policy (Title 10 of the U.S. Code § 654) – which bars self-identified homosexuals from serving in the U.S. Armed Forces. He received an honorable discharge in December 2008.
No more excuses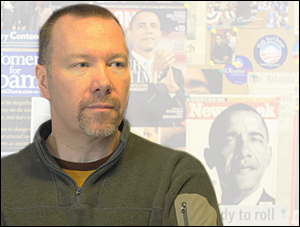 enlarge
Steve Hildebrand, deputy campaign manager for Barack Obama
Steve Hildebrand, speaking at BNL on June 18, did not mince words in discussing the unjust treatment of lesbian, gay, bisexual, transgender and queer* (LGBTQ) Americans under DADT and other federal policies. *[Queer is used here as an inclusive umbrella term, not in its older pejorative sense. See note at end of article for more information.]
"It's a disgrace that Woods was discharged from the military," he said. "Many gay people are saying, 'I've fought harder for them [the American people] than they're fighting for me.'"
BNL'S Diversity Office, in cooperation with the GLOBE (Gay, Lesbian or Bisexual Employees) club, invited Hildebrand, President Barack Obama's deputy campaign manager and the most senior openly gay member of the team, to speak at the Lab in honor of LGBTQ Pride Month, which is celebrated annually in June.
The message of Hildebrand's talk, "The Obama Vision: Equality for All," was clear: the queer community and its supporters should no longer take "no" for an answer.
"We are at the point where there really can be no more excuses," he said.
A time for pride
Considering the decades-long battle that LGBTQ people have fought for civil rights in the United States, Hildebrand's impatience is not surprising.
Forty years ago this month, at a small bar called the Stonewall Inn in the Greenwich Village neighborhood of New York City, members and supporters of the LGBTQ community forcefully resisted discriminatory police harassment in a historical and cultural moment that would become known as the start of the "gay" civil rights movement.
In the years that followed, queer individuals, groups and their allies have marked the watershed event by designating June, particularly the days around June 28 (the beginning date of the Stonewall protest), as a time to celebrate "Pride." On the first of the month, President Obama formally recognized the tradition, proclaiming June 2009 to be LGBT Pride Month.
The politics of emotion
Raised in a "closeted, small-minded" community in South Dakota, Hildebrand recalled the difficulties of growing up gay, even in a household that "understood itself to be progressive." It was this struggle, combined with a sense of tenacity instilled by his mother, that led Hildebrand to a career in political consulting. He has since worked with many notable political figures, including U.S. Senator Tom Daschle (D-SD) and former Vice President Al Gore.
Hildebrand joined Obama at the beginning of the Presidential bid process, when the junior senator from Illinois was still deciding whether or not to run. As a person close to the candidate, Hildebrand claimed that he was responsible for "passing out the Kool-Aid" that influenced the ultimate decision.
"I just knew it was time for him [Obama]," he said. "I had – and still have – hope that this man can really make positive change in America."
Political advising aside, however, Hildebrand noted that his most important contribution to the campaign was to attach emotional weight to Obama's somewhat "cerebral" policy positions. Unsurprisingly, much of the talk echoed this way of thinking.
"Too many kids live in fear," he said of teenagers living in homophobic communities. "Too many young [queer] people are turning to drugs, alcohol – even suicide – to deal with hate. We can't afford to wait anymore."
Airing the laundry
Hildebrand came ready with a "laundry list" of legal steps that should be taken immediately to protect LGBTQ civil rights, including the Safe Schools Improvement Act, the Hate Crimes Protection Act and employment discrimination legislation. These, he said, are the "easy ones."
More controversial issues, such as marriage equality and joint-adoption rights, did not escape Hildebrand's attention, however. He spoke of his sister's 27-year legal marriage and all the state-afforded rights and benefits she and her husband enjoy in stark contrast to the lack of those same necessities imposed on his own equally committed 16-year partnership.
"We don't get marriage rights, we don't get [hospital] visitation rights, we don't get tax benefits and so on and so on and so on. The word 'no' comes before so much…," he said.
Speaking of the future of LGTBQ civil rights under the Obama administration, Hildebrand conveyed a sense of hope, even in the midst of mounting criticism from segments of the queer community that the President is taking too long to fulfill campaign promises, such as the repeal of DADT.
"Much is going on behind the scenes," he assured the audience. "Obama has reaffirmed his commitment to changing these things."
Embracing diversity
As a sign of progress, Hildebrand pointed to Obama's recent decision to expand federal benefits for domestic partners of government employees. In conversations with members of the audience following the talk, Hildebrand said he was pleased with current efforts at BNL to extend similar benefits to the Lab's LGBTQ employees.
Still, much work remains to be done. While GLOBE and the Diversity Office have hung the rainbow flag – an international symbol of gay pride – in the lobby of Berkner Hall during June for a number of years now, it was torn down and stolen as recently as 2004.
Concluding his talk, Hildebrand offered his wish that BNL will continue to work for the acceptance of its LGBTQ employees, as well as all marginalized groups.
"You have to embrace diversity," he said. "We should have pride in every kind of person, every day."
Video of Hildebrand's talk is available on WBNL. (RealPlayer required)
 
*NOTE: While still somewhat controversial, the term "queer" was largely "reclaimed" from its pejorative sense in the 1990's by activists and academics. Its contemporary usage (and the usage intended by the writer here) is that of an "umbrella term" for anyone whose sexual or gender identity/expression does not fit within heteronomative (heterosexual or male/female gender binary) definitions. In this sense, queer is a much more inclusive term than LGBT, which still enforces strict and possibly exclusive categories.
2009-1313 | INT/EXT | Newsroom