BNL Welcomes Five New Police Officers
February 5, 2010
At an afternoon ceremony on January 22, John Amabile, manager of the Laboratory Protection Division, presented police shields to five new officers, with friends and families looking on. The recruits recently completed the required U.S. Department of Energy Basic Security Police Officer Training under the guidance of BNL Police Group Captain Dave Peter. The recruits have now started their BNL-specific on-the-job training.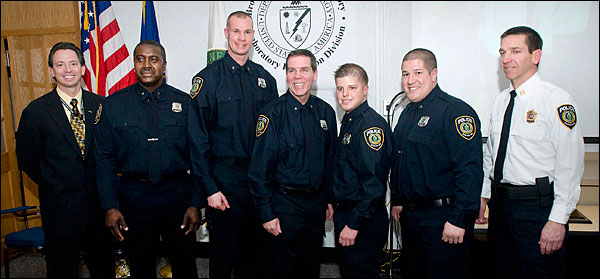 enlarge
From left: John Amabile, manager of the Laboratory Protection Division, new BNL police officers Erton Rudder, James Donohue, John Davies, Kreg Campagna, and Justin Merrow and BNL Police Group Captain Dave Peter.
The five new officers are Kreg Campagna, John Davies, James Donohue, Justin Merrow, and Erton Rudder. They come from a variety of backgrounds, but all have previous law enforcement experience in the military or the New York City Police Department. In addition to completing rigorous textbook and physical training, the crew spent 100 hours at the shooting range firing handguns and submachine guns. Campagna earned the "Top Gun" award with near perfect scores in both categories.
At the end of the graduation ceremony Campagna spoke on behalf of the recruits. "We want to thank everyone in the Laboratory Protection Division, the team of training officers and especially Captain Dave Peter," he said. "The training we received here is second to none. We look forward to being part of the professional team of officers here at the Lab."
Also attending the ceremony were VIPs from outside organizations, including Inspector Robert Oswald of the Suffolk County Police Department, members of the 106th Air National Guard Security Division, and the Director of Security of the Longwood School District.
Dave Peter concluded the ceremony with this comment: "In a world where it's sometimes hard to be a gentleman, these five recruits have proven it is possible. We welcome them to our team."
2010-1608 | INT/EXT | Newsroom