Chemistry Postdoc Receives Battery500 Young Investigator Award
Includes $50K in funding for research aimed at improving batteries for electric vehicles
October 10, 2019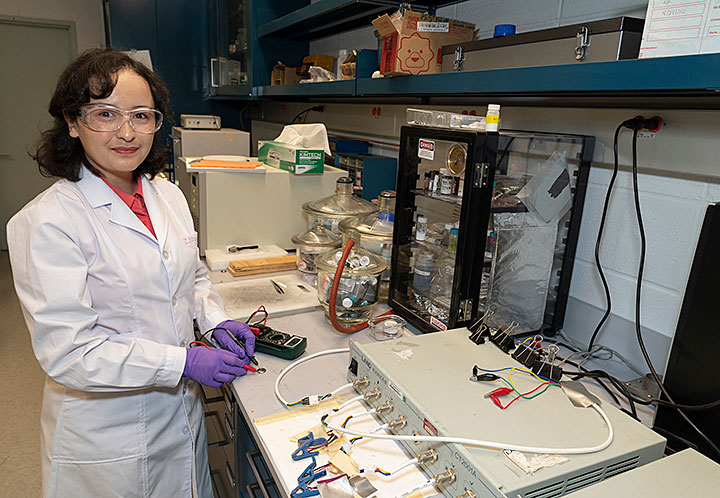 enlarge
Zulipiya Shadike will conduct research to address critical challenges in lithium-sulfur batteries and lithium metal anodes.
UPTON, NY— Zulipiya Shadike, a postdoctoral fellow in the Chemistry Division at the U.S. Department of Energy's (DOE) Brookhaven National Laboratory, received a Young Investigator Award from the Battery500 Consortium, a DOE-sponsored consortium led by Pacific Northwest National Laboratory (PNNL) that aims to triple the "specific energy"—the amount of energy packed into a battery based on its weight—compared with that found in today's electric vehicle batteries. More energy per pound would result in smaller, lighter, and less expensive batteries—and more mileage between charges.
Shadike is one of eight researchers to be recognized by the Battery500 Young Investigators program. She will receive $50,000 in funding over six months to pursue research aimed at improving the performance of lithium-sulfur batteries. She'll perform her studies under the guidance of Brookhaven physicist Xiao-Qing Yang, who leads the Chemistry Division's Electrochemical Energy Storage (EES) group. EES has been part of the Battery500 Consortium for the past three years.
"I am very excited and truly honored to receive the Young Investigator Award from the Battery500 Consortium, which is a great step in my professional career," Shadike said. "With sincere appreciation for the help and support I have received from the EES group and the Chemistry Division, I will use this funding to explore new ideas to address the critical challenges of lithium-sulfur batteries and lithium metal anodes. I understand that this is a very challenging topic, and I am motivated to get started."
Lithium-sulfur batteries have attracted a lot of research interest due to their high theoretical energy density and low cost, Shadike explained. But making the most of this potential is a challenge because of sulfur's extremely low conductivity and other problems that arise during the electrochemical reactions inside a battery.
One problem is that sulfur tends to form polysulfide compounds that dissolve into the battery's conductive electrolyte. These polysulfides degrade the electrolyte's ability to conduct positively charged lithium ions and can also engage in "side reactions" with the battery's lithium metal anode. The side reactions prevent the full electrochemical transformations of reactants, and therefore result in continuous loss of the battery's active materials. In addition, when lithium metal is used as an anode, it can form dendrites—tiny whiskers that result in an uneven surface that further consumes the electrolyte and can even cause serious safety issues.
This is a very challenging topic, and I am motivated to get started.
— Brookhaven Lab Chemistry Division postdoc Zulipiya Shadike
Shadike proposed two lines of research to overcome these challenges. She plans to closely work with organic chemist Hung Sui Lee in the EES group to design and synthesize atomic-scale polymer "cages" that will "trap" polysulfides, thus keeping them from dissipating in the electrolyte. These cages, composed of silicon and oxygen atoms, might also form a protective layer on the lithium metal anode. Such a protective layer might prevent side reactions between the polysulfides and the lithium metal, thus improving the stability of the anode surface. Shadike will also explore the effectiveness of using aromatic hydrocarbons as an additive to dissolve lithium dendrites.
To track their progress, Shadike, Yang, Ruoqian Lin (another postdoctoral fellow in EES), and other members of the team will use sophisticated tools at Brookhaven's National Synchrotron Light Source II (NSLS-II) and Center for Functional Nanomaterials (CFN)—both operated as DOE Office of Science user facilities. For example, they'll use x-ray fluorescence imaging and x-ray absorption spectroscopy at NSLS-II and transmission electron microscopy at CFN to monitor how their designed cage polymers affect the dissolution of polysulfides. They'll also work with collaborators at PNNL to explore how their advances affect performance when incorporated into functioning battery cells.
"The Young Investigator research program is designed to support high-risk, high-reward projects and this proposal certainly fits that," said Yang, Shadike's supervisor. "It will definitely be a challenge, but if these methods help to improve the performance of lithium-sulfur batteries, it could be a game-changer that makes electric vehicles more affordable and more attractive to motorists."
Zulipiya Shadike earned her Ph.D. in physical chemistry from Fudan University, Shanghai, China, in 2017 and a Bachelor of Chemical Engineering from Shanghai Jiaotong University, China, in 2012. She came to Brookhaven Lab as a visiting graduate student in EES starting in November 2016 and began a postdoctoral fellowship after completing her graduate studies in November 2017. Shadike won the Outstanding Poster Award at 2018 Q4 Review Meeting of the Battery500 Consortium (Young Scientist Forum).
Funding for the Battery500 Consortium Young Investigator projects comes from DOE's Office of Energy Efficiency and Renewable Energy, Vehicle Technologies Office. NSLS-II and CFN operations are funded by the DOE Office of Science.
Brookhaven National Laboratory is supported by the U.S. Department of Energy's Office of Science. The Office of Science is the single largest supporter of basic research in the physical sciences in the United States and is working to address some of the most pressing challenges of our time. For more information, visit https://www.energy.gov/science/
Follow @BrookhavenLab on Twitter or find us on Facebook.
2019-16841 | INT/EXT | Newsroom