The following news release is based on an announcement made by the White House and the U.S. Department of Energy's Pacific Northwest National Laboratory.
Brookhaven Scientists Contribute to Effort to Make Next-generation Electric Vehicle Batteries
July 29, 2016
UPTON, NY—Imagine, on the streets of the United States, electric vehicles as affordable and convenient as gasoline-powered vehicles. Now imagine that scene taking place in just a few years.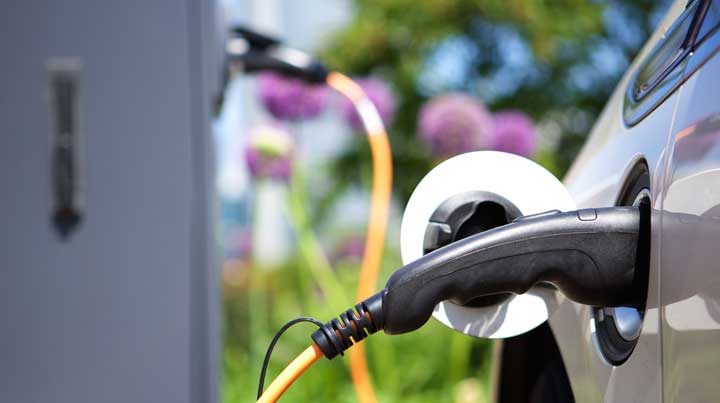 Scientists at the U.S. Department of Energy's (DOE) Brookhaven National Laboratory are working to make that a reality as part of a multidisciplinary "Battery500 Consortium" led by DOE's Pacific Northwest National Laboratory (PNNL). As announced by the White House last week, the consortium will receive up to $10 million a year over five years from DOE's Office of Energy Efficiency and Renewable Energy to work toward the goal of commercially-viable, next-generation batteries. Specifically, the team aims to develop batteries that can produce 500 watt-hours per kilogram, compared to the 170-200 watt-hours per kilogram in today's typical electric vehicle battery, at a cost of less than $100 per kilowatt-hour for a battery pack.
"Our goal is to extract every available drop of energy from battery materials, while also producing a high-performance battery that is reliable, safe, and less expensive," said consortium director and PNNL materials scientist Jun Liu. "Through our multi-institutional partnership, which includes some of the world's most innovative energy storage leaders, the Battery500 consortium will examine the best options to create the most powerful next-generation lithium batteries for electric cars."
By working closely with other members of this consortium team, we are confident that we will make great contributions to the overall project goals.
— Brookhaven physicist Xiao-Qing Yang
The team will design new electrode and cell architectures, pairing lithium metal as the negative electrode with two different materials for the battery's positive electrode. In this redesigned battery, the prevention of unwanted side reactions will significantly improve battery performance.
At Brookhaven Lab, most of the effort will be focused on determining the characteristics of the composite solid electrolytes and sulfur cathodes using intense beams of x-rays at the National Synchrotron Light Source II (NSLS-II), a DOE Office of Science User Facility, and other techniques including mass-spectroscopy and high-resolution transmission electron microscopy at Brookhaven's Center for Functional Nanomaterials (CFN), another Office of Science User Facility. The Brookhaven team will also explore materials synthesis and crystal growth.
The images of elemental distribution for a novel solid-state electrolyte ceramic material sample collected at hard x-ray nano-probe beamline (HXN) at NSLS-II.
"We are very proud to be a part of this consortium," said Brookhaven principal investigator Xiao-Qing Yang. "The characterization and diagnostic techniques developed at NSLS-II and CFN offer great advantages for studying these materials. By working closely with other members of this consortium team, we are confident that we will make great contributions to the overall project goals."
Brookhaven is currently budgeted to receive $1 million a year, although the actual funding numbers will be determined in specific project planning discussions.
Battery500 Consortium members include:
Pacific Northwest National Laboratory
Brookhaven National Laboratory
Idaho National Laboratory
SLAC National Accelerator Laboratory
Binghamton University (State University of New York)
Stanford University
University of California, San Diego
University of Texas at Austin
University of Washington
IBM (advisory board member)
Tesla Motors, Inc. (advisory board member)
The consortium also welcomes ideas from others, recognizing that diversity in experience and opinions often results in better solutions. The team will set aside 20 percent of its overall budget for "seedling projects," or work based on proposals from throughout the battery research community.
Though the immediate goal is to make effective, affordable batteries for electric vehicles, Liu expects the consortium's work could also advance stationary grid energy storage.
Brookhaven National Laboratory is supported by the Office of Science of the U.S. Department of Energy. The Office of Science is the single largest supporter of basic research in the physical sciences in the United States, and is working to address some of the most pressing challenges of our time. For more information, please visit science.energy.gov.
2016-11858 | INT/EXT | Newsroom