Contact:
Peter Genzer
, (631) 344-3174 | Written by Kelly Zegers
Great Neck South Wins Virtual Regional Middle School Science Bowl
The competition hosted by Brookhaven Lab included teams from Long Island and New York City schools
March 3, 2021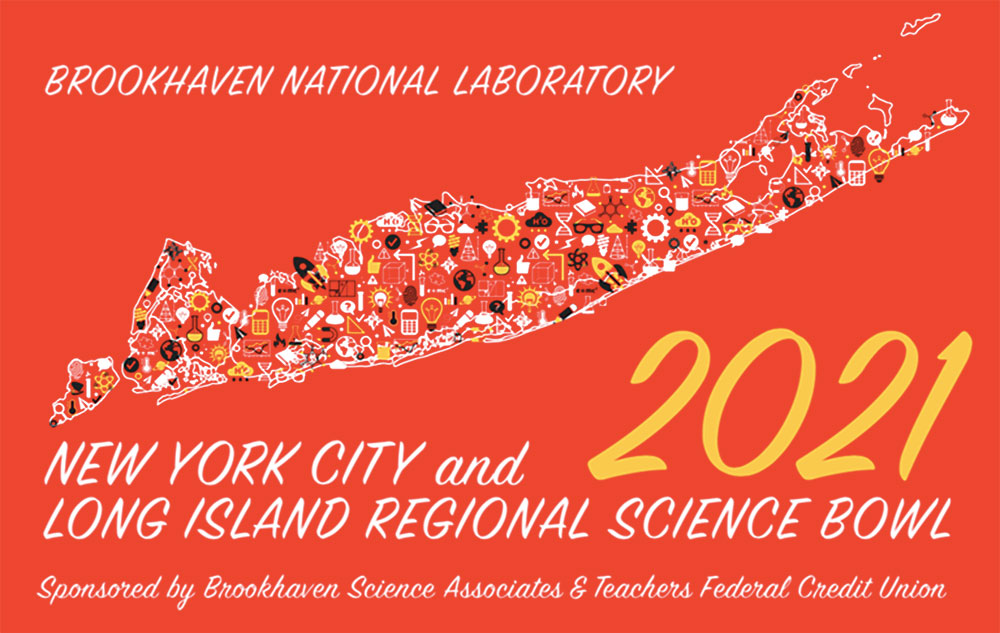 UPTON, NY–Teams from Great Neck South Middle School earned first and third place in the Long Island and New York City Middle School Science Bowl hosted virtually by the U.S. Department of Energy's Brookhaven National Laboratory on Saturday, Feb. 27. The tournament, part of the DOE National Science Bowl® (NSB), quizzed students on earth science, physical science, life science, math, general science, and the exciting work happening at national laboratories.
A total of 20 teams from 11 schools across Long Island and New York City competed in the virtual academic tournament. Great Neck South Team 2 earned a spot alongside national finalists from regional competitions in the NSB preliminary rounds in April. The top 32 finalists will move on to compete virtually for the national title in May.
First place team members Yilin Qiao, Ashley Nguyen, Allen Vee, and Zican Zhang practiced often with coaches Diane Caplain and Tobias Hatten. They also kept a few good luck mascots—stingray and penguin stuffed animals––close by.
"We had a big morale boost after getting two life science questions correct in a row in an elimination round," Qiao said.
Hatten credited fellow coach Caplain for her dedication to preparing their school's teams, which have won first place for four consecutive years.
"As soon as the competition's over here at regionals she starts planning out the next teams," Hatten said. "She's so passionate, so dedicated."
Second place: Hunter College High School Team 1–Morgan Grant, Devon Lee, Morgan Lee, Maggie Sun, and Kyle Wu
Third place: Great Neck South Team 1–Anant Gupta, Colin Hu, Erin Wong, Jason Zhang, and Laura Zhang
Fourth place: NYC Lab Middle School of Collaborative Studies Team 3–Daniel Berkovich, Jonathan Lin, Aaron Lu, Sophia Mayer, and Henry Zhang
This year's event also featured a Cybersecurity Challenge during which students completed an encryption puzzle. After a few tiebreakers, Anant Gupta of Great Neck South Middle School took first place, Cate Park of Hunter College High School took second place, and Daniel Berkovich of NYC Lab Middle School of Collaborative Studies took third place.
More about the Science Bowl
In the 2021 regional Science Bowl organized by Brookhaven Lab, all participating students received a Science Bowl t-shirt. Winning teams also received trophies and medals, and the top four high school teams received cash awards. Prizes were courtesy of Teachers Federal Credit Union and Brookhaven Science Associates (BSA), the event's sponsors. BSA is the company that manages and operates Brookhaven Lab for DOE.
The Long Island Regional Science Bowl is one of many educational opportunities organized by Brookhaven's OEP. Every year, OEP holds science workshops, contests, internships, field trips, and more for students in first grade through graduate school. For more information on ways to participate in science education programs at Brookhaven Lab, visit the OEP website.
More than 315,000 students have participated in NSB since it was established in 1991, and it is one of the nation's largest science competitions. The U.S. Department of Energy's Office of Science manages the NSB Finals competition. More information is available on the NSB website.
Brookhaven National Laboratory is supported by the U.S. Department of Energy's Office of Science. The Office of Science is the single largest supporter of basic research in the physical sciences in the United States and is working to address some of the most pressing challenges of our time. For more information, visit https://energy.gov/science.
Follow @BrookhavenLab on Twitter or find us on Facebook.
2021-17718 | INT/EXT | Newsroom