Contact:
Peter Genzer
, (631) 344-3174 | Written by Kelly Zegers
Brookhaven Lab Honors Students in 2022 Maglev Competition
Long Island students display STEM skills with quick, efficient maglev vehicle designs
June 2, 2022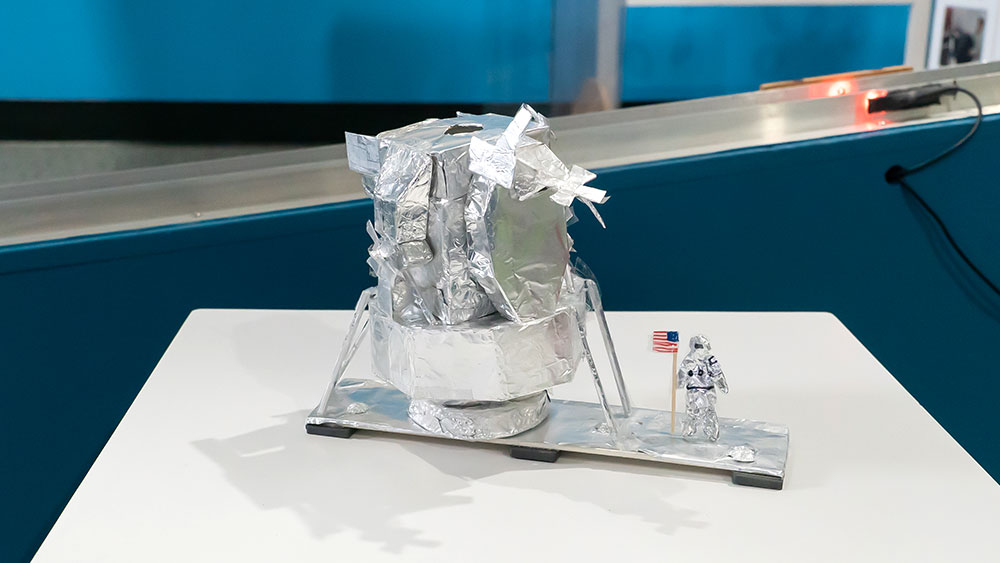 enlarge
Great Neck South Middle School students who won first place in the content's appearance category modeled their vehicle after the Apollo 11 lunar lander.
UPTON, NY — Students from Bay Shore Middle School and Great Neck South Middle School tested magnetic levitation vehicles they designed and built themselves in the 2022 Maglev Competition hosted by the U.S. Department of Energy's (DOE) Brookhaven National Laboratory.
In this competition organized by Brookhaven's Office of Educational Programs, 6th, 7th and 8th grade students learn about maglev technology and use math, science, and technology principles to optimize the design of a maglev vehicle. Maglev vehicles that float over a fixed track, supported and driven by magnetic fields — like flying with lift provided by magnets instead of wings.
"This contest introduces students to engineering concepts that make the science at Brookhaven Lab possible," said OEP manager Ken White. "Magnets play important roles in moving particles at the nearly the speed of light in research at the Relativistic Heavy Ion Collider (RHIC) and the National Synchrotron Light Source II (NSLS-II), both DOE user facilities."
The contest is based on research pioneered by two Brookhaven engineers, the late Gordon Danby and James Powell, who invented and patented superconducting maglev technology—the suspension, guidance, and propulsion of vehicles by magnetic forces.
Students who tried to build the fastest maglev vehicle used different energy sources to send their constructions down the track, including ones that used gravity, balloons, propellers, or electricity.
Bay Shore technology teacher John Mollica said classroom lessons about maglev have evolved with different competition categories presented in the contest each year.
"It's such a great opportunity for the students to be able to participate in this," Mollica said. "It's a great motivational thing for the students as well. I have competitions in my classes and the winners get to then submit their cars for the competition. It's allowed students to push themselves and go above and beyond to make that level and it's a lot of fun."
Students earned top honors in four categories this year. OEP announced the winners during an online awards ceremony on May 11.
Gravity
Brookhaven staff and volunteers sent cars full of passengers, represented by pennies, down a 16-foot-long slanted track to see who made the shortest possible time by the force of gravity.
1st Place: Madison Wolferd, Bay Shore Middle School
2nd Place: Jake Zhong, Great Neck South Middle School
3rd Place: Madelyn Szabo, Bay Shore Middle School
When thinking about designs for his vehicle, second-place winner Jake Zhong found inspiration while looking around his classroom. A soap bar box, he discovered, was just the right size for the test track.
"It looked like a perfect fit," Zhong said.
Electrified Track
Some students designed vehicles that used an electrified track for power, adding an electrical engineering element to the contest. Students crafted cars that could be pulled down the track that had a positivity polarity.
1st Place: Rachel Waide, Bay Shore Middle School
2nd Place: Tatianna Krummenacker, Bay Shore Middle School
3rd Place: Emily May, Bay Shore Middle School
Self-propelled (Balloon)
Other designs equipped cars with a balloon filled with air to give a push down the entire length of the track. One super-fast balloon vehicle was successful.
1st Place: Aiden Sha, Great Neck South Middle School
Self-propelled (Other)
Students who designed other self-propelled vehicles could use power sources such as rubber bands, motors, or springs, as long as the vehicle used no external energy source.
1st place: Max Stolove, Great Neck South Middle School
"My favorite part about making the car was testing it over and over until it worked," Stolove said.
Appearance
From cars with bright colors to flower designs, contest judges also considered vehicles with the most aesthetically pleasing looks. The first-place duo built an impressive scale model of the Apollo 11 lunar module that successfully levitated down the sloped track.
1st Place: Madeleine Lennox and Caylin Wong, Great Neck South Middle School
2nd Place: Gabriela Regalado, Bay Shore Middle School
3rd Place: Madelyn Szabo, Bay Shore Middle School
Take a closer look at all the vehicles entered in this year's competition.
Brookhaven National Laboratory is supported by the Office of Science of the U.S. Department of Energy. The Office of Science is the single largest supporter of basic research in the physical sciences in the United States and is working to address some of the most pressing challenges of our time. For more information, please visit science.energy.gov.
Follow @BrookhavenLab on Twitter or find us on Facebook.
2022-19574 | INT/EXT | Newsroom