JoAnne Hewett Named Director of Brookhaven National Laboratory
April 10, 2023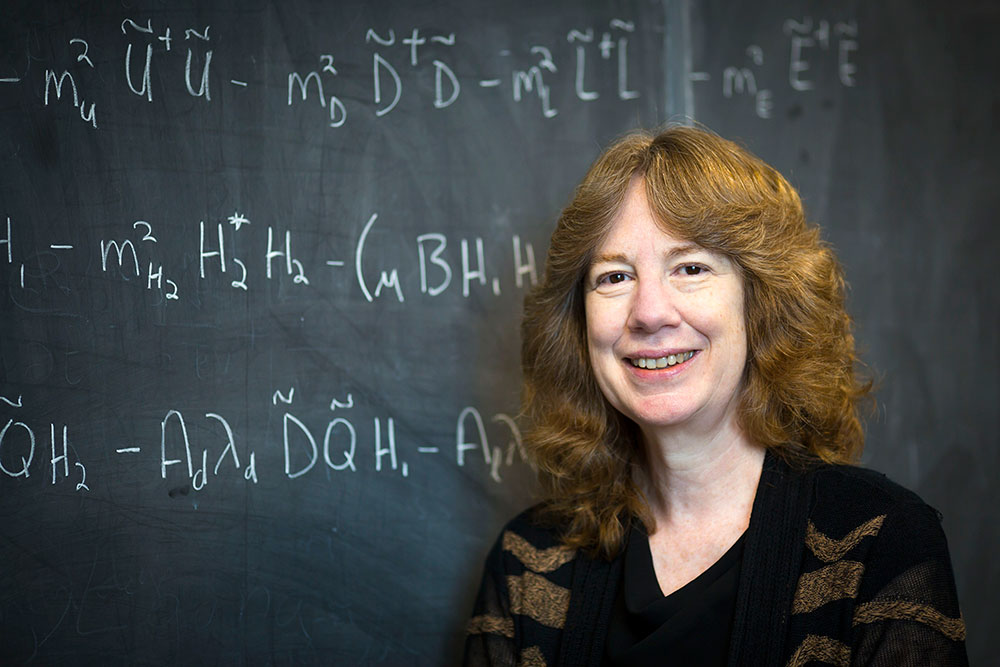 enlarge
JoAnne Hewett (Photo courtesy of SLAC National Accelerator Laboratory)
UPTON, NY—The Board of Directors of Brookhaven Science Associates (BSA) has named theoretical physicist JoAnne Hewett as the next director of the U.S. Department of Energy's (DOE) Brookhaven National Laboratory and BSA president. BSA, a partnership between Stony Brook University (SBU) and Battelle, manages and operates Brookhaven Lab for DOE's Office of Science. Hewett will also hold the title of professor in SBU's Department of Physics and Astronomy and professor at SBU's C.N. Yang Institute for Theoretical Physics.
"JoAnne has a strong research background and extensive experience as a scientist and leader," said DOE Office of Science Director Asmeret Asefaw Berhe. "She is a great choice to advance the Department of Energy's priorities at Brookhaven—from fundamental breakthroughs to applications that improve people's lives each and every day."
Hewett's appointment comes after an international search that began in summer 2022. Current Brookhaven Lab Director Doon Gibbs announced in March 2022 his plans to step down after leading the Laboratory for nearly a decade.
Hewett comes to Brookhaven from SLAC National Accelerator Laboratory in Menlo Park, CA, where she most recently served as associate lab director (ALD) for fundamental physics and chief research officer. She also is a professor of particle physics and astrophysics at SLAC/Stanford University.
"JoAnne brings vital experience and proven leadership skills to further Brookhaven Lab's game-changing discoveries and innovative breakthroughs that benefit science and society," said Maurie McInnis, president, Stony Brook University, and co-chair, BSA Board of Directors. "As Brookhaven advances major projects, expands its mission, and further modernizes its campus where scientists are solving the most urgent challenges of our time, we are pleased to welcome her as the Lab's next director."
"We are so excited to welcome JoAnne Hewett as the next director of Brookhaven National Laboratory," said BSA Board co-chair Mark Peters, executive vice president for national laboratory management and operations at Battelle. "Her outstanding scientific credentials and management and leadership skills will lead the Lab to new heights of scientific discovery and impactful science and technology in service of our nation."
Brookhaven Lab celebrated its 75th anniversary in 2022 and is home to seven Nobel Prize-winning discoveries and countless advances. Its 5,322-acre site on eastern Long Island attracts scientists from across the country and around the world, offering them expertise and access to large user facilities with unique capabilities. As DOE's only multi-program lab in the northeastern U.S., Brookhaven hosts thousands of guest researchers and facility users each year—in-person and virtually—from universities, private industry, and government agencies. The Lab's annual budget is approximately $700 million, much of which is funded by the DOE and its Office of Science.
As Lab director, Hewett will oversee a team of more than 2,800 scientists, engineers, technicians, and professionals working to address challenges in nuclear and high energy physics, clean energy and climate science, quantum computing, artificial intelligence, photon sciences, isotope production, accelerator science and technology, and national security.
"I am honored to take on the role of laboratory director at Brookhaven, a truly exceptional national laboratory with a rich history and a talented and dedicated staff," said Hewett. "The Lab has an extremely bright future, one that will help solve some of the greatest scientific challenges facing the world today."
Hewett is expected to join Brookhaven Lab this summer. Gibbs will retire on April 17, and Brookhaven's long-time Deputy Director for Operations Jack Anderson will serve as interim laboratory director until Hewett is on board. The Lab's current ALD for Facilities and Operations Tom Daniels will serve as interim deputy director for operations while Anderson is in the interim director role.
"I am grateful to Doon for his outstanding leadership of Brookhaven and his long legacy of building and strengthening the Lab for advancing scientific discovery," said Hewett. "I am excited to realize the truly ambitious array of projects here, launch innovative, world-leading science programs, expand the diversity of the Brookhaven community, and continue to strengthen our ties to New York State and our partner universities."
Governor Kathy Hochul added, "Brookhaven National Laboratory plays an important role for advancing science and engineering both nationally and here in New York, and I'm confident that JoAnne Hewett will be a great addition as the newest director. JoAnne is not only incredibly qualified and talented, but will also make history as the first woman to serve in this critical role. The Lab has developed innovative ways to deliver on New York's top priorities, from battling disease to acting on climate, that are making a difference today and for the future of New York. I look forward to working with JoAnne Hewett in her new role as Brookhaven continues to advance cutting-edge technologies to improve the lives of New Yorkers."
Hewett will also participate in the final hiring decision for the deputy director for science and technology position currently held by Robert Tribble. The search for Tribble's replacement is nearing completion following his announcement last year that he would also step down after eight years in his current role.
Longtime Scientist, Leader
Hewett is a theoretical physicist. Her research probes the fundamental nature of space, matter, and energy. She is best known for her work on physics beyond the Standard Model of particle physics and how that might relate to experiments.
Since joining SLAC faculty in 1994 as its first woman member, Hewett has served in key leadership roles, including head of the Theoretical Physics Group, deputy director of the Science Directorate and director of SLAC's Elementary Particle Physics (EPP) Division, as well as her current roles as ALD and CRO.
During her tenure as ALD, Hewett aligned the program with the particle physics community's highest priorities by establishing a neutrino theory and experimental program, initiated the Dark Matter New Initiatives program for small experiments, launched the Detector Microfabrication Facility, and oversaw the transition of Rubin Observatory and Super Cryogenic Dark Matter Search to commissioning and operations. As deputy director of the Q-NEXT national quantum center, she helped shepherd a key partnership between SLAC and other institutions to further the field of quantum science.
Hewett has twice been a member of the High Energy Physics Advisory Panel—which advises the federal government on the national program in experimental and theoretical high energy physics (HEP) research—and is the panel's current chair. She made major contributions to the recent Particle Physics Project Prioritization Panel ("P5") plan that defines priorities for U.S. high-energy physics research over the next 10 years. She also has served on the program advisory committees for SLAC, Fermi National Accelerator Laboratory, the Kavli Institute for Theoretical Physics, and the Cornell Electron Storage Ring.
Hewett is a fellow of the American Association for the Advancement of Science and the American Physical Society. She also served as chair of the American Physical Society's Division of Particles & Fields in 2016.
Hewett earned her bachelor's degree in physics and mathematics and Ph.D. in physics from Iowa State University.
Looking to the Future
Hewett is taking on this role at an exciting time, as Brookhaven prepares to begin construction of the Electron-Ion Collider (EIC). This one-of-a-kind nuclear physics research facility will be built at Brookhaven through a partnership among DOE, Thomas Jefferson National Accelerator Facility, and Brookhaven. The EIC is being funded by the federal government, primarily through the DOE Office of Science. It will draw on expertise throughout the DOE national laboratory complex and from universities and research institutions worldwide. The total project cost is expected to range from $1.7-2.8 billion. About $100 million in New York State funding will support EIC construction of new infrastructure at Brookhaven Lab that is essential for the EIC project.
The Laboratory is also building a new welcome center, the Science and User Support Center. This is the first building planned for Discovery Park, a new vision for Brookhaven Lab's gateway to increase opportunities for the community to engage with the Laboratory and the DOE.
"I can't think of a better time to join such a vibrant Laboratory, given all of the exciting projects ahead—including the EIC, Discovery Park, and an expanded medical isotopes program—that will help define the Lab's future," said DOE Brookhaven Site Office Manager Robert Gordon.
"I am head-over-heels excited to build the EIC in partnership with Jefferson Lab to unlock the mysteries of the force that binds Nature's building blocks, to strengthen connections to industry and the community with Discovery Park, and to advance the multi-program missions of the Lab," said Hewett. "And I'm very much looking forward to working with everyone at Brookhaven, Stony Brook, and the DOE to usher the Lab into its next successful chapter."
Brookhaven National Laboratory is supported by the Office of Science of the U.S. Department of Energy. The Office of Science is the single largest supporter of basic research in the physical sciences in the United States and is working to address some of the most pressing challenges of our time. For more information, visit science.energy.gov.
Follow @BrookhavenLab on Twitter or find us on Facebook.
2023-21178 | INT/EXT | Newsroom