BNL's Fire Rescue Group - Here to Serve and Protect
January 3, 2008
In 1948, firefighters were stationed at two onsite firehouses, East and West, to protect the Lab's 250 buildings and almost 6,000 acres. Today, there is a single firehouse, but firefighters still protect the Lab. In those early days, using mechanical foam to fight fires was considered state-of-the-art. While foam is still a firefighting tool, many new technologies have also been developed since that time.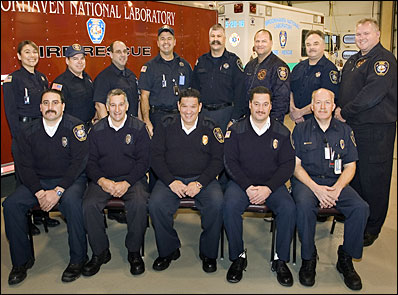 BNL Fire Rescue Group (front, from left) Marcel Rosenfeld, Roy Barone, Charles LaSalla, Allen Licata, Gary Schaum; (back, from left) Danielle Golden, Craig Diaz, Joseph Perry, Frank Palmeri, James Yerry, Jeffrey Mirando, William Peterson, and Gary Rider. Missing from the photo are: Lee Brett, Joseph Bologna, Kevin Cosgrove, Jeffrey Davis, Timothy Devine, Theresa Edrehi, John Foley, James Forkin, Joseph Gallitelli, Michael Hickey, Timothy Kelly, Gregory Meyer, Antonino Realmuto, James Schmidt, William Strelecki, and Joseph Terranova.
In the past few years, the crew at the firehouse has seen significant changes in staff as well as the addition of training requirements and new equipment, such as an updated radio system and specialized tools used to detect chemical and biological hazards. The Lab's fire department not only responds to fire alarms and onsite medical emergencies, but they are also responsible for alarm monitoring, fire safety inspection of buildings, fire extinguisher maintenance and training, and inspections of water valves. They are extensively trained in firefighting techniques, including hazardous materials response. This year, the department responded to almost 400 calls.
Charles LaSalla, deputy chief for the Lab's fire department, said, "In addition to the extensive training required to protect the site and our employees and visitors, we are also good neighbors. We respond to alarms for neighboring communities when they do not have a crew readily available. Every BNL firefighter is ready to do his or her job at a moment's notice."
Joe Levesque, Acting Manager of Emergency Services, added that in the past five years there has been significant staff turnover. "It was difficult to bid farewell to some of our friends who retired, but talented new firefighters have joined our team. I consider every member of our department a professional and an expert," he said.
One new addition to the crew is Danielle Golden. Golden, or "Dani" as her colleagues call her, drives to the Lab from Greenport for her shifts. She said she doesn't mind the commute because she is honored to be part of the unique BNL firefighting team. Like many of her colleagues, Golden is also a volunteer in her hometown Fire Department. She heard about the job opening at the Lab when she met BNL firefighters during a confined space training class at the Suffolk County Fire Academy in Yaphank. "I spoke to a few of the BNL firefighters who suggested I apply for the job," she said. "I applied, was hired, and now I'm here enjoying a job that I consider one of the most important jobs someone can do. I have found the Lab to be an interesting and friendly place."
Michael Hickey, who has been a BNL firefighter for 14 years, sees the fire department and police group as the first line of defense in protecting the Lab site and its employees. "We are well-trained and we take our responsibilities very seriously," he said.
The senior firefighters, those who have served 25 years or more, share the same views. They reminisce about previous colleagues and remember when the firehouse was located on the plot of land where the National Synchrotron Light Source now sits.
"While the safety and protection of the site and occupants is top priority, working as a BNL firefighter has certainly taught us how to multi-task," said firefighter John Foley. "The most important thing," added Lieutenant Gary Schaum, "is learning to trust each other during all types of emergencies. We're good at that because we share a special camaraderie  we work together, we live together for 24-hour shifts, and we know that we can count on each other. That is what makes this job so special."
For any onsite emergency dial 911 or Ext. 2222.
2008-496 | INT/EXT | Newsroom