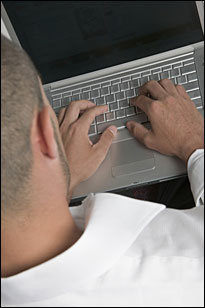 The Human Resources & Occupational Medicine Division has launched a new PeopleSoft Applicant Tracking System as part of its continuing efforts to use the latest technology to improve BNL's recruiting capabilities. This new "candidate gateway" or job application process will impact both internal and external applicants.
Says Nancy Sobrito, Employment Manager, "The Laboratory recruits in a highly competitive environment. In order to compete, our systems need to be streamlined and automated, allowing consistent, easy access to job openings as well as instantaneous resume submission and resume receipt acknowledgement."
The most significant change in applying for a job at the Lab will be that all BNL employees, employee referrals, and external candidates interested in applying for an open position will apply online via the BNL website. Sobrito explains that over the past few years, this functionality has become the standard for well respected employers across all industries.
"By simplifying the application process and enabling the recruitment team and hiring managers to spend less time on administrative processes and more time on applicants, we will get quality hires for the Laboratory in less time," she says.
Sobrito recognizes that some job applicants may have difficulty with the new methodology. "We will also have an application kiosk set up in Human Resources and will help any applicant who is not comfortable with computers through the process," she says.
In the future, therefore, BNL employees will access all online job postings via PeopleSoft's Employee Self Service menu. To do this as an applicant, select Recruiting Activities and Careers to view all open positions. Once you have entered a resume into the system, you will be able to recall it for future use. You will also be able to apply for multiple positions at the same time without filling out duplicate forms.
External candidates and employee referrals will apply via the BNL website. Candidates will be prompted to create a user name and password. Once an external candidate has set up an account he or she will be able to submit a resume online.