Diversity In Physics
More Than 100 Attend Session Asking, 'What Can We Do Better?'
June 19, 2008
Women and minorities, greatly outnumbered in physics, often experience both intentional and unintentional biases. On May 29, more than 100 women and men gathered in Berkner Hall to discuss disparities and encourage equity in the field. The occasion was a special session of the RHIC and AGS Annual Users' Meeting entitled "Diversity in Physics: What Can We Do Better?"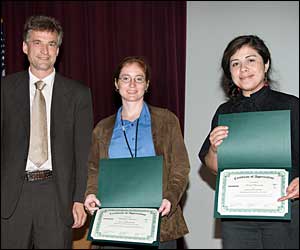 Christine Nattrass (center) and Astrid Morreale (right) are recognized by Users' Executive Committee Chair Rene Bellwied (left) for their work on behalf of the Association of Students and Post-docs at BNL.
"A lot of people, in principle, are sympathetic and want to see women in physics but they are not familiar with the problems," stated session co-organizer Christine Nattrass, a graduate student at Yale University. "We hoped to educate the community on the research to get people to be a little more self-critical when they are evaluating others in the field." Nattrass recently won the Gertrude Scharff-Goldhaber Prize, which recognizes the substantial promise and accomplishments of women graduate students in physics performingthesis research at BNL or Stony Brook University.
Session co-organizer Astrid Morreale, a University of California at Riverside (UCR) graduate student who is posted at BNL, said, "In organizing this discussion of increasing diversity in physics, we hoped to expose issues and existing conditions backing them up the same way we do our research: using scientific studies, and statistics. We felt this was a method that scientists could relate to." Morreale recently received the Benjamin C. Shen Memorial Award, an award for outstanding graduate students studying heavy-ion or high-energy physics at UCR.
During the evening, three women speakers - physicist Meg Urry, Yale University; physicist Elke-Caroline Aschenauer, Thomas Jefferson National Laboratory (JLab); and social scientist Laurel Smith-Doerr, National Science Foundation (NSF) - addressed the question, "Why are there so few women in the physical sciences?" All three presented quantitative, data-driven research to illustrate their findings as they debunked several common biases and sentiments: Women don't like physics, Women are not good at physics, A shortage of hirable qualified women exists, and Families affect women's abilities to continue their work in science.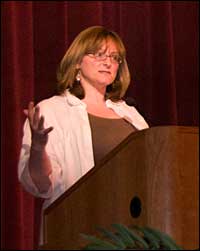 Meg Urry, Yale University, presents findings from psychological, gender studies.
The first presenter, Urry, who chairs the Department of Physics at Yale and directs the Yale Center for Astronomy & Astrophysics, cited numerous studies to refute typical claims for why so few women and minorities are in physics. Her findings also pointed to unintentional tendencies shown by both women and men. Studies she quoted indicated that women and men rate a job applicant as less qualified if the name on a resume is female or associated with a minority group. Another study found that letters of recommendation for women are more likely to contain adjectives like "hard-working" and "diligent" rather than adjectives like "outstanding" or "brilliant," and that recommendations are more likely to discuss a woman's personal life and contain deal-breakers such as, "her work was good considering how many personal problems she had." (Trix & Penska, 2003)
Urry also presented findings showing how certain factors, including living outside the United States and having the ability to speak multiple languages, affect salaries of men and women very differently. Data showed that many of the same factors commonly benefit men more than women, sometimes even increasing men's salaries while decreasing women's salaries. (Egan & Bendick, 1994)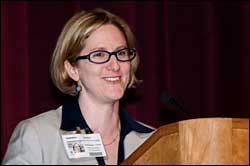 Social scientist Laurel Smith-Doerr, National Science Foundation, presents her findings of women's experiences in different corporate structures.
Smith-Doerr, an NSF program director, then discussed her research in comparing women's careers in biology in hierarchical organizations, such as academia, pharmaceutical companies, and national laboratories, to those in organizations with less formal structures, such as some smaller biotech firms. Smith-Doerr's own findings demonstrated that work environment plays a key role in the diversity of an organization. Less-structured organizations that promote collaboration and transparency are typically more equitable. For example, in such organizations, women are 7.9 times more likely to be supervisors. In contrast, they are 60 percent less likely to work in a supervisory role in hierarchically-structured organizations, Smith-Doerr found.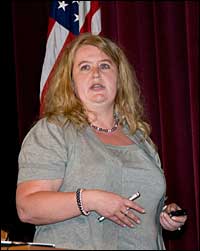 Elke-Caroline Aschenauer, Thomas Jefferson National Laboratory, compares women's experiences from several European countries and cultures.
Aschenauer is a leader in high-precision physics research both in her native Germany and in the United States, and has studied and worked in Germany, the Netherlands, and Belgium. She discussed her personal experiences as past spokesperson of the Hermes experiment in Hamburg and a fellow at the National Institute for Nuclear Physics and High Energy Physics in Amsterdam, comparing women's experiences in the physical sciences between Europe and the United States.
Aschenauer noted such differences in childcare, schooling, and mentoring among several European countries. One might assume that women would increasingly be found in high-level positions with supervisory roles in nations with inclusive healthcare systems providing childcare to families with children under the age of three. According to Aschenauer, that surprisingly is not the case. Across Europe and even in countries where men and women are both expected to work, Aschenauer noted that only a fraction of females had high-level positions in the field of physics.
To answer the question she posed at the beginning of her talk, Aschenauer said, "I did not think there was a difference for women in physics between Europe and the United States - until tonight. In Germany, only women would have attended this session."
So what can be done? What will it take to diversify the physical sciences, ensuring that the best-qualified scientists of today have the opportunity to lead the next generation of scientists to the discoveries of tomorrow?
According to the presenters, several fundamental changes must occur. One is that biases need to be acknowledged - by minorities, by majorities, by students, and by leaders. Another is that young scientists need mentors - role models they can identify with and look up to. It is also important for those in leadership roles to ensure that women and minorities have a chance to succeed and for the community to hold leaders responsible for ensuring that this happens.
In discussions following the presentation, session attendee Barbara Jacak, a distinguished physics professor at Stony Brook and PHENIX Collaboration spokesperson, warned young scientists in the audience not to focus too much on disparities as she said, "The natural response is to get angry, but it is essential to channel that anger into doing something. The right thing for young women to do is put all that energy into doing the science and succeeding." Jacak added, "The way more senior scientists and management can help is to use all opportunities to be aware of the bias and actively change it."
2008-722 | INT/EXT | Newsroom