Generation IV International Forum on Nuclear Energy Systems held at BNL
June 2, 2008
A group of international experts gathered at BNL on May 19-20 for a workshop to discuss how to incorporate proliferation resistance and physical protection (PR & PP) into new nuclear reactors and their associated fuel cycles at the conceptual design stage, a few decades before the reactors would actually begin operating.
The workshop, sponsored by the Generation IV International Forum on Nuclear Energy Systems, was co-chaired by Brookhaven's Robert Bari (front row, second from left, below) and Per Peterson of UC-Berkeley (front row, third from left).
The group, which is responsible for developing evaluation methods for PR&PP of new designs, included representatives from Canada, France, Japan, Republic of Korea, United States, European Commission, and the International Atomic Energy Agency.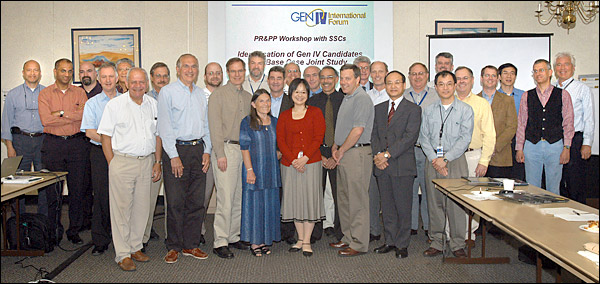 Generation IV International Forum attendees.
2008-727 | INT/EXT | Newsroom