BNL Receives 2008 Business Technology MVP Award From Long Island Magazine
November 17, 2008
BNL has received the 2008 Technology MVP Award from the Long Island Association's (LIA) Long Island magazine "in recognition of corporate growth, prosperity and community service to Long Island." Jill Clough-Johnston, BNL's Small Business Liaison Officer, accepted the award plaque on behalf of the Laboratory at LIA's annual fall luncheon held at the Crest Hollow Country Club in Woodbury. Twelve awards were presented to Long Island businesses in various categories.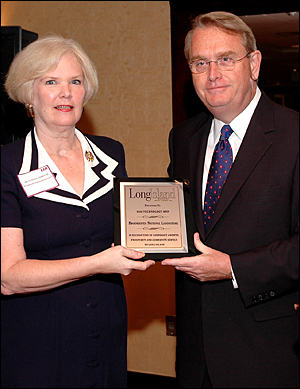 BNL's Small Business Liaison Officer Jill Clough-Johnston accepts the Long Island Association's Long Island magazine 2008 Technology MVP Award from LIA President Matt Crosson. (Photo courtesy of Andy Marlin, AM Photography.)
Along with BNL scientists, researchers from around the region and throughout the world use the Laboratory's world-class facilities for basic and applied research, which often leads to new technologies and discoveries. Growth continues at BNL as the Lab prepares for building the NSLS-II, a state-of-the-art synchrotron that will make possible cutting-edge research in many areas, including structural biology and nanoscience.
The Laboratory is a big contributor to the local economy, purchasing goods and services from local businesses whenever possible. In FY2007, BNL purchased over $40 million worth of supplies and services from Long Island businesses.
BNL contributes to Long Island in other ways, too. Community service is important to the Laboratory and its employees. Brookhaven Science Associates, which manages the Laboratory for DOE, provides funds for corporate giving to local charitable causes and organizations, particularly those promoting science, education, environmental health, and diversity. Recently, a new mini-grant program was initiated to help organizations in Suffolk County foster and develop an interest in science among young people of demographic profiles that are traditionally under-represented in the scientific workforce.
As part of its community outreach, BNL takes part in the annual United Way of Long Island fund drive, and along with the American Physical Society, it sponsors an ongoing food drive that benefits local needy families through the Town of Brookhaven's Interface Program. BNL also donates the use of an industrial kitchen in the Medical Department to the American Red Cross to prepare hot lunches five days a week for more than 650 seniors in central Suffolk, administered through the Suffolk County Office for the Aging.
Students in the local community and from around the nation benefit from BNL's numerous educational programs. The Office of Educational Programs also sponsors contests, such as the Model Bridge Building Contest and the Elementary School Science Fair, to encourage students to excel in science, technology, engineering and math.
2008-979 | INT/EXT | Newsroom